Steam Crave Hadron Pro DNA250C Mod $81.99 | Combo Kit $104.99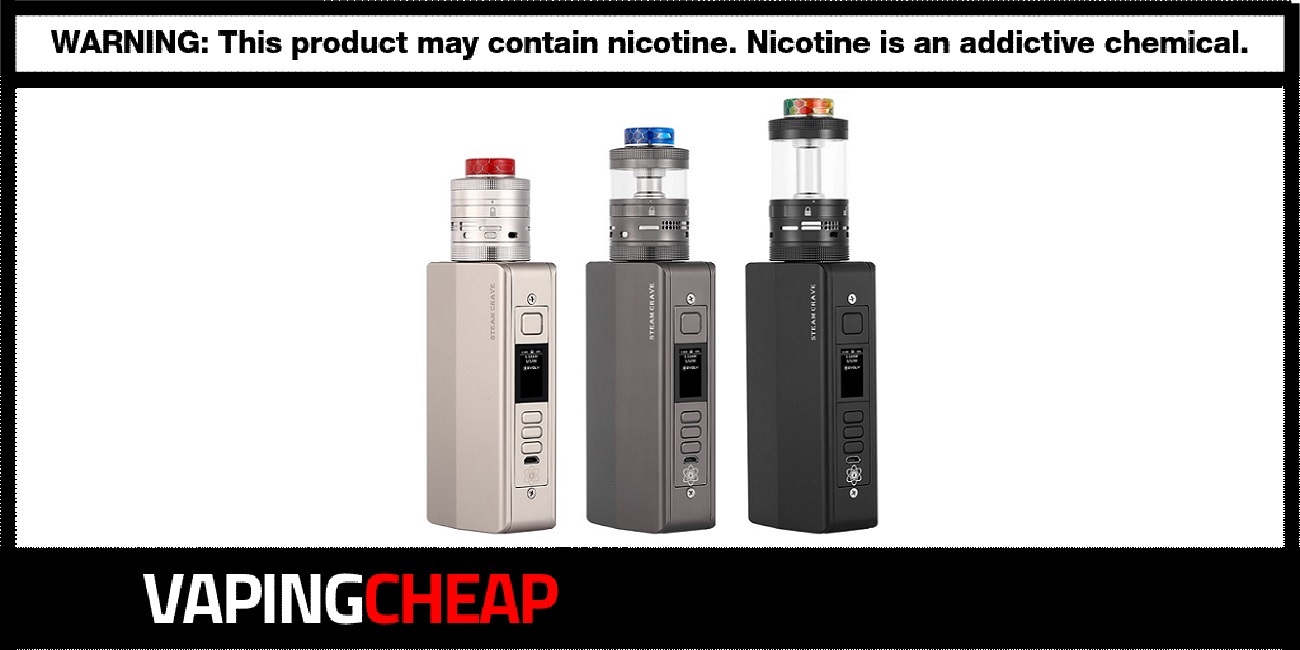 Here's where you'll find the best discounts and sales for the Steam Crave Hadron Pro DNA250C Mod and Combo Kit. You can get the box mod for $81.99 when using the discount code "HadronM".
The Full Combo Kit is also on sale for just $104.99 after applying the coupon code "HadronK". There are three color options available which are Stainless Steel, Gunmetal and Black.
The Hadron Pro DNA250C Mod By Steam Crave is an improved version of the previous Hadron Mod. This device is powered by a huge built-in 1600mAh 4S Li-Po battery. Since being powered by the Evolv DNA250C board and packing such a battery, the Hadron Pro can deliver up to 400w!
Aside from the incredibly high wattage output, you've got plenty of safety features alongside temperature control and Replay Mode. No matter how you enjoy vaping, this device has got you covered.
The Hadron Pro Combo Kit comes with the Steam Crave Ragnar RDTA. This atomizer is primarily constructed out of stainless steel material and has an overall diameter of 35mm. Also, it holds a massive amount of e-juice at 25ml with the extended tube or 18ml with the regular tank section. You can quickly fill it from the top fill ports.
What's great about the Combo Kit is that you do get two different decks in the box. This includes the postless and series deck. Both are easy to use, but the series deck is awesome for vapers who enjoy high wattage. Lastly, the Ragnar RDTA features an adjustable bottom and side airflow design.
Definitely a huge improvement over the original, the Steam Crave Hadron Pro DNA250C mod and combo kit is perfect for vapers who enjoy big mods and high wattages. With the 4S Li-Po battery, you'll get plenty of battery life too.
Steam Crave Hadron Pro DNA250C Combo Kit Features:
Steam Crave Hadron Pro DNA250C Mod

Internal 1600 Li-Po battery
Maximum wattage output: 400w
Powered by the Evolv DNA250C Board
User Modes: VW, VV, TC, Replay, TCR
Large display screen
Zinc alloy construction
Tons of safety features

Steam Crave Ragnar RDTA

Overall diameter: 35mm
Stainless steel construction
Maximum e-juice capacity: 18ml or 25ml (Extended Glass)
Postless and Series build deck
Adjustable bottom and side airflow
What's Included:
Steam Crave Hadron Pro DNA250C Mod
Ragnar RDTA
USB Cable
Series Build Deck
Chamber Reducer
Spare Parts
18ml Tank Section
Extra 25ml Glass Tanks
25ml Conversion Chimney
Cotton Strips
Vape Band
Allen Key
User Manual
Be sure to check out the Steam Crave Hadron DNA250C review video