Gas Mods Kree 24 RTA $17.99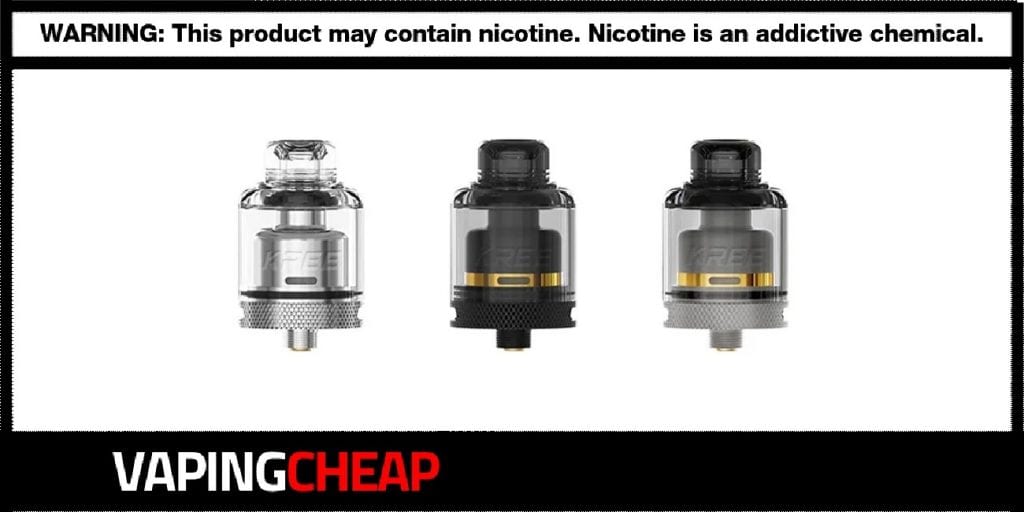 The new and highly sought after Gas Mods Kree 24 RTA is now in stock and on sale. Get yours for a limited time only for just $17.99 with coupon "KREE". It's also available from another China based store for only $19.39 after using the code "GMK24R". There's three different color options available Silver, Black and Grey.
The new Kree 24 RTA by Gas Mods is primarily made from stainless steel material and sports an overall diameter of 24mm. It holds a maximum e-juice capacity of 3.3ml and can be filled from the top. Here's one major difference from the original Gas Mods Kree RTA, you can increase the e-juice capacity to a whopping 5.5ml! To do this, simply change out the tank section.
Like the original, there are plenty of features that make it stand out when comparing it to other RTAs. Firstly, the bottom airflow system, which is fully adjustable. However, you get four different airflow inlets starting from 3.0mm to 4.5mm, giving you a wide range of options to try out. Each can be easily inserted and removed from the build deck.
Speaking of the build deck. It utilizes a two post system, which is super easy to use, and even wick. Lastly, it comes with a 510 drip tip adapter, so you are able to use other drip tips if you prefer.
If you missed out on the original, and prefer larger 24mm tanks, then this is a must-have. The Gas Mods Kree 24 RTA is one step above the original, but keeps some key features making it a one of a kind vape.
Gas Mods Kree 24mm RTA Features:
Overall diameter: 24mm
Maximum e-juice capacity: 3.3ml or 5.5ml (Large Glass Section)
Top fill design
Stainless Steel construction
Dual post build deck
Adjustable bottom airflow
4 different airflow inlets (3.0mm to 4.5mm)
Available in 3 color options: Silver, Grey and Black
What's Included:
Gas Mods Kree 24 RTA
Four Airflow Inlets
5.5ml Glass Tank
Screw Driver
O-Rings
510 Drip Tip Adapter
Check Out The Gas Mods Kree 24 RTA Review
More Great Vape Deals...
---
Vapefly Nicolas MTL Tank $10.59
For a limited time only, the Vapefly Nicolas MTL Tank is now on sale right here for only $11.99! No coupon code required! The colors available[...]