Vaperz Cloud Valhalla RDA $46.75 (USA)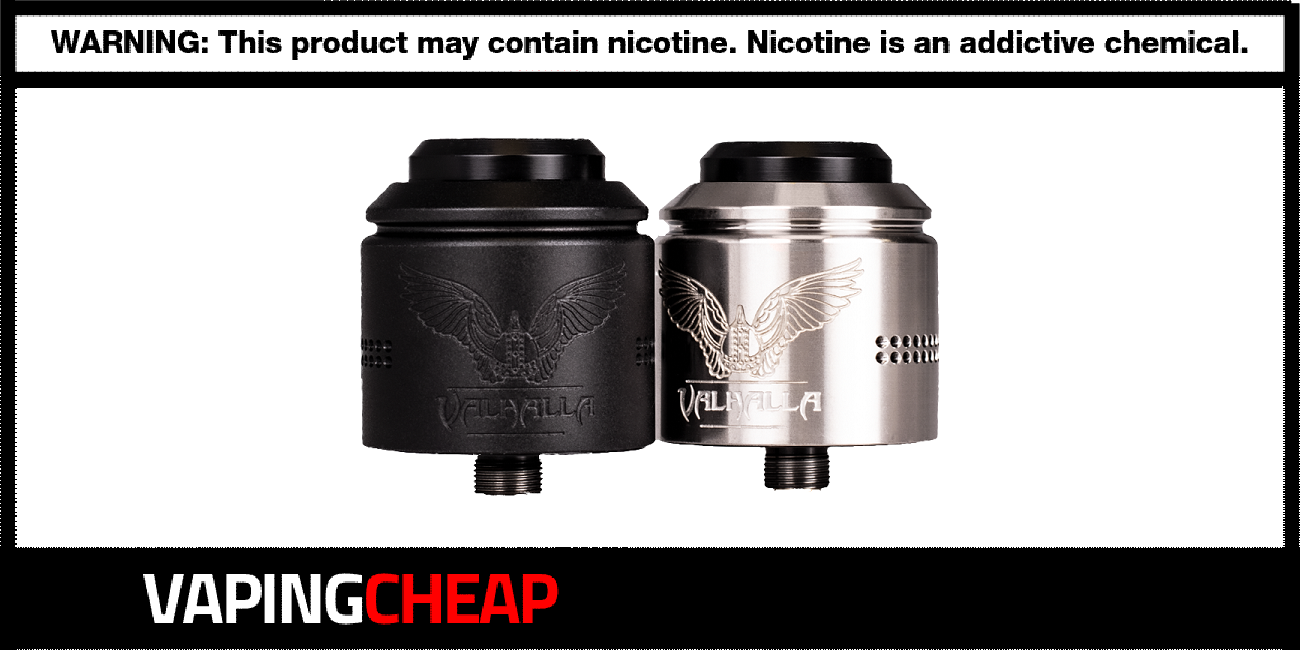 The new Vaperz Cloud Valhalla RDA is now in stock and on sale! Buy one for only $46.75 when using the code "Hardware15". There's one color option available for purchase which is 24k Gold.
The new Valhalla RDA is a collaboration between Vaperz Cloud and Suicide Mods. This atomizer is primarily constructed out of stainless steel material and right on the front is where you'll notice its unique engraving. In addition to that, you get two different wide bore drip tips. We've got to say with its overall diameter of 28mm and the included BF 510 pin, it's absolutely perfect for your larger squonk mods.
What makes the Valhalla 28mm RDA by Vaperz Cloud unique is the build deck. It uses the Suicide Mods Nightmare deck, which is slightly similar to the popular velocity style deck. It's easy to build on, and has plenty of space for any exotic coil. Also, having a deep 7mm juice well is a huge bonus!
Another unique feature and what makes it quite different from other RDAs is the airflow system. It has 22 airflow holes on the side of the atomizer! On top of that, there're 8 holes pointed towards the coils, intensifying the flavor! Lastly, you can easily adjust the airflow by twisting the top cap.
If you're a fan of those larger attys, then the Vaperz Cloud and Suicide Mods Valhalla RDA is an absolute must have for your collection. These won't be in stock for long, so get one while they're still available!
Vaperz Cloud x Suicide Mods Valhalla RDA Features:
Overall diameter: 28mm
Stainless steel construction
Wide bore drip tip
Velocity style two post build deck
Adjustable side airflow
7mm deep juice well
Gold plated squonk pin

Can be turned into a normal 510 pin

Two color options: Matte Black and 24k Gold
What's Included:
Vaperz Cloud Valhalla RDA 28mm
Pack Of Accessories
Extra Drip Tip
More Great Vape Deals...
---
Eleaf iJust 21700 Kit $14.99
Rebuildable Dripping Atomizer For a limited time only, the new Wotofo Elder Dragon RDA is on sale right here for only $27.54 using coupon code "Hardware"![...]