Gas Mods Kree RTA $18.88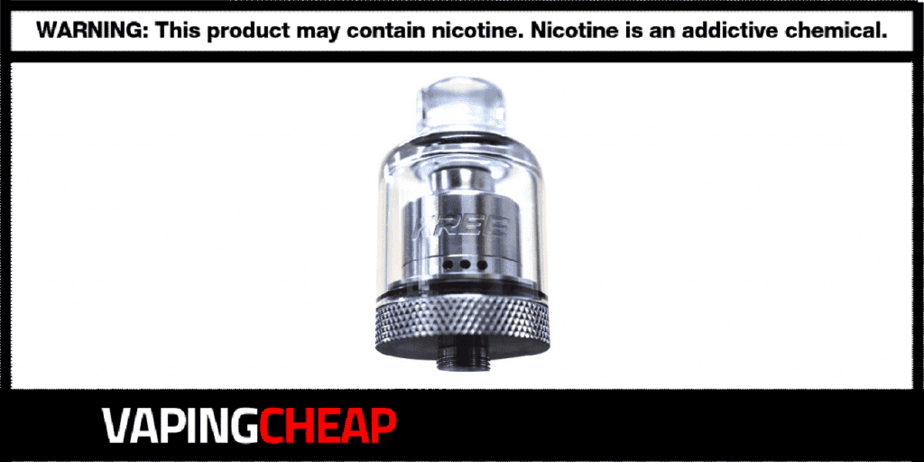 Here's an excellent sale for the new Gas Mods Kree RTA. Get yours for just $18.88. No coupon needed, simply log into your account for this discount. There's only one color option available which Stainless Steel/Clear.
The Gas Mods Kree RTA Tank sports a base diameter of 22mm, so it'll make a great match for most devices, especially those smaller box mods. This atomizer is primarily constructed of stainless steel, but includes two different tank sections. Firstly, there's the PC, which looks slightly similar to glass since it's clear, but does offer a different look altogether. Secondly, there's the standard glass tank section. The major difference between the two is that one will hold 3.5ml (PC), and the other will hold 2ml (Glass) of e-juice. There's also two different drip tips included, one is black delrin while the other is clear POM.
When it comes to building on the Gas Mods Kree RTA, is very simple. It features a two post build deck, which isn't new by any means, and seen on many other RTAs. However, this is a good thing as it just works, and won't be much of an issue to the beginner builder. You can certainly fit multiple different coils as well such as Claptons or regular round wire.
What is unique though is the airflow system. It is adjustable from the outside, at the bottom, but you can use one of five different included airflow inserts. This allows you to really fine tune the draw to your liking. You can go from a mouth to lung with the 1.0mm insert to restricted direct lung with the 2..0mm insert.
The Kree RTA by Gas Mods is very versatile, especially with those airflow inserts. Whether you enjoy a MTL vape or a RDL, you'll definitely want to check this new atomizer out, especially coming in at under 20 bucks shipped.
Gas Mods Kree 22mm RTA Features:
Primarily Constructed of Stainless Steel
22mm Base Diameter
Height: 40mm
2ml or 3.5ml E-Liquid Capacity
Two Post Build Deck
Adjustable Bottom Airflow
Changeable Airflow Inserts

2.0mm, 1.5mm. 1.2mm. 1.0.. 0.8mm

POM Drip Tip
Color Option: SS (Silver)
What's Included
Gas Mods Kree RTA Atomizer (2.5mm Airflow Insert Pre-Installed)
3.5ml Tank Section (PC)
MTL POM Drip Tip
510 Adapter
Spare Airflow Inserts (5)
Accessory Bag
Check Out The Gas Mods Kree RTA Review