Fresca Sub Ohm Salt Nic EJuice 75ml $8.99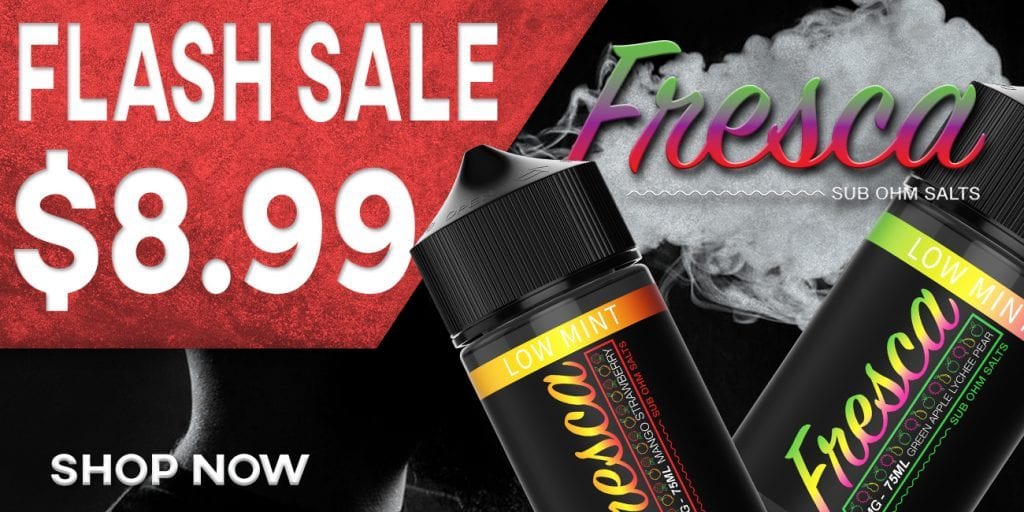 For a limited time only, the Fresca E-Juice is now available right here for only $8.99! No coupon code required!
The Fresca E-Juice line consist of 4 different flavors which are Mango Strawberry, Raspberry Apple, Mango Banana and Green Apple Lychee. In addition, Each of these flavors come in a 75ml chubby gorilla bottle.
The Salt Nicotine available for each flavor is 0mg, 3mg and 6mg. Not to mention, these flavors will be great in any sub ohm tank you have! Lastly, each flavor does have a hint of mint but it's not a overwhelming minty.
all in all, this is a excellent deal for the Fresca E-Juice! If you're looking to try out some new premium e-juices at a incredibly low price, then this is a e-juice worth checking out! Be sure to check out this e-juice sale at Flawless Vape Shop for only $8.99!
E-Juice Details:
75ml Bottles
Chubby Gorilla Bottles
Salt Nicotine Strength: 0mg, 3mg and 6mg
Flavors To Choose From:

Mango Strawberry: Ripe Mangos and sweet bananas blended to perfection with a LOW Mint Finish
Raspberry Apple: Fresh apples and sweet raspberries with a low mint finish
Mango Banana: Fresh Blended mango and banana completed with the ultimate LOW mint experience
Green Apple Lychee: This Low Mint Blend of exotic Lychee berries and ripe Green apples Is sure to hit the spot.