Cookie Twist EJuice Variety Pack $19.95 (USA)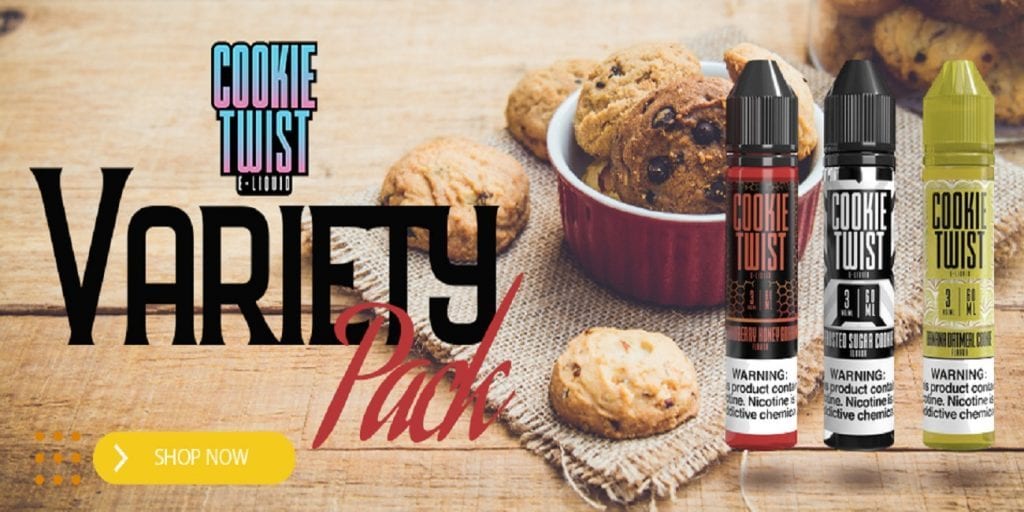 Here's a great deal if you enjoy sampling multiple flavors from a single vape juice line. Get the Cookie Twist EJuice Variety Pack for only $19.95! No code needed to get this discount.
This variety pack comes with three different flavors from the Cookie Twist E-Liquid line, and each flavor does come in a 60ml chubby gorilla unicorn bottle, giving you a total of 180ml. There's only one nicotine strength available which is 3mg.
The three included e-juices are Banana Oatmeal Cookie, Strawberry Honey Gram and Frosted Sugar Cookie. Like the e-liquids from the Twist E-Liquids Sample Pack, each does have a 70VG/30PG blend.
If you've enjoyed their other e-liquids or looking to try out multiple premium flavors at one low price, then you'll definitely want to check out this sale. The makers of this line have crafted multiple award winning vape juices, so you know these flavors will be tasty!
Cookie Twist E-Liquid Sample Pack Details:
Includes 3 Different Flavors

Frosted Sugar Cookie
Strawberry Honey Gram
Banana Oatmeal Cookie

60ml Bottle Sizes

Chubby Gorilla Unicorn Bottle
Total E-Liquid Included: 180ml

Nicotine Strength Option: 3mg
VG/PG Blend: 70VG/30PG