Lemon Life EJuice Sale! Buy 1 Get 1 Free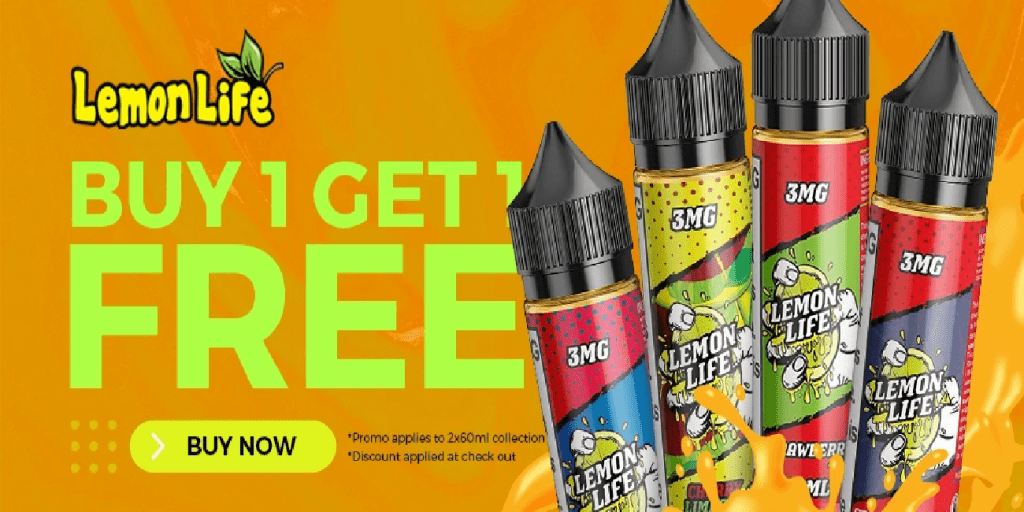 Here's a great sale on the Lemon Life EJuice Line! Buy 1 get 1 Free. That's a total of 240ml of vape juice (4x60ml) for just over $12. No code required to get this price, simply add three flavors you want into your cart, and the discount automatically applies.
With this discount on the Lemon Life EJuice Sale, you can get buy 1 flavor, and get the second for free. There's multiple flavors available which include Strawberry Lemonade, Mixed Berries, Blueberry Watermelon Lemonade and Cherry Limeade. Each flavor is a twin pack, so you'll get two 60ml bottles, for a total of 120ml. When it comes to nicotine strengths, you can choose from 0mg, 3mg and 6mg. Lastly, these e-liquids have a high VG blend.
If you enjoy lemonade or fruit flavored vape juices, then you'll definitely want to check out this sale on Lemon Life EJuice. We're not sure how long this e-juice deal will last, so jump on this BOGO offer while it's still valid.
Lemon Life Vape Juice Details:
Buy 1 Get 1 Free (240ml Total)
Each Flavor Available In Twin Packs (2x60ml)
Nicotine Strength Options: 0mg, 3mg, 6mg
High VG Blends
4 Unique Flavors:

Cherry Limeade
Blueberry Watermelon Lemonade
Mixed Berries
Strawberry Lemonade
More Great Vape Deals...
---
Vapefly Nicolas MTL Tank $9.96
For a limited time only, the Vapefly Nicolas MTL Tank is now on sale right here for only $11.99! No coupon code required! The colors available[...]
Mechlyfe Slatra RDA $8.91
The new Mechlyfe Slatra RDA in collaboration with AmbitionZ VaperR is now in stock and on sale for just $8.91. To get[...]