Coilology Twisted Messes Alien Coil 2 Pack $5.70 (USA)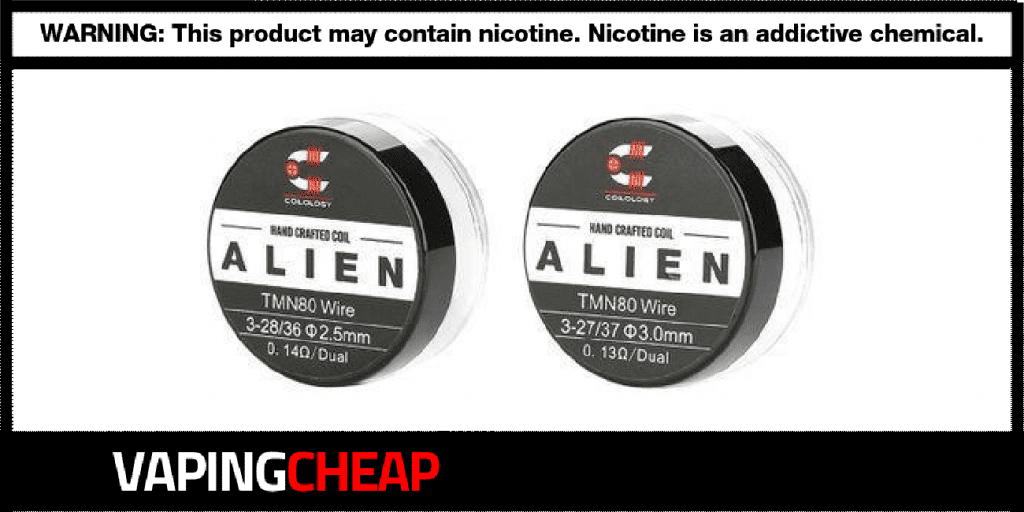 Here's a cheap deal on the Coilology Twisted Messes Alien Coil. Grab a pack of 2 for just $5.70 with code "MYVPRO-2020". Free USA shipping is included when spending $50 or more.
The Coilology Twisted Messes Alien Coil is 100% handcrafted throughout the entire process. There are two different options available, which include a 0.13 ohm resistance, and a 0.14 ohm resistance.
Since they are on the low side, we do recommend understanding ohms law and battery safety. Included, you will receive not only two handcrafted Alien coils, but Japanese cotton as well for wicking.
What's great about these specific coils is that they are crafted with TMN80 wire. It is NiChrome 80, so it does heat up quite fast, which is definitely a good thing. Easily, these are some of our personal favorite coils for flavor, as they provide awesome flavor and vapor production. Lastly, each pair does come in a small plastic container, which is resealable so you can easily organize, store or travel with them.
If you're looking for some handcrafted coils for cheap, then you'll want to check out this sale. You won't be disappointed with these style coils, that's for sure. Also, with its resealable container, you can put other pre-made coils in there when you're done with these.
Coilology Twisted Messes Alien Coils Features:
Pack of 2 Pre-Made Coils
100% Handcrafted
Made with TMN80 NiChrome 80 Wire
Fast Ramp Up Time
Comes In Resealable Plastic Container
Includes Japanese Cotton Wick
Resistance Options