CoilArt Blazar MTL Kit $34.14 + FS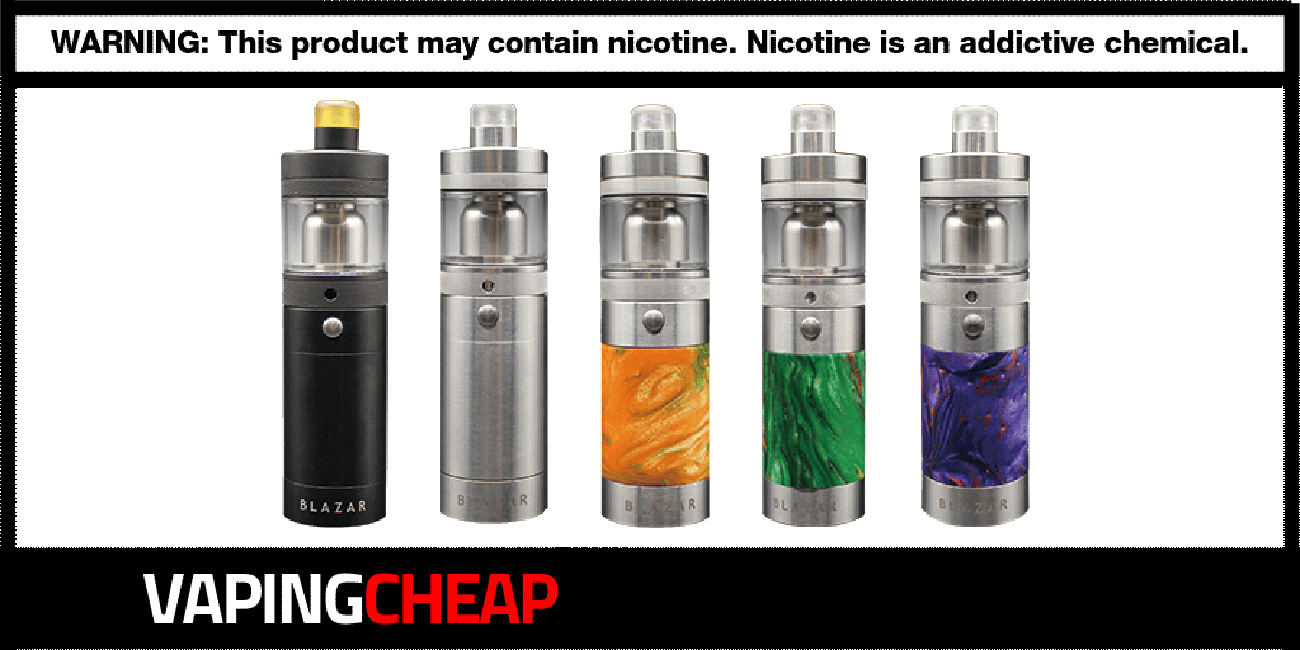 The Coilart Blazar MTL Kit is now in stock and on sale. Get yours for just $34.14 plus free worldwide shipping. No code is required for this discount. It's also available from another China based store for only $46.99 using code "BZKIT". There's various color options that you can choose from including Stainless Steel, Resin Green, Black, Resin Purple and Resin Yellow.
The Blazar MTL Vape Kit by CoilArt includes both the Blazar RTA and the Blazar Mod. This entire vape starter kit sports a super compact design, making it pocket friendly, and easy to take with you when on the go. Its size does make it perfect for you vapers who prefer a discreet vape setup. Depending on the color option chosen, a resin sleeve is included.
The CoilArt Blazar Mod does require a single high drain 18350 battery, and can deliver a working voltage between 3.2v and 4.2v. It can fire down to 0.15 ohm, but we do not suggest firing that low since it's catered for MTL and high resistance coils. There is a side mounted firing button, which does make it quite comfortable to use. In addition, the battery cap at the bottom is adjustable with a twist lock button. With the Blazar Mod's proprietary chipset, it does offer some safety protections.
Moving onto the CoilArt Blazar RTA. It features a 2 post build deck we've seen before with other RTAs. This type of deck is super easy to use. Simply slide your coil into the post holes, tighten down the leads, then clip off any excess. What's great about this tank is that it can hold up to 4ml of e-liquid, which is quite impressive given its size, There's 6 levels of airflow as well, ranging from a loose mouth to lung vape to a more restrictive MTL vape. Lastly, it has a leak proof and child proof function located at the top of the tank.
If you're after a pocket sized mouth to lung vape starter kit, then you'll definitely want to check out the CoilArt Blazar MTL Kit. For the price, you're getting both the Blazar Mod and Blazar Tank, so all you'll need is a battery and some vape juice. Do keep in mind this is a limited time vape starter kit deal, so don't miss out.
CoilArt Blazar MTL Starter Kit Features:
​​CoilArt Blazar Mod

​

​

Powered By 18350 Battery (Not Included)

Proprietary Chipset with Chip Protection

Working Voltage: 3.2v - 4.2v

Minimum Firing Resistance: 0.15 ohm

Side Mounted Firing Button

Ultra Compact Size

Bottom Adjustable Battery Cap

Twist Lock Button

Resin Sleeve (Select Color Options)

​CoilArt Blazar RTA

​

​

Stainless Steel & Glass Construction

4ml E-Liquid Capacity

Top Fill Design

Childproof & Leak Proof

Single Coil Build Deck

Fully Adjustable Airflow with 6 Levels

MTL Drip Tip



What's Included
​

​

CoilArt Blazar MTL Kit (Blazar Tank & Mod)

Extra Glass Tank Section

Bag of Accessories
Check Out The CoilArt Blazar MTL Kit Review