Rincoe Manto Pro Mod $17.85 | 228w Kit $22.69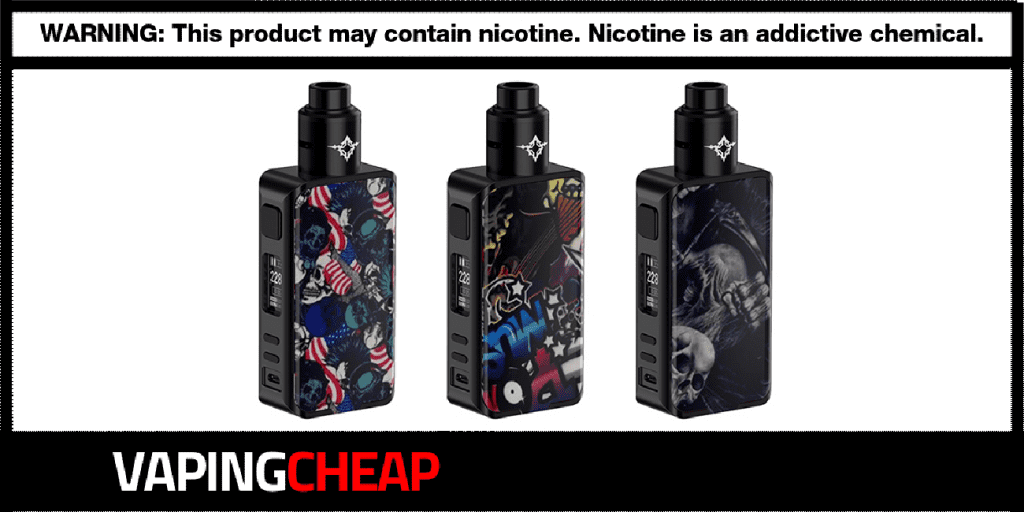 Here are cheap prices for the Rincoe Manto Pro Mod and Kit. Grab the 228w box mod on sale for just $17.85 when using our code "vapingcheap". You can also get the full 228w kit for only $22.69. There's three color options available for either option.
The Rincoe Manto Pro 228w Box Mod is powered by two high drain 18650 batteries. In addition, it has an output wattage range between 1w and 228w. On the front of the device, you'll see the OLED display screen, wattage buttons, the firing button and a micro USB port. As with a lot of other vape mods, this one does offer various output modes.
This does include Bypass, variable wattage, temperature control (Ni200, Ti, SS), and a TCR mode. The last mode allows you to fully customize your TC vape experience, which is always a good thing, especially if you enjoy this vaping experience. Lastly, there is a magnetic door panel which you can easily remove to access your battery slots.
If you go for the Rincoe Manto Pro 228w Kit, you'll get the Metis RDA inside of the packaging. This atomizer features an easy to use two post build deck, designed for dual coil builds. The airflow comes in from the side, but it is fully adjustable. Also, at the top it does come with a wide bore 810 drip tip pre-installed. We've seen this style with many RDAs, as it's perfect for chasing clouds. Not to mention, it won't get hot even when you're vaping at higher wattages.
Whether you're looking for an affordable kit or mod, you won't wanna miss out this sale. The Rincoe Manto Pro 228w RDA Kit is a great entry point for the beginner taking that first step up into larger mods. It'll also be a solid option for you advanced vapers wanting a beater mod or kit, especially at this sale price.
Rincoe Manto Pro Kit 228w Features:
Rincoe Manto Pro Box Mod

Powered By 2 High Drain 18650 Batteries (Not Included)
Wattage Output Range: 1w - 228w
Multiple Firing Modes

Variable Wattage
Bypass
Temperature Control
TCR

Ergonomic & Anti-Shock Design
Various Protections Built In
Minimum Firing Resistance: 0.8 ohm (VW/Bypass), 0.05 ohm (TC)

Rincoe Metis RDA

24mm Base Diameter
304 SS & Aluminum Construction
Wide Bore 810 Drip Tip
Dual Post Build Deck (For Dual Coils)
Adjustable Side Airflow
PEEK Insulator
What's Included (Full Kit)
Rincoe Manto Pro Vape Mod
Metis RDA
Charging Cable
Warranty & Certificate Cards
Bag of Accessories
2 User Manuals