Zeus Juice Review – Taste The Rainbow (260+ Flavors)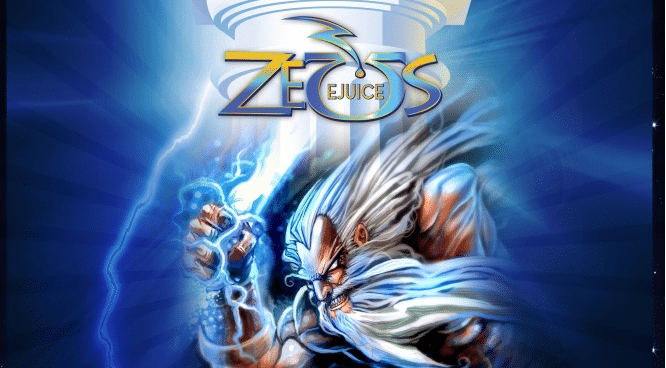 Zeus Juice is a popular e-juice among vapers because of the powerful flavors, quality of product, and expansive offering of flavors. The Zeus company dove into Greek mythology to look for names for its e-juices to brand itself as the god of all e-juices. With names like Athena's Adventure, Medusa Juice, and Khinoe's Kooler, shopping for e-juice is half the fun of vaping it.
Consumers like having choices and Zeus gives its customers plenty of variety in product, samples, and discount offers. You can request a few samples with your order and you're likely to be pleasantly surprised with a few additional samples.
Every purchase builds up your supply of Zeus bucks, which you can redeem to reduce costs on future products.
Zeus E-Juice Ratings
I'm giving Zeus e-juice a top rating of five out of five stars. Zeus built its reputation on quality products and innovation. Good customer service, affordable pricing, and low shipping costs keep customers coming back for more.
Zeus E-Juice Review
With over 260 flavors to try, you'll never get bored with Zeus Juices to sample and experiment with. It helps that they send a few samples of new flavors with every new order. The flavors are perfectly blended so that you get different notes of flavors throughout your vape.
Zeus e-juices come in four sizes so that you can buy a little of the ones you want to try and larger bottles of your favorite blends. Choose your preference of PG vs. VG ratio with nine different options of ratios.
This Zeus juice review gives Zeus raves for making vaping affordable. They give free samples with every order, use Zeus Bucks for discounted products, and keep their shipping reasonably priced.
Pros
Quality Manufacturing
Zeus Juice is hand-crafted and made in the U.S.A. E-juices are formulated in a highly sterile Clean Room, using the highest quality grade lab equipment to ensure the safety and sanitation of the product.
Zeus Juice is always fresh. Check out this video to learn how to store your e-juices to keep them fresh and how to tell if your juice has gone bad.
Abundance of Flavors
Zeus currently offers hundreds of delicious flavors and is always introducing new taste sensations.
Zeus Blend is a Consumer Favorite
The most popular flavor is the one named after the company—the Zeus blend. It is a potent blend with notes of blueberry, cherry, raspberry, and apple that delivers a fruity, flavorful vape. It's no wonder that Zeus is the top selling flavor and winner of the 2013 SpinFuel Magazine People's Choice Award.
Samples are Free
It's a great surprise to get your order and find an extra sample or two of a flavor that you may not have otherwise tried. It's a great way to discover new favorites without breaking your budget.
Sample Package with Reasonable Cost
If you're not sure which flavor to try, get the sample pack for just $24.99. Bottles have 6 mg of nicotine and are formulated at 60 pg vs. 40 vg. The sample packages includes Aphrodite's Affair, Demeter's Havest, Dionysus' Aphrodisiac, Khinoe's Kooler, Medusa Juice, Pomona's Pear, Poseidon's Poison, Athena's Adventure, Hermes' Message, Selene's Seduction, and the ever popular Zeus Juice.
Cons
Customer Service is Inconsistent
By and large, Zeus gives great customer service. Every now and then, clients get delayed responses. Since everything else about the Zeus Juice review is so positive, it's hard to count this as too much of a negative.
Top Features of Zeus Juice
Zeus e-juice has so many redeeming features that it was hard to pick just three. Here are our three top favorite features:
Abundant Selection of Flavors
There are hundreds of flavors to try and hundreds more waiting in the wings that will be coming to market. The flavors are packed with mouth-watering punch. Different taste flavors include scrumptious flavors like chocolate and vanilla, coffees and teas, delicious desserts, flavorful fruits, spices, and refreshing mint and menthol, as well as hundreds more.
Different sizes/ratios
Zeus Juice comes in varying nicotine strengths from 0% to 30%, to help you taper off your cigarette habit or cater your throat hit to your desire. To get the best flavor profile with the densest cloud, order your choice of PG/VG ratios according to the following combinations:
90% pg/10% vg
80% pg/20% vg
70% pg/30% vg
50% pg/50% vg
40% pg/60% vg
30% pg/70% vg
25% pg/75% vg
Sample pack, free samples, and lots of discounts and promotions
Each sampler pack comes with 12 small sample bottles that are perfect for enjoying with friends and selecting your favorites. Zeus includes free samples with all orders so that you get to try the flavors you're curious about trying.
Zeus offers discounts, clearance e-juices, and discounts for buying larger quantities which gives you an excellent value for your money. For every dollar that you spend, Zeus gives you a nickel back in Zeus Bucks, which can be used towards the purchase of more products. Zeus Bucks never expire and you can spend them whenever you want.
Conclusion
When most vapers think of the Zeus brand, they are thinking about some of the strongest, most enjoyable flavors on the market. Zeus is continually working on their brand to bring more flavors to their vaping customers.
Giving away free samples is a smart marketing strategy for a product that is so good, it sells itself. Experiment with the sample flavors and order more of your favorites in larger sizes. Try variations of pg and vg ratios to fine tune your vaping liquid to maximize your vaping experience.
You'll love how the taste permeates and stimulates all of your senses. Zeus Juices create dense clouds for additional enjoyment. All in all, it's a premier e-juice company