Zeus Juice Review: Can You Handle So Many Flavors?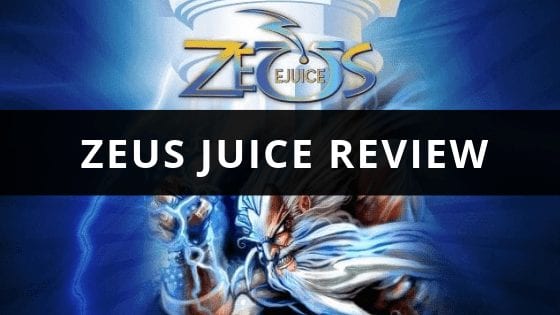 Zeus Juice is a popular brand among vapers because of the powerful flavors, quality of product, and expansive offering of flavors.
The company dove into Greek mythology to look for names for its e-liquids to brand itself as the god of all e-juices. With names like Athena's Adventure, Medusa Juice, and Khinoe's Kooler, shopping for e-juice is half the fun of vaping it.
We'll get back to this in a bit...
Consumers like having choices and Zeus gives its customers plenty of choices, samples, and discount offers. You can request a few samples with your order and you're likely to be pleasantly surprised with a few additional samples.
Every purchase builds up your supply of Zeus bucks, which you can redeem to reduce costs on future products.
Since the name and the concept of the company got me very interested, I decided to work on this article. After doing quite a thorough research, I present to you the Zeus Juice review where I uncover all the pros and cons. Let's get going, shall we?
Zeus E-Juice Review
With over 260 flavors to try, you'll never get bored with Zeus Juices to sample and experiment with. It helps that they send a few samples of new flavors with every new order. The flavors are perfectly blended so that you get different notes of flavors throughout your vape.
Zeus e-juices come in four sizes so that you can buy a little of the ones you want to try and larger bottles of your favorite blends. Choose your preference of PG vs. VG ratio with nine different options of ratios.
To get the best flavor profile with the densest clouds, order your choice of PG/VG ratios according to the following combinations:
90% pg/10% vg
80% pg/20% vg
70% pg/30% vg
50% pg/50% vg
40% pg/60% vg
30% pg/70% vg
25% pg/75% vg
This Zeus e-juice review gives them raves for making vaping affordable. They give free samples with every order, reward loyal customers with credit and discounts, and keep their shipping reasonably priced.
Pros
Quality-Made E-Juices
Zeus Juice is hand-crafted and made in the U.S.A. E-juices are formulated in a highly sterile Clean Room, using the highest quality grade lab equipment to ensure the safety and sanitation of the product.
Check out this video to learn how to store your e-juices to keep them fresh and how to tell if your juice has gone bad.
Lots of Juice Flavors
Zeus currently offers hundreds of delicious flavors and is always introducing new taste sensations.
The most popular flavor is the one named after the company—the Zeus blend. It is a potent blend with notes of blueberry, cherry, raspberry, and apple that delivers a fruity, flavorful vape. It's no wonder that it's their top selling flavor and winner of the 2013 SpinFuel Magazine People's Choice Award.
Free E Juice Samples
It's a great surprise to get your order and find an extra sample or two of a flavor that you may not have otherwise tried. It's a great way to discover new favorites without breaking your budget.
Zeus Juice Samplers
If you're not sure which flavor to try, get the sample pack for just $24.99. Bottles have 6 mg of nicotine and are formulated at 60 pg vs. 40 vg. The sample packages includes Aphrodite's Affair, Demeter's Havest, Dionysus' Aphrodisiac, Khinoe's Kooler, Medusa Juice, Pomona's Pear, Poseidon's Poison, Athena's Adventure, Hermes' Message, Selene's Seduction, and the ever popular Zeus Juice.
Cons
Customer Service is Inconsistent
By and large, Zeus gives great customer service. Every now and then, clients get delayed responses.
Conclusion
When most vapers think of the Zeus brand, they are thinking about some of the strongest, most enjoyable flavors on the market. The company continually works to bring more flavors to their vaping customers.
Giving away free samples is a smart marketing strategy for a product that is so good, it sells itself. Experiment with the sample flavors and order more of your favorites in larger sizes. Try variations of PG and VG ratios to fine tune your vaping liquid to maximize your vaping experience.
You'll love how the taste permeates and stimulates all of your senses. While working on this Zeus Juice Review I've learnt that Zeus Juices create dense clouds for additional enjoyment.
All in all, I'd say that Zeus is a premier e-juice company.