YiHi SXMini SX Nano Kit $42.99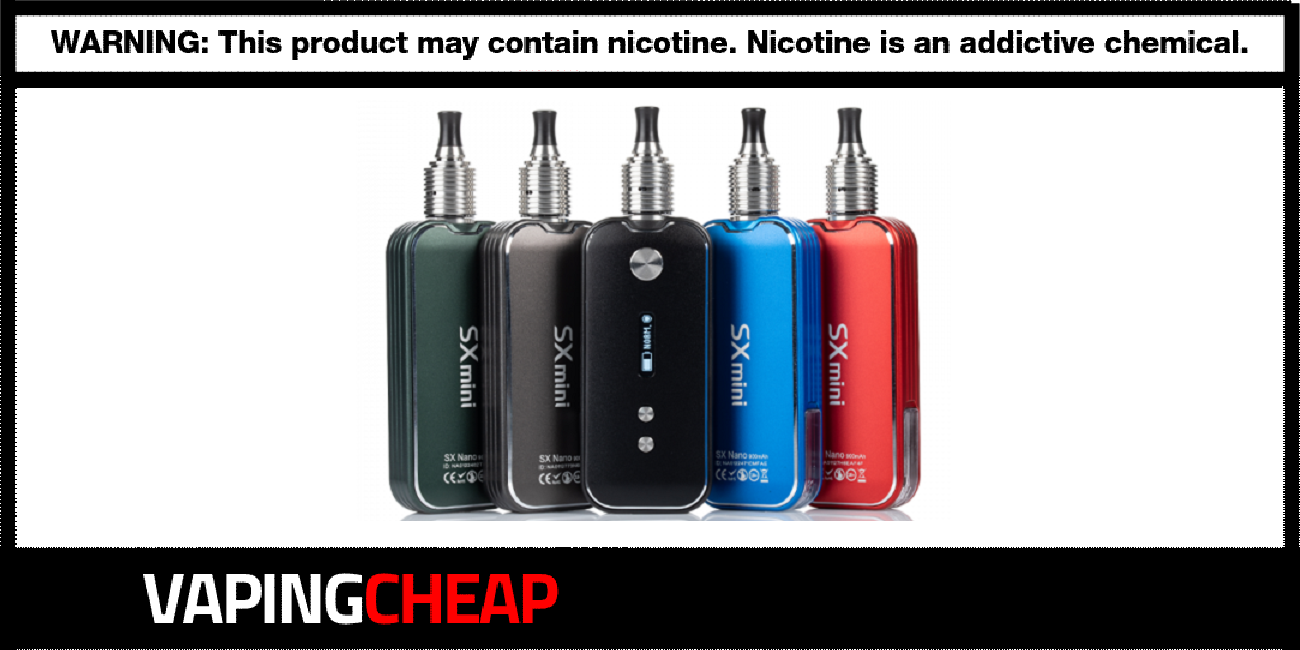 Here are discounts and sales on the YiHi SXMini SX Nano Kit. You can buy one for just $42.99! No discount code required. There are five color options available which are Black, Blue, Red, Green and Gunmetal.
The Yihi SXMini SX Nano Mod is quite different from your standard squonk mod, it's an auto squonk device. This slim and highly compact mod utilizes a built-in 900mAh battery and is powered by the YiHi SX681J chipset. Additionally, this mod has three different user modes for ease of use. These modes include normal vape, hot vape and cold vape.
On top of that, there are individual pump settings for the squonking. You can raise or lower those settings with the two adjustment buttons on the front. Also, on the front of the YiHi SXMini SXNano Mod you'll find the display screen. It comes with two 2ml e-juice reservoirs and while it's not the most, it can be quickly filled thanks to the top filling port.
Included with this full kit is the YiHi ADA V2 atomizer. As you'd expect by looking at it, it is indeed quite different from other attys as it uses a disk coil system. Speaking of, there are two of the stainless steel 0.6 ohm coil disks included. Lastly, the ADA V2 RDA has a dual adjustable bottom airflow system catered to either restricted direct lung or MTL.
Vapers who want something different from the rest will certainly want to check out the YiHi SXMini SX Nano Kit. While it's not their first auto-squonk device or kit, it's definitely a step up from their previous releases.
YiHi SXMini SX Nano Auto Squonk Kit Features:
YiHi SXMini SX Nano Mod

Internal 900mAh battery
Powered by the SX681J Chipset
Auto squonk mod
USB Type-C Charging
Three user modes: Normal, Cold and Hot vape
2ml E-Juice tank
Pump settings
Display screen
Three button design
Aluminum construction

YiHi ADA V2 RDA

0.6 ohm coil head disks
Adjustable bottom airflow
What's Included:
YiHi SXMini SX Nano Mod
ADA V2 RDA
Two 0.6 ohm coil disks
USB Type-C Cable
Two 2ml E-Juice tanks
User Manual
Replacement Drip Tip
Warranty Card
Be sure to check out the YiHi SXMini SX Nano Auto Squonk Kit review video
More Great Vape Deals...
---
Uwell Caliburn Pod Vape Kit $11.29
For a limited time only, the Uwell Caliburn Kit is now available on sale right here for only $24.99! No coupon code required! Various color options[...]