Smok AL85 Review: Compact, Comfortable and an Excellent Performer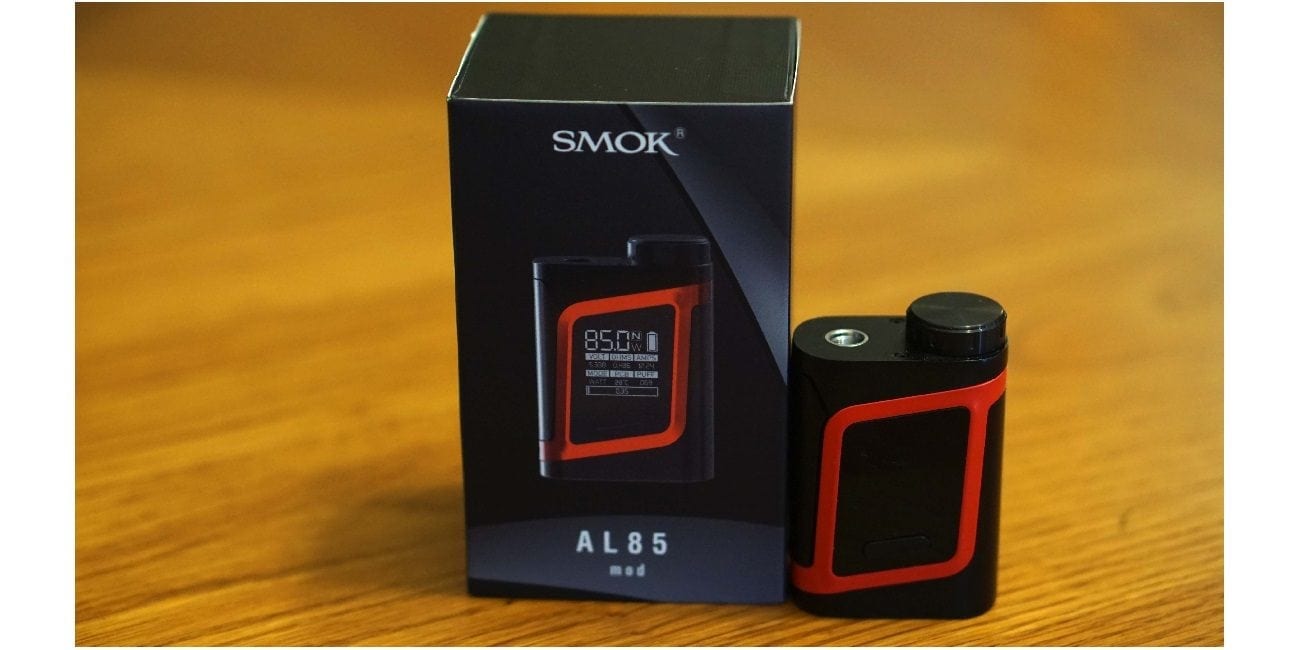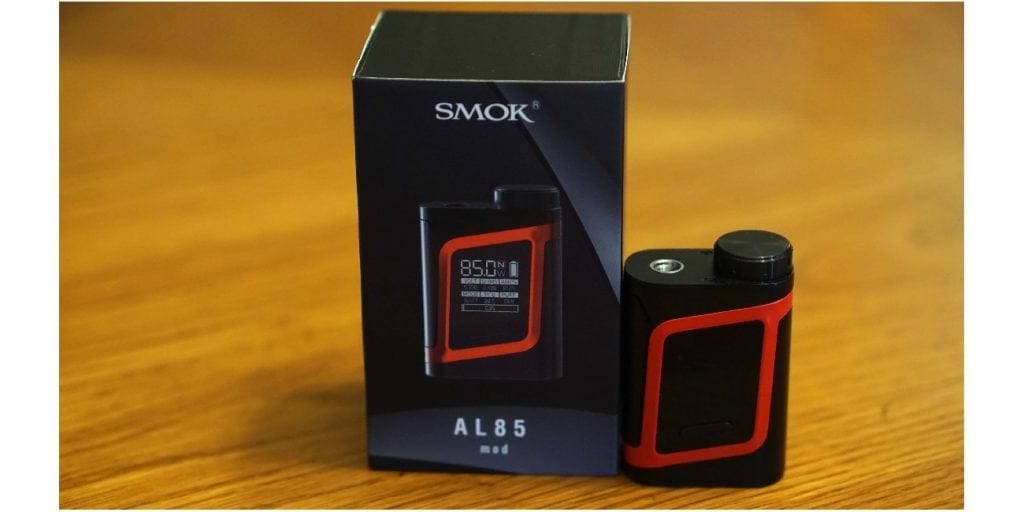 The Smok Alien Box Mod became extremely popular when it first released last year and still continues to be a favorite dual 18650 box mod for many vapers. Smok has now recently released the Smok AL85 Mod, which many vapers call the "Baby Alien" due to its similar design to the original Alien Box Mod. However, this new device sports a much more compact design, and requires only a single high drain 18650 battery. How does it compare to the rest of the single 18650 devices on the market? We'll find out in this review!
Before getting any further, I would like to thank CVapor for sending this out to me for the purposes of this review. I will go over my first impressions, usage, performance, pros & cons, and conclude with whether or not I recommend the Smok AL85 Mod!
Smok AL85 Review: First Impressions, Usage and Performance
Out of the Box
When I first received the Smok AL85 Mod, I immediately noticed the familiar Smok packaging. Many Smok atomizers and devices come in a rather large box, and this one is no different. This by no means is a bad thing, as Smok's packaging is actually really good, and it keeps whatever device or atomizer safe during transit. Upon sliding opening the packaging, you are greeted with the Smok AL85 Mod right away.
What first seeing the device, my first thought was that this box mod was tiny, and much smaller than what I originally expected. Typically, single 18650 box mods are smaller due to only requiring one battery, but the Smok AL85 really is quite tiny. It might be that I have been using dual, triple and quad 18650 box mods for quite some time, but still I do like the compact form factor of this device. This is surely a pro in my book!
This does feature a similar design to the Eleaf iStick Pico, where the battery is inserted at the top of the mod rather than the bottom or side. In addition, it does feature a threaded cap as well, which is also similar to the iStick Pico. However, the Smok AL85 is not the same size as the Pico, as this device can accommodate atomizers up to 25mm with no issues, which is a huge pro, in my opinion, especially seeing that newer atomizers are either 24mm or 25mm.
Included in the packaging you don't really receive much as to be expected. With the Smok AL85 Mod, you do receive a USB Charging Cable and a User Manual.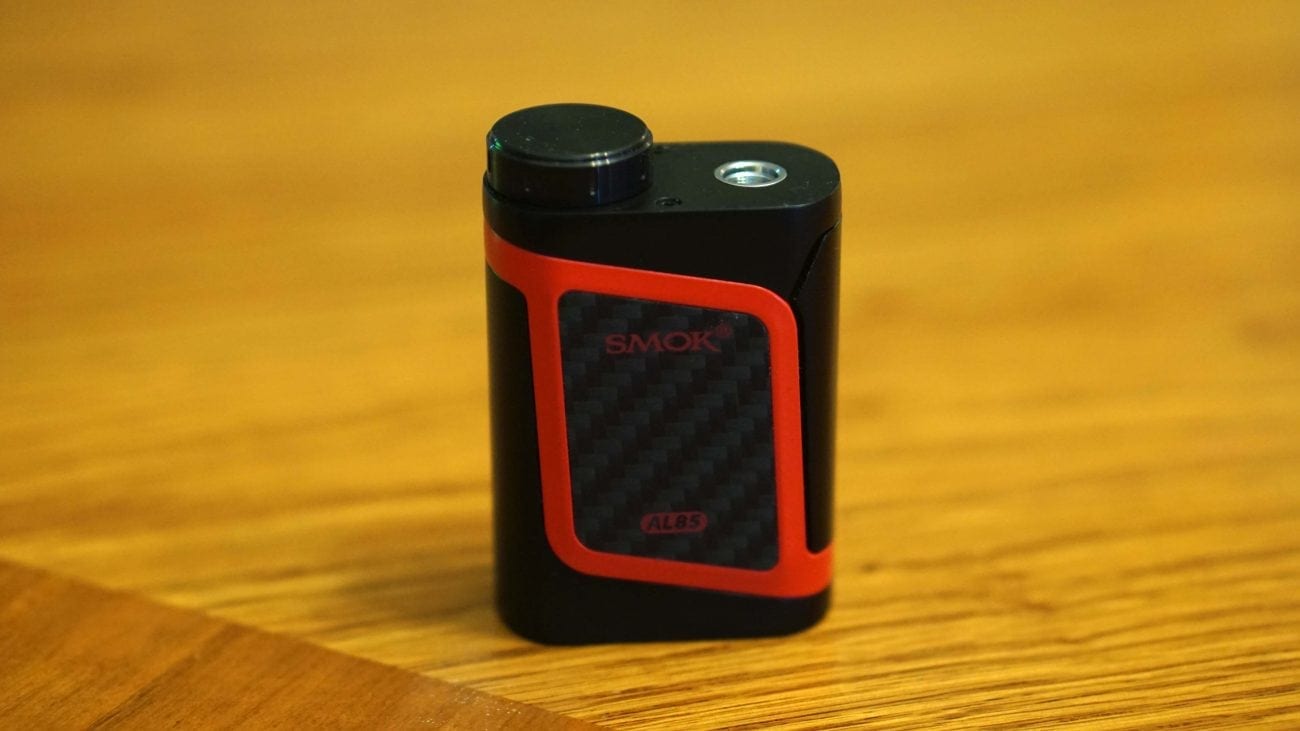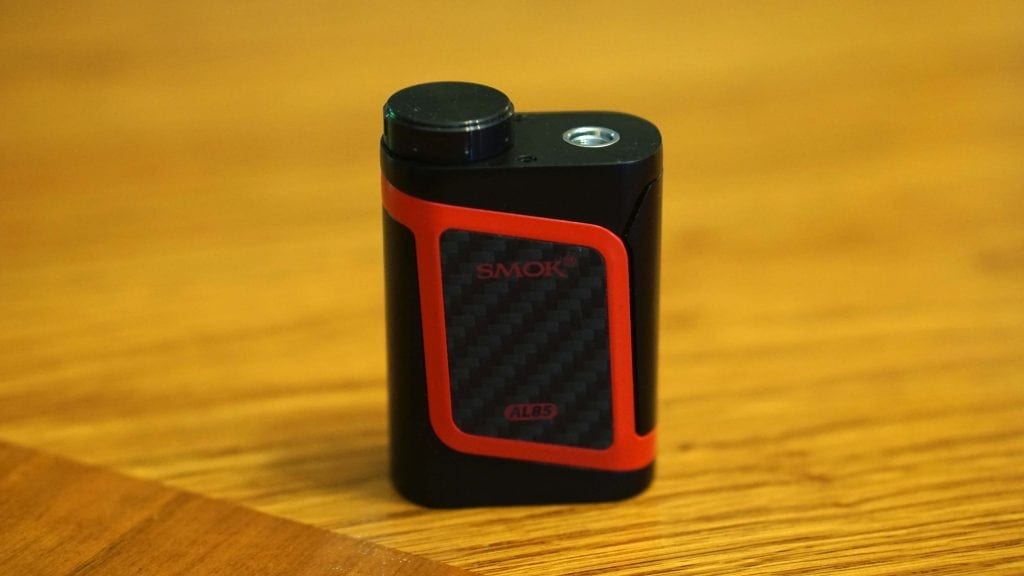 When first holding the Smok Al85, it immediately felt comfortable to hold. This device does feature a side firing bar just like the Smok Alien, but is much smaller of course due to its smaller form factor. I did receive the Black and Red color, but there are a variety of other colors to choose from such as Silver, Gunmetal and more.
The wattage up and wattage down buttons are on the front of the device, right below the screen. Speaking about the screen, it is quite large for such a small device, which I do think is a pro. I personally like larger screens with tons of information, but this is subjective as some vapers may prefer a simple screen with minimal information. The micro USB port is located on the side of the device, which is yet again another pro.
The overall fit and finish of the Smok AL85 Mod are also very good, especially considering its price. The fire button is nice and clicky, which is something I do prefer as well. However, I do want to mention that the threading for the battery cover could be better, as it is a bit rough. Not the worst con, but still something definitely worth mentioning.
All in all, my first impressions of the Smok AL85 Mod was great! The form factor of this device is perfect for a single 18650 box mod, which makes it travel-friendly!
Here's a closer look on AL85
Usage
As mentioned previously, the Smok AL85 Mod does require a single high drain 18650 battery for operation. With a 18650 battery installed, this device is still quite light, which makes it great for throwing it in your pocket or purse, especially when you factor in its size! Honestly, you will have zero issues traveling with this device.
All of the atomizers I attached on this device made a connection and fire with no issues, even atomizers with longer 510 pins. In addition, atomizers up to 25mm look great on this device, which I think is a huge pro to this device, and may be something that many vapers look at when looking for a single 18650 device. With 25mm atomizers, there was a very slight hangover, but honestly, it's very difficult to even spot, and you probably wouldn't notice it.
Navigating through the Smok AL85 Mod's menu system is incredibly easy as well. Five clicks will turn this device on as with most other devices on the market. However, five clicks while this device is on will lock and unlock it. To enter the menu, all you have to do is click the fire button 3 times, and you can scroll through it using the wattage up and down buttons. Simply long press the fire button to select something specific from the menu and you can go from there!
Also, you can turn the device completely off from this menu by navigating to "power". If you're familiar with the original Alien or any other Smok device, then you'll have no issues with the Smok AL85.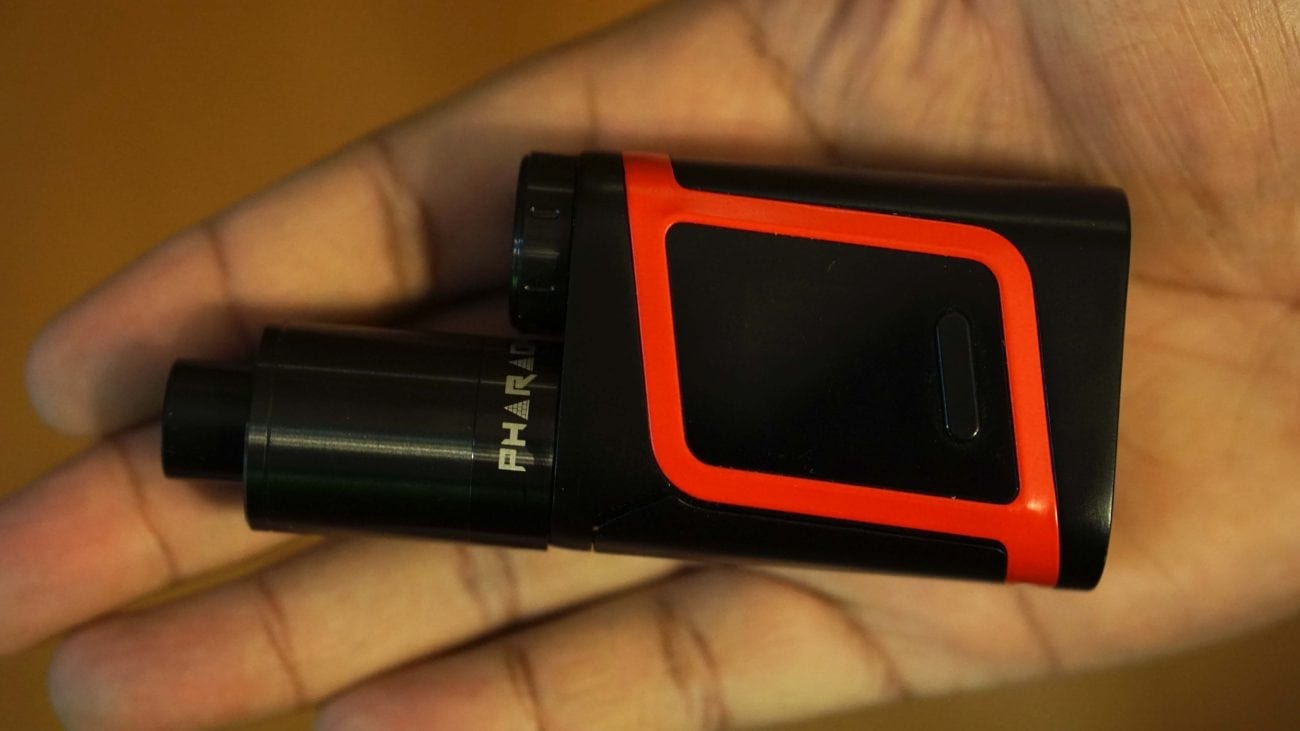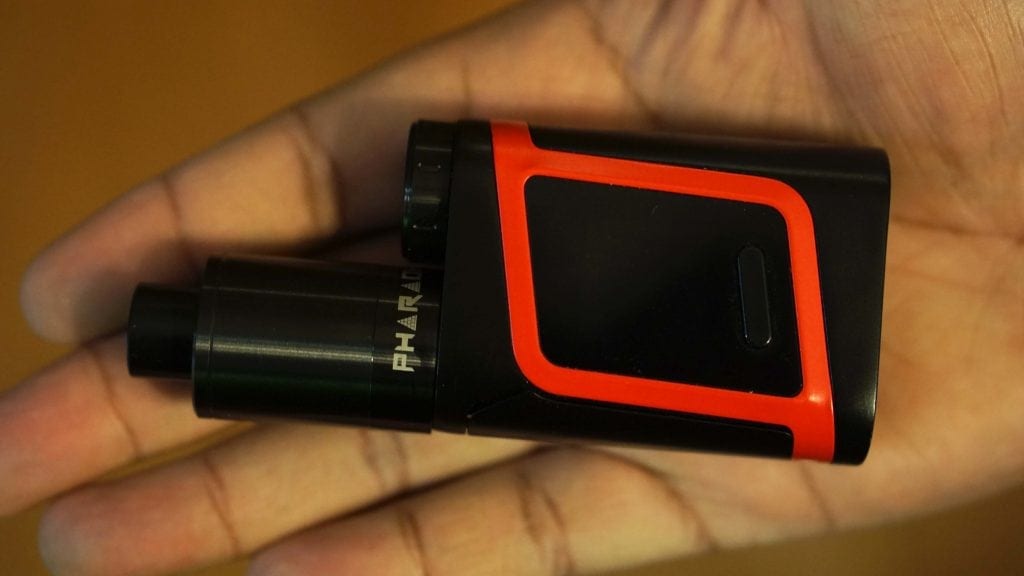 The display screen is large as mentioned before, so it makes reading this screen very easy. Not to mention, the screen itself is quite bright, which is a pro in my book. When you do press the fire button, it does light up just a bit than normal which is seen with many other mods on the market.
Using this as a daily driver for a few weeks, I noticed zero issues with the paint. I know this was an issue with the original Alien, but I have no issues in regards to the paint on the Smok AL85. However, this can of course change over time, so I will certainly update if the paint does start to chip or wear off.
All in all, using this device has been a pleasure. It is extremely pocket-friendly, and is simply a joy to use, especially with its simple menu system!
Performance
The Smok AL85 Mod does have a maximum wattage output of 85w, which is quite high when considering this utilizes only a single high drain 18650 battery. Now I do not have the equipment to test how accurate this is, but I can definitely say when you vape this device at its maximum 85w, it certainly feels like it. I was actually surprised by its power delivery as well. As soon as you hit the fire button, it fires instantaneously with no firing delay whatsoever, which is a huge pro! I know many vapers hate when there is a delay when hitting the fire button as it can become quite annoying at times.
This box mod does feature temperature control for Ni200, Ti and SS wires. You can easily access the temperature control settings by entering the menu with 3 clicks, as mentioned previously. When vaping this device in stainless steel temperature control mode, it worked just fine. I did have to adjust it for SS316, which is not a big issue. Is it as good as say a DNA200/DNA250 device or YiHi device, certainly not in my opinion and that's to be expected.
However, for the price, it works pretty great as I never experienced a dry hit and the temperature change you can definitely feel. Also, it is worth mentioning that this device is firmware upgradeable, so if there is an update to improve anything, you can do so rather quickly, which is another huge pro.
Just like other Smok devices, this box mod does feature soft, normal and hard firing modes. The hard mode is great, especially with Clapton coil builds since they do require a bit more wattage to get ramped up. I did see myself using the "hard" firing mode often with these types of coil builds. I did not really use "soft" mode that often, but it does work.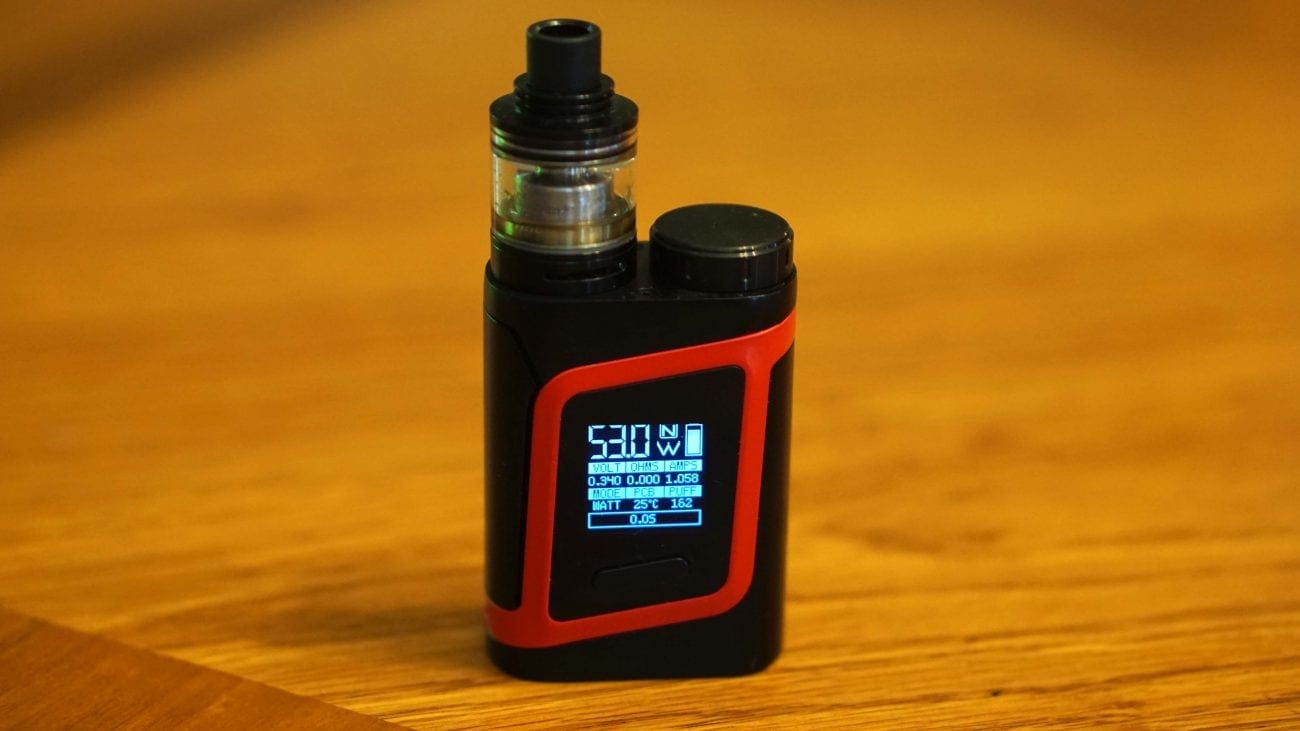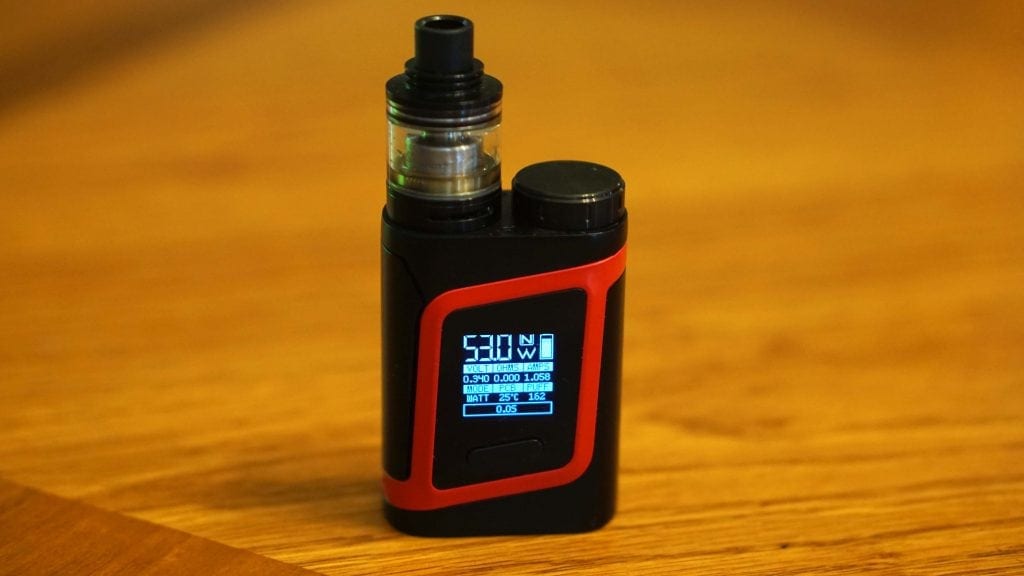 Since the Smok AL85 Mod requires only a single high drain 18650 battery, you won't be getting incredible battery life. Of course, this can be determined by the resistance of your build and wattage you vape at. When vaping around 45w and 60w, I can easily get a few hours with a Sony VTC6 3000 mAh 18650 battery. When vaping at lower wattages, such as 30w to 40w, I can get about 4 hours of vaping on and off, which is pretty good for a single battery.
This device does drain your battery down to about 3.4v – 3.5v, which is where I like to take out my batteries and charge them. When your battery is drained, it will give you a weak battery/low battery warning, and it will not fire, which I do think is a good thing, since it does protect your battery from draining too low.
All in all, the performance is excellent! The power delivery of this device was quite impressive, and everything just worked great with no issues!
Specifications:
Requires a single high drain 18650 battery (Not Included)
Maximum Wattage Output: 85w
Temperature Control (Ni200, Ti, SS)
Minimum Firing Resistance: 0.1 ohm (VW), 0.06 ohm (TC)
Firmware Upgradeable
Threaded Battery Cap
Compact & Lightweight Design
Includes Micro USB Cable for Charging/Upgrading
Ergonomic Design
Side Firing Bar
Large OLED Display Screen
Accommodates up to 25mm in diameter atomizers
Ergonomic Design
Variety of Colors Available
Pros
Solid build quality
Maximum Wattage Output of 85w
Compact design
Comfortable to hold and use
Travel-friendly
Easy to use
Can fit atomizers up to 25mm in diameter
Firmware upgradeable
Many safety features
Cons
Can go through battery life quickly when vaping at higher wattages
Battery cap threading is a bit rough
Drains your battery down to 3.4v – 3.5v and not any lower (subjective)
Conclusion
In conclusion, the Smok AL85 Mod or Baby Alien as some vapers would say is an excellent performing single 18650 box mod. It offers tons of features, and best of all it is firmware upgradeable, so you'll always be up to date with this device! Not to mention, it's extremely compact and lightweight design makes it great for taking out with you whether in your pocket or purse! Plus, it keeps a similar design to its bigger brother, the Alien Box Mod, which many vapers love!
Even though this mod does have some minor cons to it, it really doesn't bother me at all, as I see myself reaching for this "baby" time and time again. It simply performs well and just feels great in the hands.
I honestly don't have anything really bad to say about this device, as it surpassed my expectations. Like mentioned previously, I will update if I do notice the paint chipping or wearing off, as I know this may be a question that can come up. However, with a few weeks of usage, this device is still in mint condition.
All in all, the Smok AL85 Mod is a great all around box mod. If you're looking for a compact single 18650 box mod and a fan of the original Alien design, then I can easily recommend the Smok AL85, especially when considering its price!
I hope you find this review helpful in finding the right choice to fit all of your vaping needs! Feel free to leave any questions or comments down below! Thanks for reading!