Voopoo Vinci X Pod Mod Kit $17.00 (USA)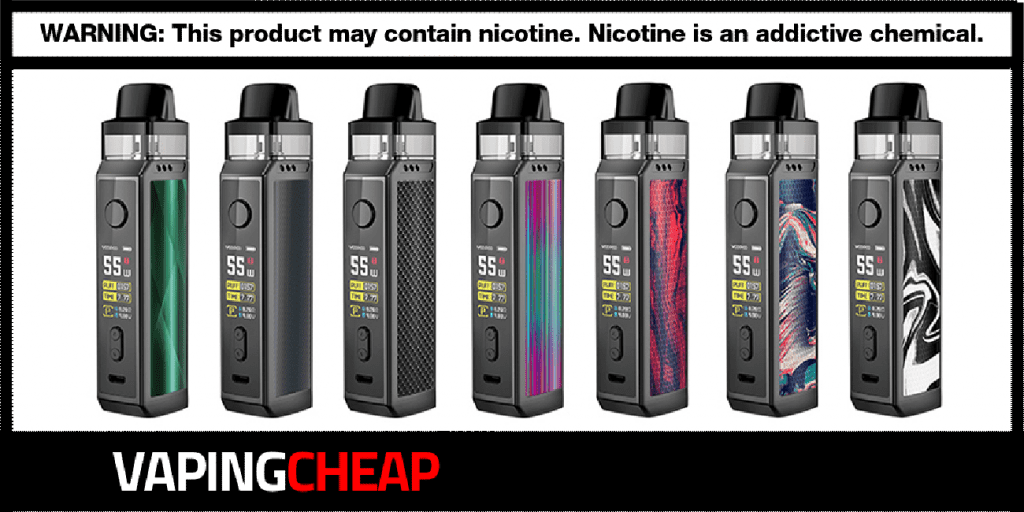 Here are cheap deals and discounts for the VooPoo Vinci X Pod Mod Kit. Grab yourself one from a USA based store for only $17.00 using discount code "CART15"!. There are seven color options available for purchase including ink, Space Grey, Teal, Aurora and more.
The Vinci Mod Pod Kit by VooPoo is a unique pod system that has similar features to that of an AIO (all in one) kit. You'll notice similarities as well between this version, and the previous Vinci Pod Mod, but there's many differences. Firstly, is the fact that the VooPoo Vinci X utilizes an external 18650 battery rather than a built in battery. This means not only longer battery life, but even more power. Speaking of, this pod device can deliver up to a whopping 70w!
On top of that, it utilizes a new generation GENE.AI chipset. As seen with devices like their Drag 2, this chipset provides stellar performance, and has a bunch of unique features. One standout feature is that the VooPoo Vinci X Pod Mod can intelligently prevent coils from being burnt out. How great is that? It'll also show you a 2 week usage period, so you can track how much you're vaping. Not to mention, it has a ton of safety protections built in, which is always a good thing.
When it comes to coils, the Vinci X is compatible with the VooPoo PnP coil heads. Included in the packaging, you'll receive two, a 0.3 ohm and a 0.6 ohm. The 0.6 ohm is better paired with nicotine salt vape juices (recommended up to 25mg), while the other 0.3 ohm is best with regular freebase e-liquids. With its refillable pod cartridge, it can hold a massive 5.5ml of e-liquid, which is way more when comparing it to other pod vapes. In addition, you can easily see your e-juice level.
Whether you're looking for a power pod system, or one that offers the versatility of an external battery, the VooPoo Vinci Pod Mod Kit is one to check out. With all of its features, and the many different coil options, it'll satisfy all vapers.
VooPoo Vinci X Mod Pod Kit Features:
Powered By New Generation

GENE.AI

Chipset
Requires Single 18650 Battery (Not Included)
Wattage Output Range: 5w - 70w
Minimum Firing Resistance: 0.1 ohm
Intelligently Prevents Coils From Burning Out
0.96 Inch TFT Color Display Screen
Shows 2 Week Usage Period
8 Different Safety Protections
Refillable Pod Cartridge

Large 5.5ml E-Liquid Capacity
Easy to Fill
Visible Capacity

Compatible With All VooPoo PnP Coil Heads
Many Unique Color Options
What's Included
VooPoo Vinci X Pod System Kit
Vinci Refillable Pod Catridge (5.5ml Capacity)
0.3 ohm PnP-VM1 Coil Head
0.6 ohm PnP-VM4 Coil Head
USB Cable
Warranty & Chip Card
User Manual
Check Out The VooPoo Vinci X Review