OneVape Mace 55 Pod Kit $12.75 (USA)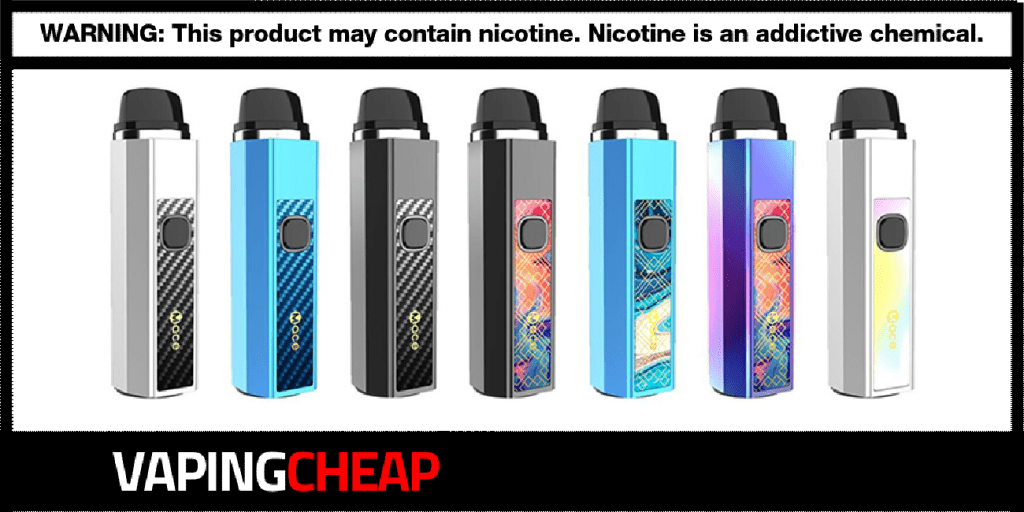 Here's a few cheap deals for the OneVape Mace 55 Pod Kit. Buy yours from a USA based store for $12.75 plus free shipping over $100 after using the code "HARDWARE15". There's a ton of different color options including Gunmetal Scarlet, Blue CF, Rainbow, Bright Silver and more. However, there are currently only two left in stock!
The OneVapr Mace 55 Pod System Starter Kit sports an overall design that's pretty similar to the Smok RPM40 Pod Mod, but does have some differences to set it apart. This isn't a bad thing whatsoever, as this form factor is just awesome.
It fits into your pocket easily, and is very comfortable to hold. With that being covered, the Mace 55 Pod Starter Kit by OneVape has a built in 1,500mAh battery. What's great, and makes this one different is that it charges via Type-C. This means it'll charge faster, and is a better connection overall. Charging it when fully depleted will take you about an hour and a half.
Another great feature is that it can output up to 55w, which is more than what most other pod vapes can deliver. Depending on the coil used, you can select from three different wattage outputs. To swap the wattage setting, all you need to do is click the firing button three times. Speaking of different wattages and coils, there's actually quite a few that's available.
The first is the Mace TM 0.2 ohm coil, which is the one that can handle up to 55w. This is a triple mesh coil, so you know you're gonna get some stellar flavor out of it. Secondly, there's the Mace DM 0.3 ohm coil head, which can be vaped between 24w and 36w. Thirdly, you have the option of the Mace M 0.6 ohm coil, which you can vape from 12w to 18w. Lastly, there is an RBA section that will be available, allowing you to install your own coil.
There is adjustable airflow as well for these coils, allowing you to really dial in the draw to your preference. When it comes to the actual pod cartridge which houses the coils, it can hold up to 3.5ml of e-juice. What's even better is that it has a top fill system, which makes it super quick to fill.
All in all, this is an excellent sale on the OneVape Mace 55 Pod Vape Kit. For the price it's going for, it's pretty hard to beat. If you're looking for a pod mod that can deliver a pretty high wattage output, you might want to check this one out.
OneVape Mace 55 Pod System Kit Features:
Internal 1,500mAh Battery
USB Type-C Charge Port

1.5 Hours to Fully Charge

Maximum Wattage Output: 55w
3 Voltage Output Settings
Minimum Firing Resistance: 0.2 ohm
Five Safety Protections
Refillable Pod Cartridge

3.5ml E-Juice Capacity
Top Fill System

Replaceable Coil Heads

Mace TM0.2 ohm (Rated up to 55w)
Mace DM0.3 ohm (Rated up to 36w)
Mace M0.6 ohm (Rated up to 18w)
Mace RBA

7 Color Options
What's Included
OneVape Mace 55 Pod Mod Device
Mace Pod Cartridge (Refillable)
Mace 0.3 ohm Dual Mesh Coil
Mace 0.6 ohm Single Mesh Coil
Charging Cable
User Manual
Warranty Card
Check Out The OneVape Mace 55 Pod Kit Review