VooPoo Drag 2 Kit Refresh Edition $27.15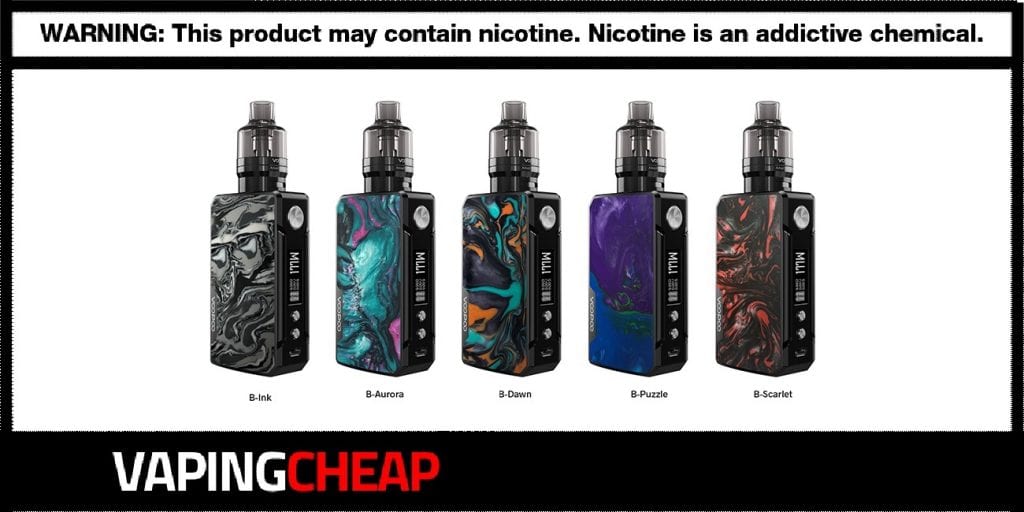 Here's a few great deals and discounts for the VooPoo Drag 2 Kit Refresh Edition. Buy yours for as cheap as $27.15 using discount code "vapingcheap". It's also on sale at a USA shipper for $31.49 using code "Vape10". There are five different color options you can choose from.
The VooPoo Drag 2 Kit Refresh Edition includes both the VooPoo Drag 2 Mod and the VooPoo PnP Pod Tank. VooPoo's Drag 2 Mod requires two high drain 18650 batteries for operation and is powered by the Gene.Fit Chip. Like most chipsets, this one does have multiple safety features built. However, this chip also has an intelligent coil feature. Depending on which coil you install, it'll automatically detect it, and adjust the wattage perfectly. Of course, you can adjust to your own preferred wattage setting.
Now you might be wondering what makes this device different from other box mods. One primary reasons is the Fit Mode. This feature provides multiple different modes, including battery save, flavor enhance, and even a cloud chase. On top of that, it delivers a massive 177w maximum output. Lastly, there is a temp control mode as well for you vapers who enjoy this vaping style.
VooPoo's PnP Pod Tank is quite unique, and much different than anything you'd normally see in a high wattage starter kit. It can easily swap from a sub ohm tank to a pod with a few adjustments.
To swap it, simply add or remove the base of the tank and change the coil heads. Furthermore, it holds a maximum e-juice capacity of 4.5ml and can be filled by removing the base. It is compatible with the PnP Coil Family and includes two replacement coil heads in the packaging. Lastly, this tank does have adjustable bottom airflow, and a wide bore drip tip up top.
For the price, you just can't go wrong with the Voopoo Drag 2 Refresh Edition starter kit. You've got basically almost everything you'd need for high wattage kit. For under $30, it's a steal in our opinion.
VooPoo Drag 2 Vape Kit Refresh Edition Features:
VooPoo Drag 2 Mod

Requires 2 high drain 18650 batteries (Not Included)
Powered by the

Gene.Fit

Chip
Maximum wattage output: 177w
Multiple User Modes: Fit Mode, Temperature Control and Variable Wattage
Three button design
Various safety features
Large OLED display screen

VooPoo PnP Pod Tank

Maximum e-juice capacity: 4.5ml
Bottom fill design
Can be swapped from a tank or pod
Compatible with the PnP Coil Family
Adjustable bottom airflow
What's Included:
VooPoo Drag 2 Mod
PnP Pod Tank
PnP-VM5 0.2 ohm coil
USB Cable
PnP-VM6 0.15 ohm coil
User Manual
Warranty Card
Chip Card
More Great Vape Deals...
---
Asmodus Lustro Box Mod $25.99
Temperature Control Box Mod The Asmodus Lustro Box Mod is now in stock and on sale right here for only $36.00 using coupon[...]