Innokin Kroma R Zlide Mod $29.88 | Kit $39.94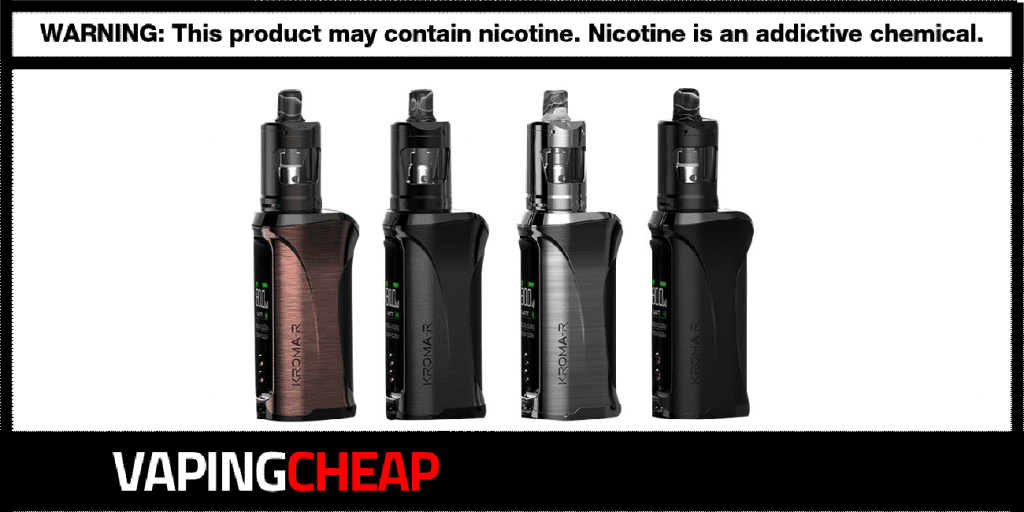 The Innokin Kroma R Zlide Kit is now in stock and on sale. Grab this 80w starter kit for just $39.94 when using code "vapingcheap". The box mod is also available for only $29.88 when using the same code. There's four colors to choose from which include Bronze, Black, Gunmetal and Stainless Steel.
This vape kit by Innokin includes both the popular Zlide Tank and the Kroma R Mod. Let's start with the box mod first. Innokin's Kroma R is powered by a single high drain 18650 battery rather than a built in battery unlike some of their other releases such as the Adept Kit. This means you can easily change out the battery when in need rather than having to wait to charge it up. It is crafted of a premium zinc alloy, and just by looking at it, you can tell it has great built quality.
Additionally, this mod has a max output wattage of 80w, and a maximum output voltage of 7.5v. Another great feature is the actual display screen. It's very clear and easy to see. Some other features of the Innokin Kroma R Mod includes Bypass mode, Curve Mode, Variable Voltage and a boost mode with soft, normal and hard settings.
As mentioned earlier, included in the Innokin Kroma R Zlide Kit, you'll also get the Zlide Tank. This one is designed for mouth to lung vaping, but you're able to use other atomizers if preferred. It has a 2ml or 4ml e-liquid capacity, and fills from the top.
There's also fully adjustable bottom airflow, and a narrow bore drip tip, ideal for a MTL vape. Lastly, it is compatible with all Z-Coils, so you do have quite a few options to cater to multiple vape experiences. We'll say one of the best available is the ZPLEX3D mesh coil. You'll get some pretty intense flavor with that coil head.
If you're looking for a compact vape starter kit that utilizes replaceable 18650 batteries rather than an internal battery, then you'll definitely want to check out the Innokin Kroma R Zlide Vape Kit. These guys are known for producing some awesome kits for both beginners and advanced vapers, and this is another example.
Innokin Kroma R Zlide 80w Kit Features:
Innokin Kroma R Vape Mod

Requires Single High Drain 18650 Battery (Not Included)
Powered By Proprietary Innokin Chipset
Max Wattage Output: 80w
Max Voltage Output: 7.5v
Clear Display Screen
Minimum Firing Resistance: 0.05 ohm
VV, Bypass, Curve & Boost Modes
2A Fast Charging
Premium Zinc Alloy Construction

Innokin Zlide Tank

Stainless Steel & Glass Construction
2ml/4ml E-Liquid Capacity
Sliding Top Fill System
Adjustable Bottom Airflow
MTL Drip Tip
Compatible with Z-Coils
What's Included
Innokin Kroma R Box Mod
Innokin Zlide Tank
Z-Plex3D Mesh Coil (0.48 ohm)
1.6 ohm Coil (Kanthal)
Charging Cable
Warranty Card
User Manual
Check Out The Innokin Kroma R Zlide Kit Review