Vapefly Firebolt Cotton $2.99 + FS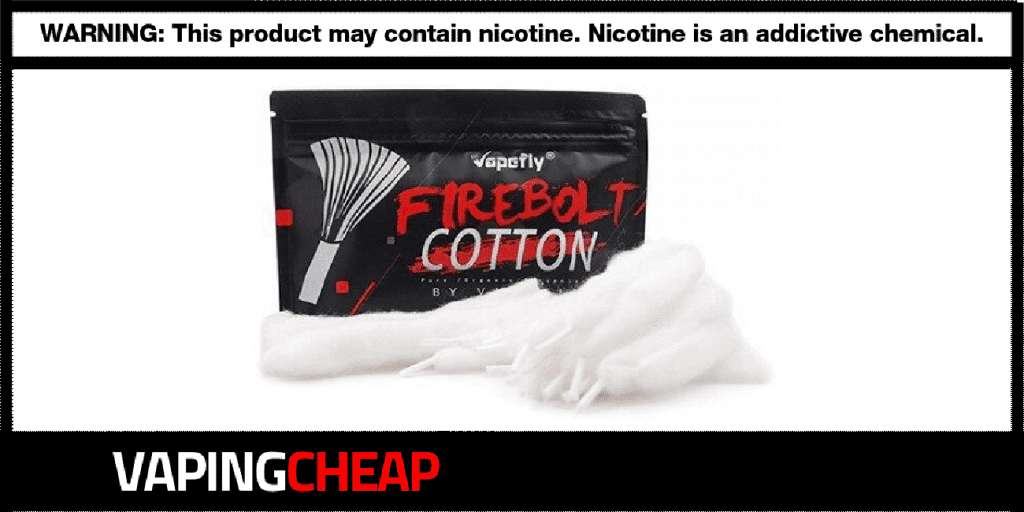 Here are cheap deals and discounts for the Vapefly Firebolt Cotton. Get a pack of 20 for just $2.99 plus free worldwide shipping. It's also in stock at a USA based store for $6.65 plus free shipping over $50 with code "MYVPRO-2020". You can also get the mixed edition for only $3.02.
| | | | |
| --- | --- | --- | --- |
| | | | |
| $3.02 + FS (Mixed Edition) | | | |
| | | | |
| | | | |
The Vapefly Firebolt Cotton includes 20 pieces of pre-cut cotton per pack. What's great about this specific wick in comparison to other vape cotton is the shoelace ends. What this does is allow for a much easier time when wicking. While it makes the wicking process that much easier for the beginner, it's incredibly convenient to the advanced vaper. The regular Firebolt Cotton by Vapefly are pre-cut for 3mm in diameter coils.
However, if you do choose the mixed edition, it does come different diameter sizes. Included in the Vapefly Firebolt Cotton Mixed Edition, you'll get 7 pieces each of 2.5mm, 3.0mm and 3.5mm, for a total of 21 individual strips. Regardless of which Firebolt vape cotton you go for, they're very absorbent, and have little to no break-in time.
All in all, this is an excellent sale for the Vapefly Firebolt Cotton, both regular and mixed edition. If you're looking for easy to use cotton that works well in pretty much any atomizer, then look no further. This is one of, if not the first to feature shoelace ends, which makes life that much easier when it comes to wicking. You won't be needing to measure and twist cotton any longer with this.
Vapefly Firebolt Vape Cotton Features:
Includes 20 or 21 Individual Pre-Cut Cotton Strips
Fits 3mm In Diameter Coils (Regular Edition)
Absorbent & Easy to Handle
No Cotton Taste & Little Break-In Time
Enclosed In Resealable Bag
Available In Mixed Edition

Includes 2.5mm, 3.0mm & 3.5mm Cotton Strips (7 Each)
Check Out The Vapefly FireBolt Cotton Review