Horizon Magico Replacement Coils $4.83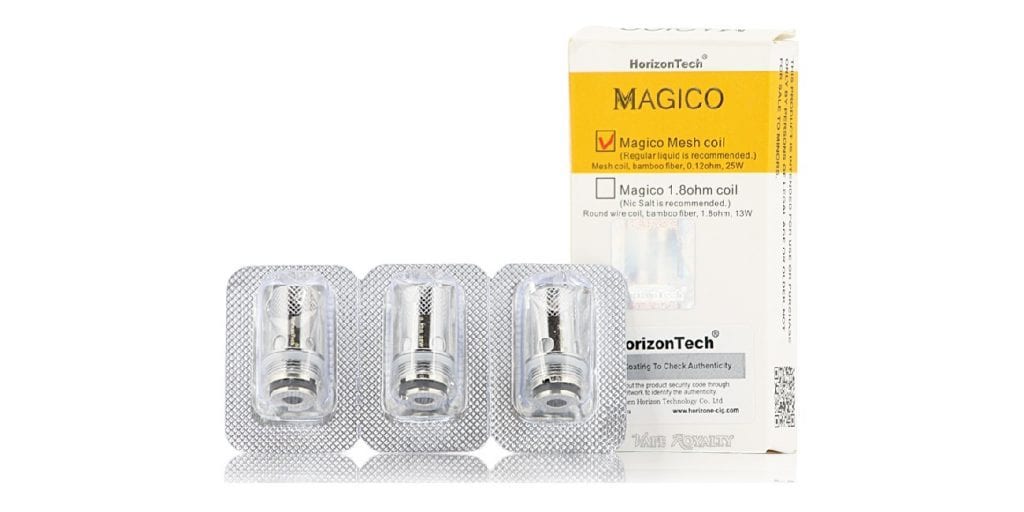 Here's an amazing deal on the Horizon Magico Replacement Coils! Get a 3 pack from only $4.83 using our exclusive Sourcemore Coupon "vapingcheap". It's also in stock at a US shipper for only $11.95 with free shipping over $50.
These Horizon replacement coil heads are designed for the Horizon Magico Kit specifically. There's two different options you can choose from too, and each will provide a vastly different vape experience from the other.
The first option is the 0.12 ohm mesh coil, which is strictly for direct to lung vaping. Now, the second coil option is the 1.8 ohm NS coil which is catered for a mouth to lung vape experience.
Both of them feature Bamboo fiber wicking, so you know you'll be getting amazing flavor. Also, installing these coils are very easy since they do feature a traditional threaded coil installation design. Simply unthread the used coil, and thread in the new Magico coil you'd like to vape with, and you're good to go! Lastly, each coil option does come in a 3 pack option.
If you recently picked up the Magico Kit and looking to grab some replacement coils at a cheap price, then this is a deal you can't miss out on. At under 5 bucks for a 3 pack of Horizon Magico Replacement Coils, you can stock up for the entire year without breaking the bank.
Horizon Magico Coils Features:
Pack of 3 Magico Replacement Coil Heads
Bamboo Fiber Wicking
Threaded Coil Installation
Coil Options

0.12 ohm Magico Mesh Coil (Direct Lung Vaping)
1.8 ohm Magico NS Coil (Mouth to Lung Vaping)