Vape Breakfast Classics Sale! 3 x 120ml $28.88!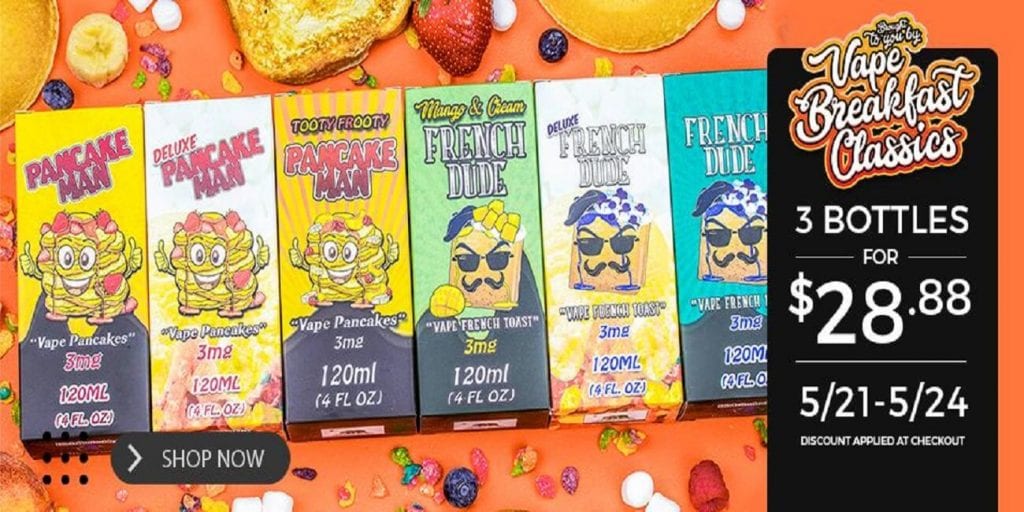 Here's an amazing deal on the Vape Breakfast Classics e-liquid line! Get 3 bottles for only $28.88! No code needed, the discount automatically applies in your cart!
With this deal, you'll be able to grab 3 bottles of your choice for under $30! That's less than $10 per bottle! There's tons of flavor options available including some of the most popular such as French Dude, Pancake Man, Unicorn Cakes and more! The nicotine strengths available are 0mg, 3mg and 6mg. Lastly, each of these e-juices have a high VG blend, ensuring excellent cloud production and flavor.
All in all, this is an amazing e-juice deal! If you're a fan of Vape Breakfast Classics, then this is a deal you cannot miss out on! Act quickly though as it does end in just a couple of days!
Vape Breakfast Classics EJuice Details:
120ml Bottle Sizes
Chubby Gorilla Bottle
High VG Blends
Nicotine Strengths Available: 0mg, 3mg, 6mg
Flavor Options:

French Dude
French Dude Reload
Mango and Cream French Dude
Pancake Man
Pancake Man Reload
Unicorn Cakes
Deluxe French Dude
Pancake Man Tooty Frooty
Deluxe Pancake Man
Granny's Pie Apple Crisp
Granny's Pie Lemon Tart
Granny's Pie Strawberry Pie