Hi-Drip EJuice Sale! 100ml & 30ml Salt $7.99 (USA)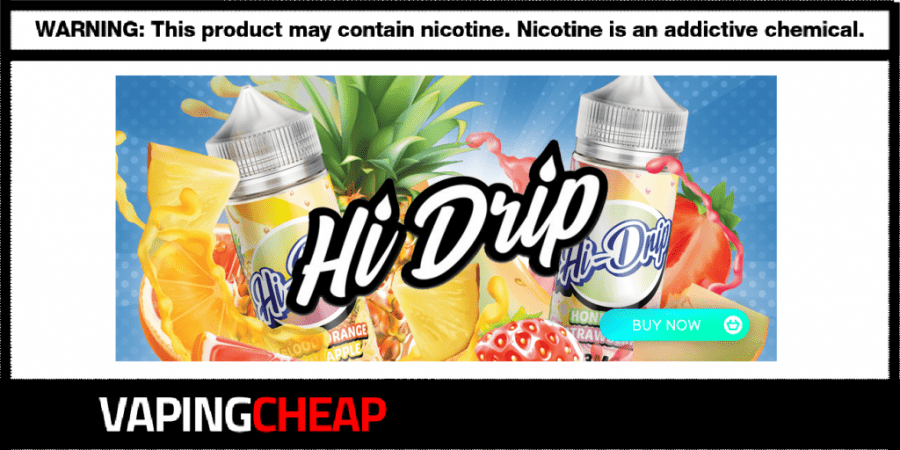 Here's a cheap deal and discount for the Hi-Drip EJuice Line. Grab a 30ml nic salts for just $7.99 or 100ml for only $9.00! No discount code required.
The Hi-Drip E-Liquid line consists of many different unique flavors. This includes Blood Orange Pineapple, Water Melons, Honeydew Strawberry, and Mango Peach. There's also ICED versions available for each flavor, which is great for you vapers who enjoy menthol or any vapes with a cooling effect.
As mentioned earlier, you'll be able to get these flavors in 100ml bottles for their freebase options, or 30ml for the nicotine salt. When it comes to the actual nicotine strengths, there's 0mg, 3mg and 6mg freebase, and 20mg, and 50mg salt. Lastly, the salt variants have a 50VG/50PG blend, and the larger 100ml freebase versions are 70VG/30PG.
If you enjoy fruit flavored e-liquids, then you'll want to check out this Hi-Drip EJuice Sale. They've got some pretty unique twists on some standard flavor profiles, making them quite different than others.
Hi-Drip Vape Juice Sale Details:
100ml or 30ml (2x15ml) Bottle Sizes
Freebase Nicotine Strengths: 0mg, 3mg, 6mg
Salt Nicotine Strengths: 20mg, 50mg
50VG/50PG Blend (Salt)
70VG/30PG Blend (Freebase)
Many Unique Flavor Options

Honeydew Strawberry
Mango Peach
Water Melons
Blood Orange Pineapple
ICED Versions of Each Flavor
More Great Vape Deals...
---
Vandy Vape Mato RDTA $22.40
Here are cheap deals and discounts on the new Vandy Vape Mato RDTA. Get this atomizer from only $30.36plus free[...]