Zonk EJuice Sale! B1G1 50% Off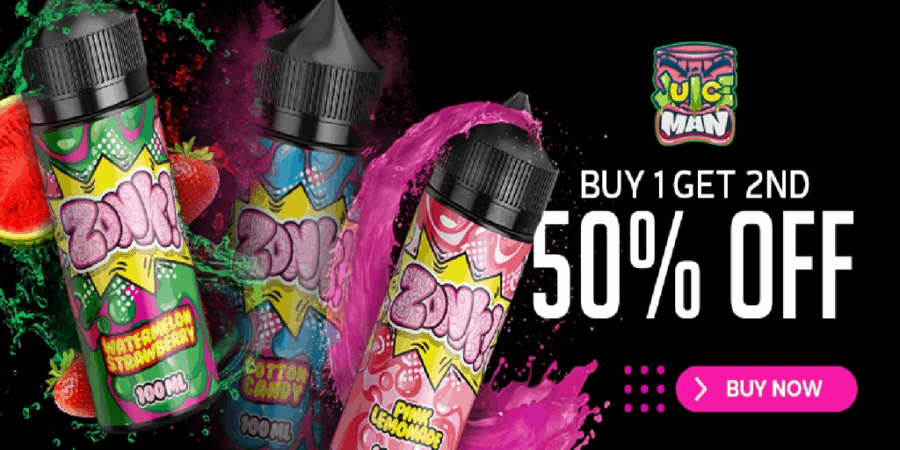 Here's an awesome sale on Zonk EJuice! Buy 1 Get 1 50% off. No code required to get this discount. Simply add two flavors you want into your cart, and it will automatically apply.
With this Zonk E-Juice Sale, you can get two 100ml bottles of premium e-liquid for under 25 bucks. There's five amazing flavor options for you to choose from including Cotton Candy, Watermelon Strawberry, Pink Lemonade, Orange Mango and Mixed Berry. What's even better is that these vape flavors from Zonk e-liquid comes in large 100ml chubby gorilla bottles.
This makes it much easier to travel with plus you'll be able to fill your tanks super fast. Lastly, there's three nicotine strengths you can choose from including 0mg, 3mg and 6mg.
If you're looking for another e-juice deal to save on some new flavors, then look no further! We're not sure how long this sale on Zonk ejuice will last, so don't miss on the this 50% discount.
Zonk Vape Juice Sale Details:
Buy 1 Get 1 50% Off (Discount Automatically Applies)
100ml Bottle Sizes
Nicotine Strength Options: 0mg, 3mg, 6mg
High VG Blend
5 Flavor Options

Pink Lemonade
Cotton Candy
Mixed Berry
Orange Mango
Watermelon Strawberry