Vandy Vape Mesh Replacement Coils 4 Pack $8.95 (USA)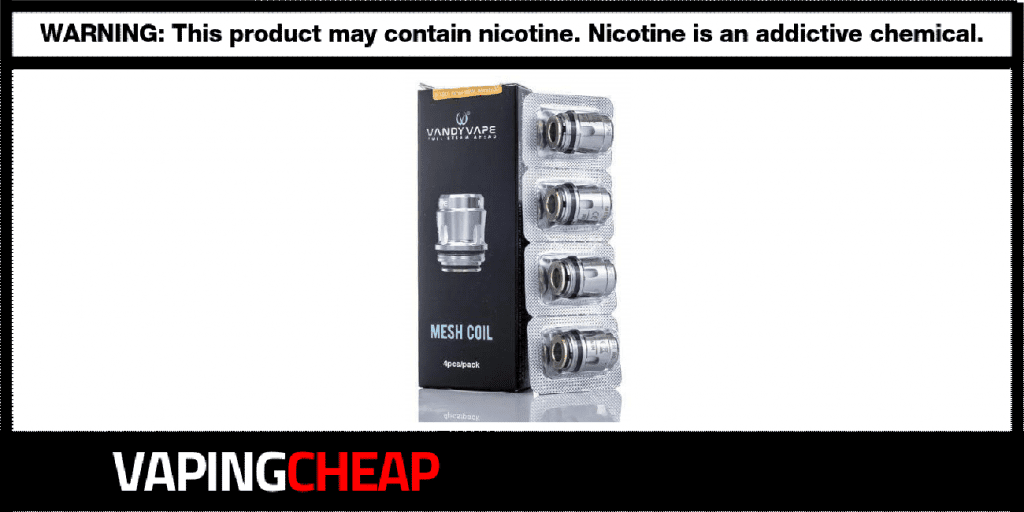 Here's cheap deals and discounts for the Vandy Vape Mesh Replacement Coils. Get a pack of 4 coil heads for just $8.95. No code required to get this price.
The Vandy Vape Mesh Replacement Coil Heads are available, and compatible with a variety of sub ohm tanks by Vandy Vape. Some of the tanks that's compatible includes the Jackroo, and Trident Sub Ohm Tank.
Some of these replacement coil heads are also compatible with the tank that comes with the Swell Kit. With that being said, the first coil option is a 0.3 ohm mesh coil, rated between 40w and 60w.
Secondly, there's the 0.15 ohm mesh coil, which is rated between 50w and 90w. So these specific Vandy Vape mesh replacement coil head is great for higher wattage vaping. However, each of these coils will provide plenty of flavor, and cloud production. Not to mention, these coil heads do last quite a long time since they do feature mesh wire.
If you're wanting coils for the Swell tank, there's two options available. There's the Swell Triple Mesh Coil (rated up to 100w), and the Swell Single Mesh Coil (rated up to 90w).
If you're looking for cheap Vandy Vape mesh replacement coils, then this is sale you won't wanna miss out on. Remember, they all come in a pack of 4, so you can stock up on coils for months at one low price.
Vandy Vape Mesh Coil Head Features:
Pack of 4 Coils
Compatible with Jackaroo Tank, Trident Tank & Swell Tank
Coil Options

0.3 ohm Mesh 50 Coil

Rated Between 40w - 60w
Kanthal A1 Mesh Wire

0.15 ohm Mesh 80 Coil

Rated Between 50w - 90w
Kanthal A1 Mesh Wire

Swell Single Mesh Coil
Swell Triple Mesh Coil

Threaded Coil Design
Organic Cotton Wick
More Great Vape Deals...
---
Sourcemore MEGA Sale! Up to 73% off
For a limited time only, Sourcmore is having their Holiday Sale right here where you can save 10% off sitewide using coupon code "TSF10"![...]