Smok Nfix Pod System Kit $14.69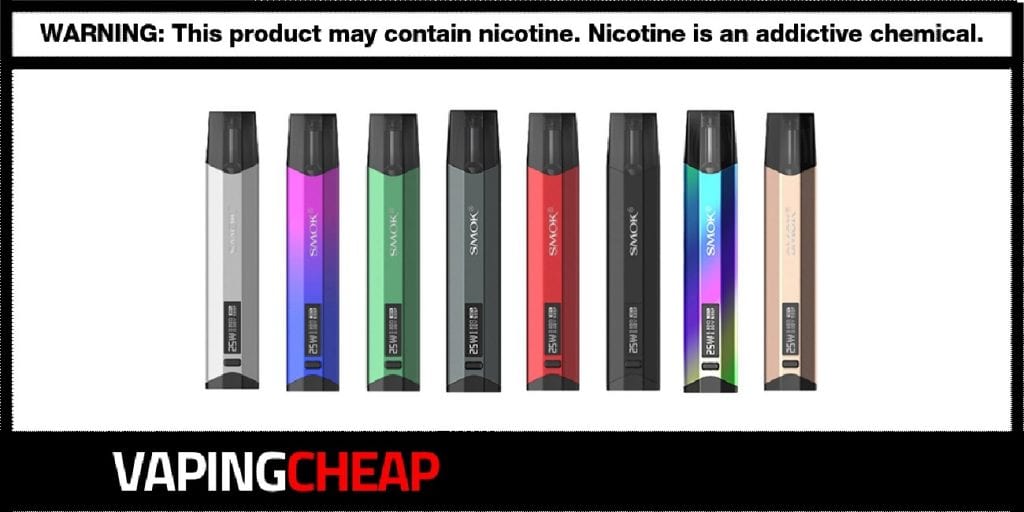 Here's a cheap price on the Smok Nfix Pod System Kit. Buy yours from a China based store for just $14.69 using discount code "NfixK". It's also in stock and on sale at a USA based store for only $16.46 using code "VAPOR25". You've got a wide range of color options to choose from including black, red, blue/purple, green and more.
When looking at the Nfix vape pod, it sports a very similar design to the Smok Infinix 2 Pod System. However, it's quite different overall. Firstly, it packs an internal in 700mAh battery and has a maximum wattage output of 25w. When comparing it to other pod kits with a similar size, it does offer a bit more punch. What's even better, it'll charge incredibly quick due to the fact it has a USB type-c port.
Another great feature is the 0.69 inch OLED display screen, something not seen often on a slim and travel friendly pod device. Also, just below the screen is the power button which allows you to turn the device off with 5 clicks.
Next, let's talk about the airflow. It comes in from the side of the device and travels upwards through the cartridge, providing smooth draw. On top of all that, the Smok Nfix pod mod offers a ton of safety features.
What's probably the best part of this kit is that it does indeed include two Nfix pod cartridges, giving you the most for your money. These pods hold a maximum e-juice capacity of 3ml, which is impressive given the size.
The pod cartridge does come pre-installed with 0.8 ohm coil head, ideal for the higher 25w power output. Lastly, there are two magnets on the bottom of the cartridge keeping it secure within the device.
Smok has yet again made another pod device that's a huge improvement over the original versions. The Nfix pod system kit offers more power, a physical button, and faster charging, all while keeping a super slim form factor.
Smok Nfix Vape Pod Kit Features:
Internal 700mAh battery
Maximum wattage output: 25w
Travel friendly
Multiple safety features
Large OLED display screen
Compatible with Nfix Pod Cartridge

Maximum e-juice capacity: 3ml
Bottom fill port
0.8 ohm coils

Side airflow design
Small power button
What's Included:
Smok Nfix Pod System
Two refillable pod cartridges
USB Type-C Cable
User Manual
Check Out The Smok NFix Kit Review