SnowWolf Mark Sub Ohm Tank $19.30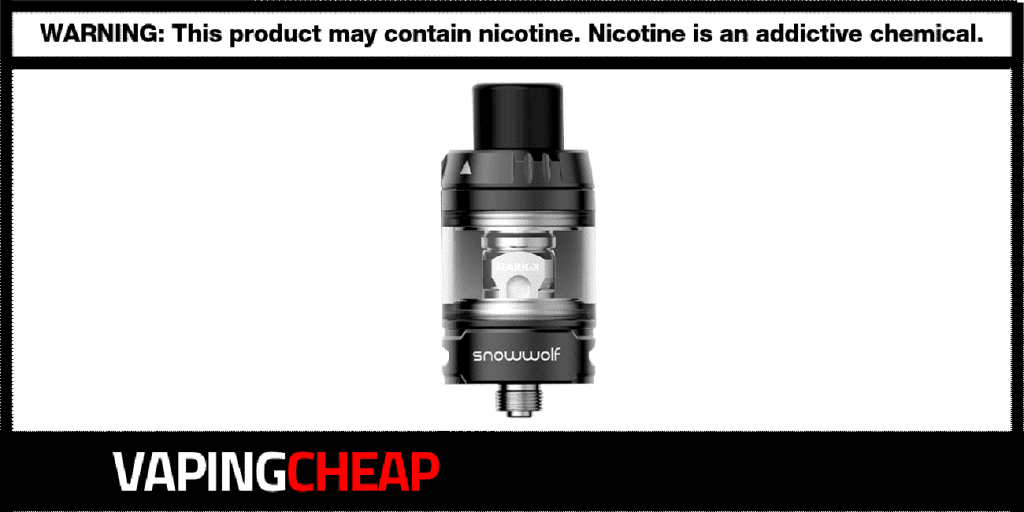 Here's a limited time discount on the SnowWolf Mark Sub Ohm Tank. Get yours for only $19.30. To get this price, simply use the code "Spring3". There's three color options available Black, Stainless Steel and Gun Metal.
The SnowWolf Mark Tank sports an overall diameter of only 22mm, so it'll definitely be a great fit for pretty much all devices. Additionally, it has a maximum e-liquid capacity of 3ml, and features a sliding top fill system.
Like a lot of other sub ohm tanks on the market that has this type of design, it's incredibly easy to use, and just makes the filling process that much faster. It also features fully adjustable bottom, and a wide bore drip tip.
When it comes to coil heads, the SnowWolf Mark Sub Ohm Tank includes the new Mark-X Mesh Coil. It's rated between 25w and 35w. In addition, it has a resistance of 0.3 ohm. What's great about this coil is not only the fact that it requires such low power, it feels like a higher wattage vape. With its coil technology, you'll also get some intense flavor, and plenty of clouds. Lastly, the SnowWolf's Mark Tank coil design allows for a longer lifespan, which is always a good thing!
If you're into smaller tanks, and looking for one that has great coils, and is pretty cheap, then look no further! Remember, this is a limited time atomizer deal, so don't miss out on this awesome discount.
SnowWolf Mark Tank Features:
22mm Base Diameter
Stainless Steel & Glass Construction
3ml Maximum E-Liquid Capacity
Sliding Top Fill System
Adjustable Bottom Airflow
Wide Bore Drip Tip
SnowWolf Mark-X Mesh Coil

0.3 ohm Resistance
Best Vaped Between 25w - 35w
Longer Lifespan
Excellent Flavor & Clouds
What's Included
SnowWolf Mark Vape Tank
Mark-X Mesh Coil Head
Spare Glass Tank Section
Warranty Card
User Manual
More Great Vape Deals...
---
Om Vapor Memorial Day Sale!
Here's a great deal if you're looking to grab some affordable e-liquid for Memorial Day weekend! Get 120ml bottles at[...]