Smok Novo X Pod System $16.99 (USA)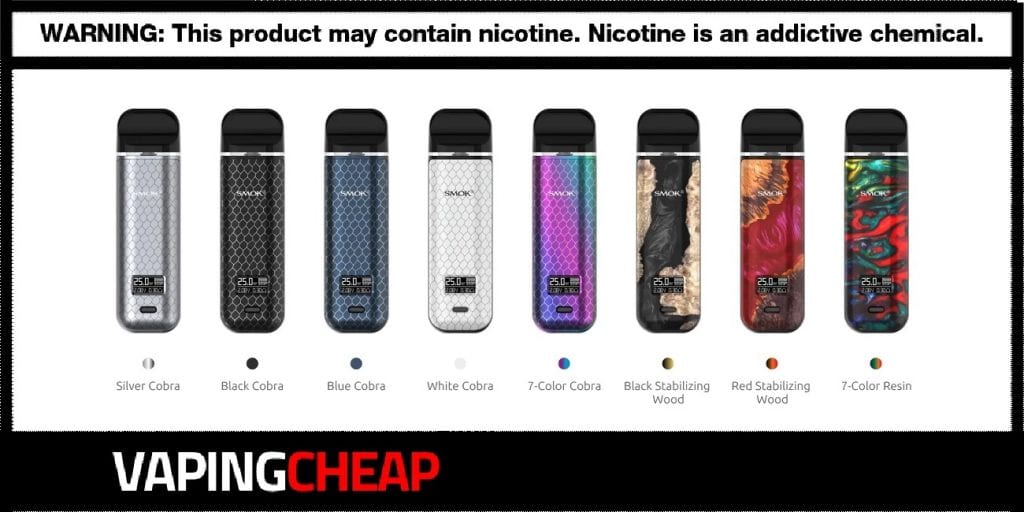 Here are discounts for the Smok Novo X Pod System. Buy yours from a USA based shipper for just $16.99 using discount code "CM15". It's also in stock and on sale at a China based store for only $19.21 using discount code "SNXK"! There are tons of colors to choose from including Black Cobra, 7-Color Resin and White Cobra.
The Smok Novo X Pod Kit sports an internal 800mAh battery that can be charged with the included USB cable. In addition, it can provide a maximum wattage output of 25w, just like the previous Smok Novo 2. It's also just as compact, making it perfect for on the go. However, there's one major difference and that's the fact that you can now fully adjust the wattage!
Smok's Novo X Pod System features a small power button, which allows you to quickly change the wattage or mode. With its display screen, you can see the remaining battery life, wattage setting and more. Another great feature is the draw activation feature, so it's great for both newer and experienced vapers. Like many other pod devices, there are plenty of safety features built-in.
Included, you'll get two of the Smok Novo X refillable pod cartridges. These pod cartridges have a maximum e-juice capacity of 2ml and can be filled from the side. Both of them have a 0.8 ohm coil resistance. However, one of them is a dual coil while the other is a mesh coil.
The Smok Novo X is definitely an upgrade to the previous versions, especially when considering it now has fully adjustable wattage. This does allow you to fine tune your vape, which you couldn't do before. So, if you're a fan, then this is a must-have for your pod collection.
Smok Novo X 25w Pod Kit Features:
Built in 800mAh battery
Charge using a USB cable
Maximum wattage output: 25w
Power button
Small display screen
Compact design
Tons of safety features
Compatible with the Smok Novo X Pod Cartridges

Maximum e-juice capacity: 2ml
Side fill design
0.8 ohm resistances
Magnetic connection
What's Included:
Smok Novo X Pod System
Two refillable pod cartridges
USB Cable
User Manual
Check Out The Smok Novo X Review