Nitecore Q4 Battery Charger 19.95 (US Shipper!)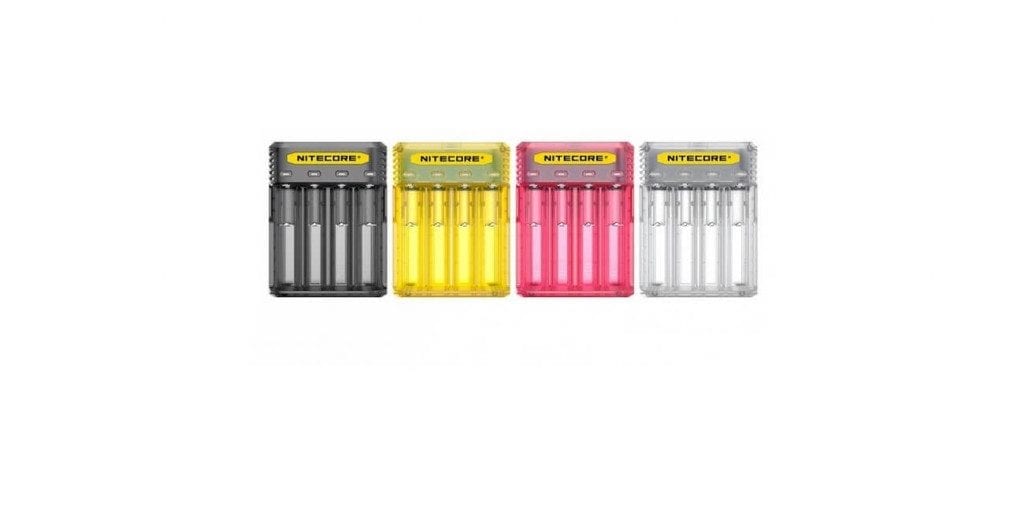 Battery Charger Sale
For a limited time only, the Nitecore Q4 Battery Charger is now on sale right here for only $19.95! No coupon code required! Free shipping applies to US orders over $75. The colors available for purchase are Black, White, Pink and Yellow.
The Nitecore Q4 Battery Charger can accommodate up to 4 batteries at a single time. In addition, this charger fits various vape battery sizes such as 18350, 18650, 26650, 21700 and 20700 batteries, and more! This device charges batteries between 1A or 2A speed, 1 – 2 batteries is charged at 2A and 3 – 4 batteries is charged at 1A.
The Q4 Charger is made out of a light weight plastic material and doesn't take up much room so you can easily place it on a desk or shelf! Lastly, this charger has multiple safety features such as Auto-Stop and others to keep both your batteries and charger safe while using. However, we always recommend charging batteries only while you are at home and not overnight.
All in all, this is an incredible deal for the Nitecore Q4 Battery Charger! If you are in the market for a new 4 bay battery charger that can fit various sizes for cheap, then this is a deal for you! Be sure to check this deal out at this US Shipper for only $19.95! Be sure to act fast, this deal is for a limited time only!
Product Features:
4 Bay Charger
1A or 2A Charging
Active Current Distribution
Fits All Popular Vape Battery Sizes
Light Weight Material
Ergonomic Design
Multiple Safety Features
Various Color Options