Lost Vape Lyra Replacement Coil 5 Pack $0.99 (USA)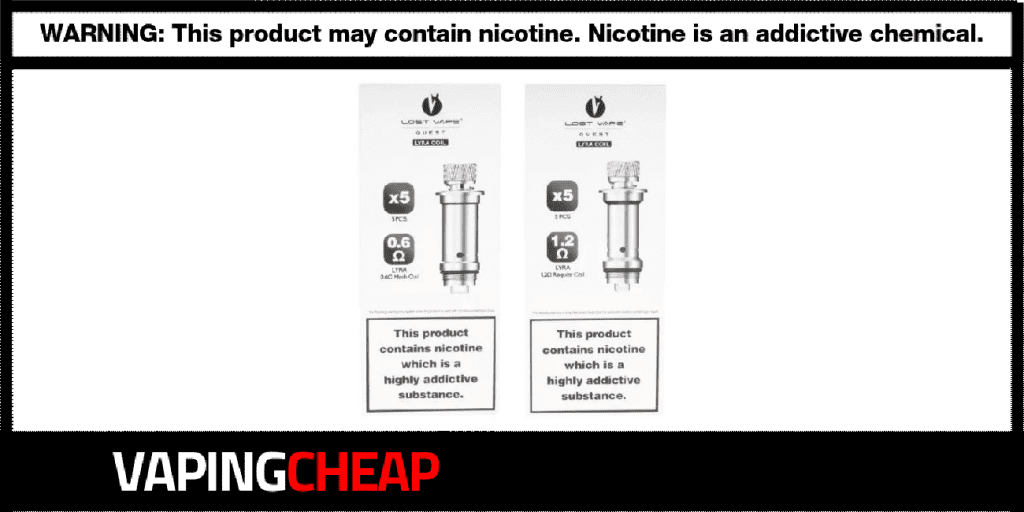 Here's an insane discount on the Lost Vape Lyra Replacement Coil 5 Pack! Buy yours from a USA based store from just $0.99! It's also in stock at a China based shipper for just $8.26 with code "vapingcheap".
These replacement coil heads are designed to fit and work with the Lost Vape Lyra Pod Kit only. There are currently two different Lyra Coils available, and each is designed for a specific type of vaping style. The first is the 0.6 ohm mesh coil which is best suited for direct to lung vaping. In addition, it's rated for 20w maximum. Secondly, is the 1.2 ohm Lyra replacement coil head, which is also rated at 20w. However, this one is catered specifically for mouth to lung vaping.
Both Lost Vape Lyra Coils feature organic cotton wicking, and a threaded installation design. Also, either coil can be used with regular freebased e-liquids or nicotine salt vape juices. We do recommend a lower strength nicotine though for the 0.6 ohm coil option, and a higher nic strength for the 1.2 ohm coil.
If you picked up the Lyra, and want to grab some replacement coils for the Lyra Pod for cheap, then this is a deal you simply cannot miss out on! Remember, each coil option does come in a pack of 5, so you'll be able to stock up for months for cheap!
Lost Vape Lyra Coils Features:
Pack of 5 Replacement Coil Heads
Compatible with Lost Vape Lyra Pod System Only
Threaded Installation Design
Organic Cotton Wicking
Can Be Used With Freebase & Nic Salts
Lyra Coil Options

0.6 ohm Mesh (20w Max)

Honeycomb Mesh Design
Heats Quickly & Evenly
Ideal For Direct to Lung Vaping

1.2 ohm Regular Coil (20w Max)