Hippovape Kudos Squonk Mod $38.41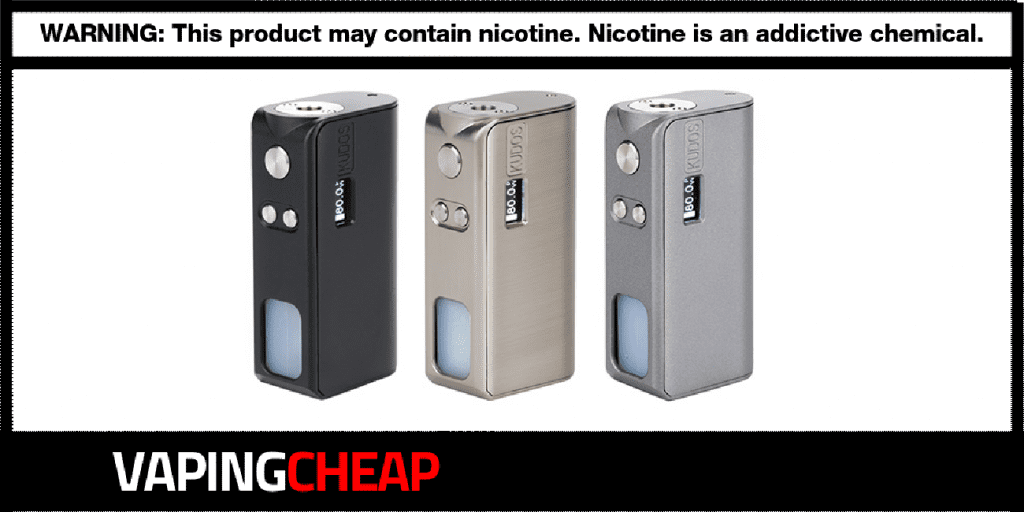 For a limited time only, the Hippovape Kudos Squonk Mod is on sale. Get yours at a discounted price of $38.41 when using the code "SS15". Be sure to log in to your account for an additional discount. Free shipping applies to orders over $50. It's also available from another China based store for only $39.99 using code "KudoM". There's three color options that's available for you to choose from.
The Hippovape Kudos 80w Squonk Mod requires a single high drain 18650 battery. Additionally, it can provide anywhere between 1w and 80w. Although it looks as a regular squonker, it does have a few unique features that does set it apart from other squonk mods on the market today. For one, it's the fact that this mod is incredibly small, making it both pocket friendly and very comfortable in the hands. There's a small display screen on the side that'll show your vaping information as well. The actual chipset is a solid performer, and what's even better is that it's waterproof.
Another great feature is how you're able to fill the squonk bottle. It has a 7ml e-liquid capacity, which will last you quite some time. However, filling it is super easy and can be done very quickly. Once you open the battery door, it'll reveal the squonk bottle alongside the battery slot. You simply slide open the filling slot, and fill with your preferred vape juice. There's also a BF bottle lock system, ensuring no leaks whatsoever. How great is that? Lastly, it does have a USB Type C port.
If you're looking for an ultra portable single 18650 squonker, then look no further! The Hippovape Kudos Squonk Mod will definitely be what you're looking for. With all of its awesome features, and compact size, it's perfect for a stealthy setup.
Hippovape Kudos 80w Squonk Mod Features:
Requires Single High Drain 18650 Battery (Not Included)
Waterproof Chipset
USB Type C Charging Port
Maximum Wattage Output: 80w
Maximum Voltage Output: 8v
Minimum Firing Resistance: 0.1 ohm
7ml Squonk Bottle
Slide to Refill System
BF Bottle Lock System (Leak Proof)
Standard 510 Connection
Zinc Alloy Construction
3 Color Options
What's Included
Hippovape Kudos Squonk Mod 80w
User Manual
Check Out The Hippo Vape Kudos Squonk Mod Review