Loaded ELiquid Pink 120ml $8.99 | 30ml Salt $9.00 (USA)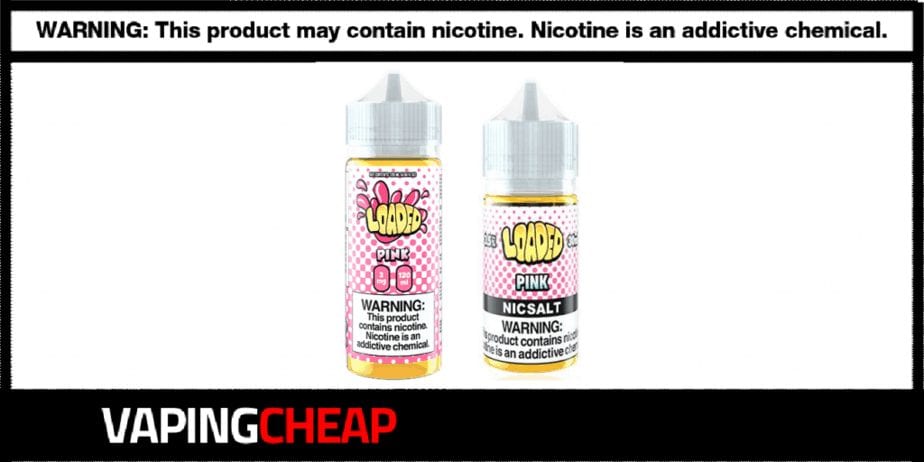 The new Loaded ELiquid Pink is now in stock and on sale! Get it in a large 120ml bottle for only $8.99 using discount code "SA10". The 30ml nicotine salt version is also available for only $9.00. No discount code required.
Loaded has released their newest flavor Pink, which is completely different from their other flavors. However, it does come in a larger 120ml bottle size just like the others, and is offered in 0mg, 3mg and 6mg nicotine strengths. It does have a high VG blend as well, so you know you'll be getting plenty of clouds and flavor from this vape juice.
In addition, the Loaded Salts Cotton Candy Pink comes in a 30ml Chubby Gorilla bottle and is currently available in 50mg nicotine strength only.
Now, when it comes to the actual flavor profile, Loaded E-Liquid Pink can be described as a Pink Cotton Candy. Airy cotton candy flavor followed by a ripe tasting strawberry note, bringing you an authentic cotton candy vape juice flavor that'll surely satisfy your sweet tooth.
All in all, this is an excellent deal on the brand new flavor by Loaded E-Juice. If you're a fan of candy flavored e-liquids, then you'll definitely want to grab a bottle, especially at this price! If you're interested in their other flavor options, check out our Loaded E-Liquid Review.
Loaded Cotton Candy Pink Vape Juice
120ml Bottle Size (Chubby Gorilla Bottle)

High VG Blend
Nicotine Strengths: 0mg, 3mg, 6mg
Flavor Profile: Blend of Cotton Candy and Ripe Strawberries

Nicotine Salt 30ml Bottle Size (Chubby Gorilla)

Nicotine Strength: 50mg
50/50 VG Blend
Flavor Profile: Strawberries and Cotton Candy