Loaded E-Liquid Strawberry Jelly Donut Review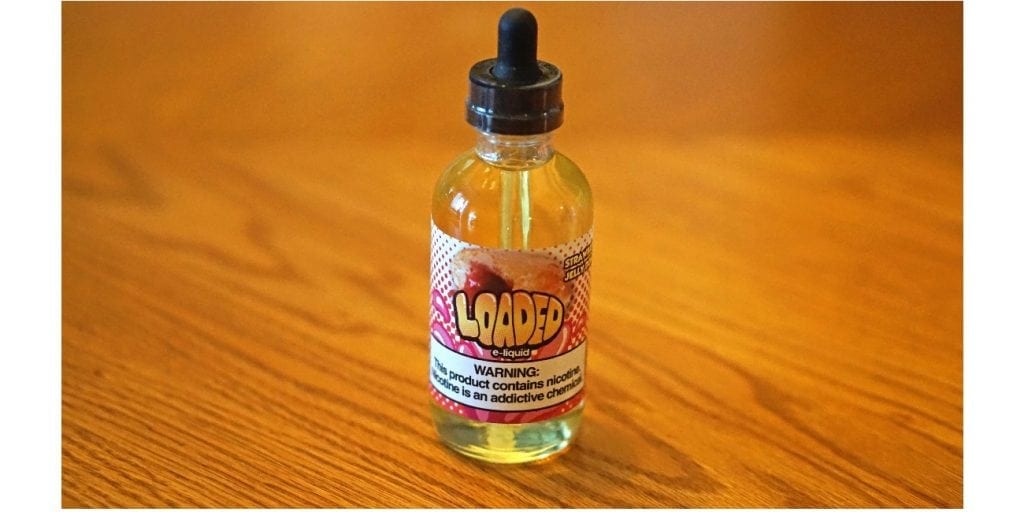 Loaded E-Liquid Strawberry Jelly Donut Review
In this e-juice review, we'll be covering one of the latest releases from Loaded E-Liquid which is Strawberry Jelly Donut! This e-juice is available in one size only which is 120ml and it comes in a large glass dropper bottle. The nicotine strengths available for this vape juice is 0mg, 3mg and 6mg. In addition, it does have a VG/PG ratio of 70VG/30PG, which is a great blend for both sub ohm tanks and drippers!
Before getting any further into this review, we'd like to thank EJuice Connect for sending this e-liquid our way for the purposes of this review. We'll cover our overall thoughts on Loaded E-Liquid Strawberry Jelly Donut, and conclude with whether or not we recommend it! Remember, taste is subjective so what we may like you may not like and what you like we may not like. Next, we will go over the specific atomizers and mods used to test this e-juice.
Mods & Atomizers
First Setup:
Volcano Lavabox DNA75 with Coil Master Elfy RTA
Coil Build: Single Stainless Steel Clapton
Resistance: 0.55 ohm
Second Setup
Lost Vape Paranormal DNA166 with Hellvape Dead Rabbit RDA
Build: Dual Fused Clapton
Resistance: 0.19 ohm
Flavor Review
Flavor Description: Strawberry Jelly Donut ejuice by Loaded E-Juice is a bakery fresh, sugary puffed glazed doughnut stuffed with sweet and gooey strawberry jelly goodness. Now you can vape your favorite donut without the calories!
Nicotine Strength: 3mg
VG/PG Ratio: 70VG/30PG
Inhale: Strawberry Jelly with hints of donut
Exhale: Sweet Strawberry Jelly Donut
Throat Hit: Very smooth
Overall Thoughts
If you're read our previous reviews, then you know we're big fans of Loaded E-Liquid. Their Glazed Donuts is definitely one of the best e-juice flavors and is an all day vape for us at Vaping Cheap, so we were definitely excited to review this new vape juice from them. Firstly, on the inhale, you get a strawberry jelly flavor with faint hints of donut. On the exhale, you get a nice sweet strawberry jelly that's followed by a sugary donut.
This is a spot on strawberry jelly donut, and we were quite surprised by how accurate it tastes to the flavor description. The strawberry jelly is done quite well, and is balanced with the donut on the exhale. The strawberry jelly is certainly the most noticeable flavor, but you can taste the donut as well, especially when you exhale. The sugary note is there as well, and there is a good amount of sweetness throughout the entire vape experience. It's not overbearingly sweet though, which is definitely a good thing.
Since being a 70VG/30PG blend, it vapes great in most vape setups. We did prefer this one out of an RTA though, but it does vape really well in an RDA. Also, Loaded E-Liquid Strawberry Jelly Donut does vape much better at higher wattages than it does at lower wattages, and this is to be expected since it is a dessert or bakery flavored e-liquid. The throat hit is silky smooth at 3mg with no burning or stinging whatsoever. The vapor production is pretty much as you'd expect with any other 70VG/30PG e-liquid.
All in all, Strawberry Jelly Donut by Loaded E-Liquid is a home run and is considered an all day vape at Vaping Cheap. If you're looking for a strawberry donut or a donut flavor that you can vape all day without breaking the bank, then we highly recommend this one. We're sure you won't be disappointed!
We hope this review helps you find your next all day vape! Feel free to leave any questions or comments below! Thanks for reading!