IJoy Mipo Pod System Kit $26.21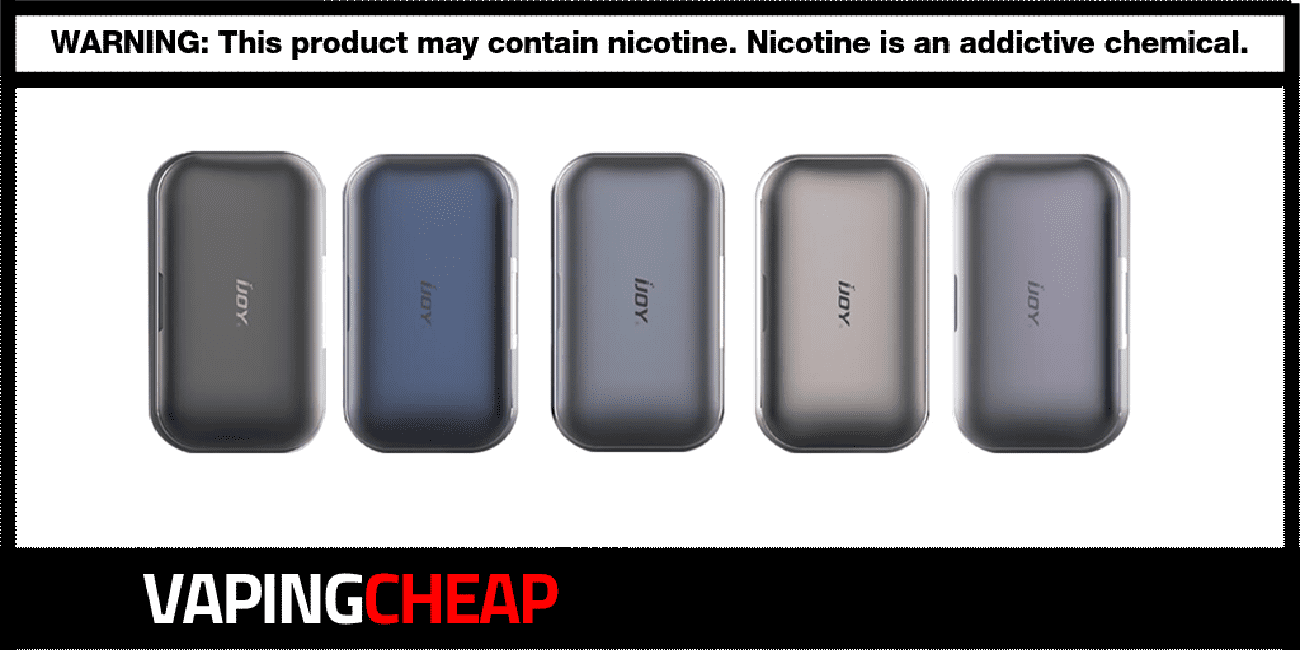 If you're looking for an awesome vape for on the go, you'll want to check out this cheap deal on the IJoy Mipo Pod System Kit. Buy one for just $26.21 when using the code "MIPO". There's a few colors available which includes Iron Grey, Black, Blue, Dark Grey and more.
The IJoy Mipo Pod Kit is fairly similar to the recently released Uwell MarsuPod Kit, as it does include both a pod system and portable charging case (PCC). However, this one is quite different when it comes to the actual design, and a couple of features. Firstly, the charging case has a 1,000 mAh built in battery, and charges the included pod mod via a wireless connection. Additionally, you'll be able fit both the Mipo Vape Kit, and two pod cartridges, which is awesome. Also, you can charge the pod device up to 5 times before needing to recharge the charging case.
Moving onto the IJoy Mipo Vape Pod, it features an 200mAh internal battery, It can provide a maximum wattage output of 10.5w. When it comes to the refillable pod cartridge, it can hold 1.4ml and can be filled easily. As always, we recommend waiting between 5 and 10 minutes before vaping when filling a fresh pod. The coil inside of the cartridge does have a resistance of 1.4 ohm, ideal for a MTL vape. As with pretty much any pod vape, you'll be able to use whichever e-liquid you prefer. This includes both nicotine salt e-juices and freebase. Lastly, the IJoy Mipo Bank Kit has a bunch of safety protections built in such as short circuit protection, low voltage protection, overcharge protection, and more.
No matter if you're a beginner or advanced vaper, the IJoy Mipo Pod System Kit is definitely one to check out, especially if you're looking for a full mouth to lung kit that can be charged on the go.
IJoy Mipo Pod Kit Features:
​Mipo ​​​Portable Charging Case (PCC)

1,000mAh Internal Battery
Compact Size
Can Charge Pod Device 5 Times Before Recharge
Aluminum Alloy Construction
Multiple Safety Protections
Carries Pod Device & 2 Cartridges

Mipo Vape Pod Kit

200mAh Built In Battery
Max Wattage: 10.5w
Slim Design
Constructed of Aluminum Alloy
Refillable Pod Cartridge

1.4ml E-Liquid Capacity
Side Fill
1.4 ohm Coil Resistance
What's Included
IJoy Mipo Bank
IJoy Mipo Pod Device
3 IJoy Mipo Pod Cartridges
Charging Cable
Warranty Card
User Manual
More Great Vape Deals...
---
G-Taste Aries RTA 30mm $19.79
The new G-Taste Aries RTA 30mm is now on sale from $19.79 using the code "vapingcheap" with free worldwide shipping over $30. Simply log[...]