IGO-W3 Review – Top Features, Ratings, Pros & Cons!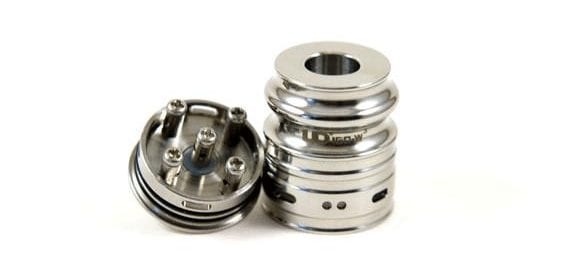 Youde Technology Co. Ltd, the makers of UD products, is a China-based electronic cigarette manufacturer well known for supplying some of the best cutting e-cigarette designs in the vaping space. Affordability is a core part of their mission. As other brands go hard after your hard-earned bucks, Youde strives to let you enjoy the best products that won't cost you an arm and a leg.
So the IGO-W3 is another adorable and affordable rebuildable dripping atomizer from Youde that comes complete with a lovely airflow system that is sure to put your coil building abilities to test just to see how far this can get.
The unit is packed inside a black cardboard box and comes with extra goodies on top including a pair of spare o-rings, an extra post, four kanthal wires, an insulating ring, and four wicks made out of fiberglass. And that's not all. We've uncovered a lot about this unit in our IGO-W3 review so be sure to check the whole of it out.
IGO-W3 Ratings
Design: 4.5/5.0
Ease of use:4.5/5.0
Value: 5.0/5.0
Quality: 5.0/5.0
Performance: 5.0/5.0
IGO-W3 Atomizer Review
Unlike its predecessor, the IGO-W2, this unit comes more refined when it comes posts layout. It adopted a more conventional layout and it's because of it that you will find it more convenient maneuvering between its posts when building your unit. Speaking of setting up this unit, enough spacing between its poles improves the ease of use since it makes it easier to install your dual coil or quad coil set up.
Great effort was put to give the IGO-W3 reasonable durability and it's evident in the fact the top cap is made out of stainless steel, generally making the unit relatively thick and heavy. Other parts may be non-steel but its overall build quality is near perfect. The IGO-W3 costs a lot less than many RDAs in the market right now yet packs enough punch to outshine even those above its class.
As for performance, expect nothing below excellent. Inclusion of the adjustable airflow system means you have the chance to experience great vapor production, tasteful flavors, and a decent throat hit. It's up to you to decide how you like the vape then adjust accordingly. You will learn more about this later in this our IGO-W3 RDA review.
Pros
Great Build Quality
Compared to the many RDA's available in the market right now, the IGO-W3's top cap is thick and quite heavy which can be explained by the fact it has been made out of stainless steel. On its deck you have a central positive post surrounded by four negative posts held firmly by Philips screws. One great thing about Philips screws is that even if you drop them, you'll not have a hard time locating them.
Ease To Use (For Veterans)
Thanks to its more conventional layout, installing a quad coil set up into this RDAs is a lot easier compared to what you'll experience with other RDAs that are often characterized by tight spaces. In fact, most of the dual-coil-only RDAs have their negative and positive poles squeezed so close that maneuvering your fingers in is just another hell of a task.
When it comes to the quad coil set up for this unit, the posts have a reasonable distance between them so maneuvering your fingers between them will not be punishing.
Remarkable Performance
Much of the credit for this unit's remarkable performance goes to the increased airflow control options. It's due to this feature that you will be able to enjoy decent vapor, tasteful flavor, and an amazing throat hit. How you adjust the airflow will actually influence the kind of experience you get from this RDA.
Compatibility
Versatility is a quality you could easily use to describe this unit. Why? Well, bring your wide range of coil and wick configuration, and you will like it that the unit can take them all, thanks to its 510 threading.
Cons
Not Ideal for Newbies
RDAs generally aren't a perfect fit for newbies because they involve a lot of configurations and need one to be quite knowledgeable about what's involved, from the coils to the atomizers to the batteries and other components. But lately, we've seen some companies coming with rebuildable atomizers that have been designed to be friendly to the first-timer.
Meanwhile, if you are a beginner and you seriously want to learn how to build an RDA, please watch the video blow for a start:
Top Features of the IGO-W3
Airflow Adjustment System
It's not every other time you come across such a revolutionary system. It comes complete with combinations for both quad coil builds as well as dual coil builds. So the four long holes are for quad coils while the two small ones are for the dual coil setups. Outside the unit, it also has holes which have been paired with the four holes featured in the well. You have to use it to appreciate how this mechanism works. However, using it with a single coil leads to loss of flavor since one hole will be uncovered.
5-Post System (Secured By Phillips Screws)
Unlike its predecessor, the Youde IGO-W2 whose negative posts comprised a set of four Allen Screws lined up along the unit's deck, the IGO-W3 features a more conventional layout in which the posts are secured with Phillip screws. With the former version, if you accidentally dropped one of those Allen screws, that was as good as saying bye to your RDA's quad coil capability. But thanks to this 5-post system, the unit has been made to take single, dual and quad coils.
Advanced Top Casing
Besides sporting a stainless steel construction, the IGO-W3 top casing comes with a pair of three holes on each side. Wondering what's the significance of these six airflow holes? Well, how else will you be able to adjust your flow with ease? Other than that, they eliminate the need to drill bigger holes as is the case with other RDAs when one wants to get large vape clouds. The casing is also insulated with a pair of o-rings which give it a nice fit.
Conclusion
So to sum up our IGO-W3 review, it's fair to remark that the IGO-W3 is a winner on quality, performance, design, and ease of use. Compared to other RDAs, this unit has a lot more to offer that is simple, easy and convenient to the experienced vaper. But for the beginner vaper, this unit may not be ideal for them, just as are other RDAs.
But for the experienced vaper looking for the best that a dual and dual coil RDA can offer, the Youde IGO-W3 makes a great pick. Be sure to look out for the IGO-W3 clone review so as not to confuse the clone with the real IGO-W3.