Hohm Slice Box Mod First Look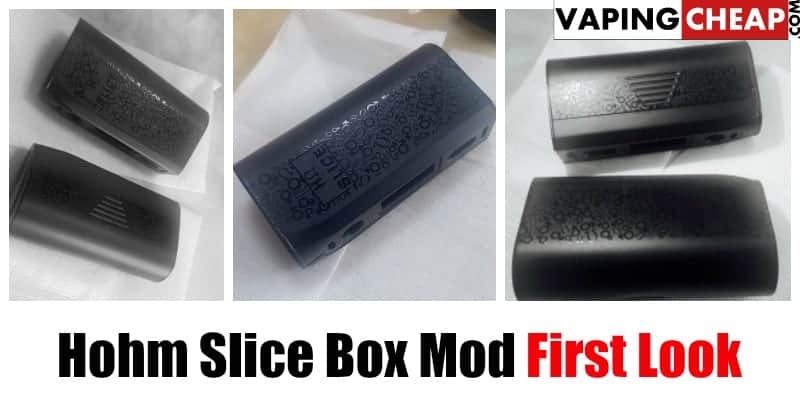 Temperature Control Box Mod
Hohm Tech, the makers of the Hohm Wrecker G1 and G2 temperature control box mods recently emailed me with another device that is coming out. The Hohm Slice temperature control box mod will be available soon right here for just $59.99, which is a welcome decrease from the company's original pricing for the G1.
According to Ben over at Hohm Tech, the Hohm Slice box mod will be an ergonomic device powered by a single 26650 battery. It will sport a maximum wattage output of 101W, and have a micro-USB port that both charges and can be used for updates to the device.
The chip that is being used in the Hohm Slice box mod, according to the guys over at Hohm Tech, is made by the same company that the G1 and G2 chips were made by. The Flagship Killer (FSK) chipset has been a staple in the Hohm Wrecker devices thus far. Now, we get the chance to use the FSK TC-XT chip with the Hohm Slice.
According to the information sent over by Hohm Tech, the FSK TC-XT will allow for the use of temperature control in all your normal modes (SS, Ti, Ni200) in addition to kanthal, tungsten, and nichrome. This new chipset will finally allow you to use temperature control with all your ceramic coil tanks (at least those that use tungsten or kanthal in the coil head). Additionally, you can now select the form of stainless steel wire you are using for a more precise and enhanced vaping experience.
What I like most about the Hohm Slice temperature control box mod is that it no longer uses the standard, boxy design that the Hohm Wrecker G1 and G2 used. Instead, Hohm Tech has opted to provide us with a more ergonomic device that will fit well in the hand. This is definitely a welcome change from the last two devices that Hohm Tech has put out there.
In addition to all the major updates that Hohm Tech has brought in with the Hohm Slice, the box mod also sports some subtle changes that, together, will drastically enhance your vaping experience. Some of these improvements include a diameter that is large enough to fit atomizers up to 25mm, an updated 510, and fast charging.
The Hohm Slice temperature control box mod will be available in two different versions, much like the Hoh Wreker G1 and G2. The standard version of the device will not sport fast charging. However, if you opt to pick up the Limited edition for only ten bucks more, you have access to Fast Charg IC, according to Hohm Tech. This will allow you to charge the mod at up to three amps.
All-in-all, the Hohm Slice by Hohm Tech looks to be a pretty cool device. If you are searching for a new temperature control mod, and you want something that will be accurate, versatile, and ergonomic, then this is definitely right up your alley. Hopefully some new information will shop up soon about this device and we can get some quality images of the final product. Until then, just vape on.
Will add link here when avaliable for purchase.
Hohm Slice Features
Maximum ouput: 101W
Powered by a single 26650 battery
Solo Charge & Update port
FSK TC-XT chip with kanthal (K), tungsten (W), SS, Ti, Ni, and NiCr temperature control
Can TC with ceramic coils that use tungsten or kanthal
Can select 304, 316, 317, or 430 in SS mode
31.9% less surface area than Wrecker G2
Ergonomic design
Flatline ohm (0.0000001 ohm)
Updated 510 with deeper channel and tensile strength
Fits atty/tank sizes without overhang up to 25mm
Limited Edition has layered and baked ceramic symbols
Limited Edition's has Fast Charge IC installed (up to 3A charge ability)
500 Day International Warranty