Halo E-Liquids Review: The Truth Hides in Details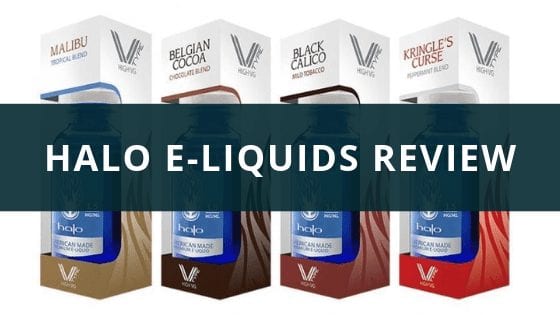 When it comes to talking about e-juices on the market today, Halo is by far one of the most well-known brands. The company was started in New Jersey in 2009 and has been a leader in the e-liquid community for a long time now.
Halo e-liquids are unique from other brands for several reasons, but the best thing about Halo is their commitment to quality and that all their e-liquids are made in the United States. With more than 25 different flavors and multiple nicotine levels to choose from, you'll be able to find a tasty liquid that suits your tastes no matter what.
More on this in a bit...
The company places a lot of emphasis on quality control and creating the perfect product for its customers. With such a huge presence in the market, their products can be purchased around the world. The reasonable prices of their products makes it easy for anyone to try them out.
With all this being said, it sounds like Halo is one of the market leaders for a reason. So today I decided to check that and came up with this extensive Halo E-Liquids review.
Halo E-Juice Rating
Halo E-Juice Review
For this review, I gave their products an overall rating of 4 stars out of 5. They have done an excellent job creating a high-quality product that really hits the spot.
I really enjoy using their e-liquids and they have some nice options to choose from. Their e-juices are very enjoyable and you can tell the difference in quality when compared to other brands.
I think these products can be great for all e-cigarette users, whether you are just starting with e-liquids or a more well-seasoned user. No matter what, I think most people will really enjoy these products. The taste is amazing and the quality is simply exceptional.
The vapor production of their juices is top notch and you get a really nice consistency, which makes exhaling these e-juices a great experience. They also have some good taste choices that are full of flavor and very rich.
Also, all Halo's e-liquids are FDA and FEMA approved and are tested for quality, so you always know that you're getting the best product out there.
Pros
Made in USA
These e-cig juice's are made in the United States, which means that you can feel safe about the quality of the products and where they are being made. They use US based suppliers and get only the best 99% pure nicotine. The production of the products is very strict and overseen by experts in their fields.
Other Halo e-liquid reviews out there stressed the importance of these products being made in the USA, and for good reason. The products are tested for quality so that you can be assured you're getting the best product every time.
They also are correctly steeped so you get and amazing e-juice that is ready for you to use right when you open it up. You can feel comfortable about where your e-liquid is coming from and know that you are getting the best value for your money.
Variety of Flavors
Halo has a variety of flavors to chose from, with rich taste and deep savors. They have 26 different flavors, and 6 of those flavors have won Spinfuel Choice Awards. The flavors they offer are made with good ingredients that help each flavor stand out.
If you're looking for a nice chocolate flavor, the Belgian Cocoa is a great choice. It's not too sweet but has a good cocoa taste. Maybe the best Halo flavor I've tried is Tribeca. It's a popular one in the vaping community and for good reason. It's a tobacco blend but has a nice smooth texture with a little bit of caramel and vanilla to give it some sweetness.
There are lots of other Halo flavors that are really nice too. You can find a little bit of everything, which is really nice. I enjoy the different flavors that they have and I think pretty much anyone can find the best Halo flavor for them.
Different Nicotine Levels
Another reason why I like the Halo e-liquids is because of the levels of nicotine that they offer. If you are just switching from menthol cigarette smoking to vaping, you will find it easier to transition with these liquids. The nicotine levels they offer are 0, 6, 12, 18 and 24 mg/ml.
It's nice to have an option for nicotine levels. This is what makes these e-liquids great for a variety of different users. The ability to chose your nicotine strength helps you get exactly what you are looking for in an e juice. If you are wanting varying levels of nicotine, the Halo e-liquids could be a great option for you.
Cons
Not As Many Original Flavors
Although it is hard to find flaws with these e-liquids, one down side is the originality of their flavors. Yes, they do have some great flavors to choose from, but their line is not as expansive as other e-cig companies. Some companies offer more than 50 different flavors to choose from while Halo only has 26 different flavors currently.
But even though the Halo e-juice's lack in quantity, they certainly don't lack in quality. The quality of their products really makes up for the fact that they don't have as many unique flavors to choose from.
I enjoy a lot all the flavors that they have to offer, even though you don't have as many choices. But the limited flavors could be a negative for some people.
No Choice of PG/VG Ratio
When choosing an e-juice, the PG/VG ratio is important. PG, or Propylene Glycol, and VG, or Vegetable Glycerine, are basically the odorless liquids that make up e-juice. This is what creates the vapor, consistency, and feel of an e-liquid. More experienced e-cigarette users may core more about the PG/Vg ratio because they know what they like best and what they're looking for.
Unfortunately, Halo e-liquids don't give you the option to choose your PG/VG ratio. Some brands will give you options of the PG/VG ratio in their e-juices but Halo doesn't do that. They apparently keep this information private in order to protect their recipe, but it may be a turn off for some people.
If this is something that is important to you, you may not enjoy the Halo e-liquids as much.
Top Features of Halo E-Liquid
Quality
The number one thing I found when writing this Halo e-juice review, was how awesome the quality of these products is. The ingredients in the Halo e-juice's are the best quality you can find and the brand really cares about making a great product for you to enjoy. They use only the highest-quality ingredients and they double-check every juice to make sure that it meets their standards.
This is one of the main reasons I enjoy the Halo e-juice's so much. You just can't beat the quality of their products, especially at a reasonable price. If you only want to use e-liquids that have the best ingredients and don't have anything nasty like other companies do, the Halo brand is a great choice.
Good Throat Hit
Throat hit is basically the feeling you get when inhaling nicotine. It's what a lot of people really enjoy when they smoke, and it can be hard to find in e-liquids. The ingredients of an e liquid are what can make or break it when it comes to throat hit. If you want a good throat hit without getting too much irritation, be aware of the nicotine level you are choosing.
There are a lot of products on the market that simply don't cut it when it comes to creating a nice throat hit, but the Halo e-cig juice's are definitely a nice option.
This is also great for smokers trying to get off of traditional cigarettes because you can get that same feeling you are looking for with an e-cigarette.
Attention To Detail
From the packaging to the taste and the vapor production, the attention to detail in the Halo products is simply one of the best. They have nice packaging and design, and the liquids come in good bottles with child-proof caps.
The whole user experience is enjoyable and you can tell how much effort went into making these quality products.
As you can see in the Halo e-liquid review video below, the attention to detail in the packaging, the design and the production make these e juices stand out.
Conclusion
If you are looking for quality e-cig liquids, the Halo e-juices are a good choice. There is a reason why this brand is so well known and popular in the e-cigarette world. The quality of their products, flavor options, and great ingredients give these liquids an edge up on the competition.
Hopefully this Halo e-cig juice review will help you decide if this brand is right for you and ultimately find a great e-liquid that you enjoy.