Green Smoke Reviews – Still The Leading E-Cigarettes?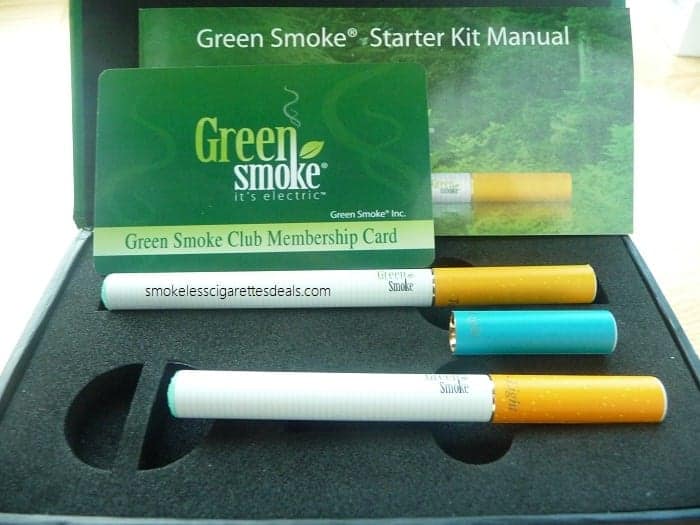 Set up in 2008, Green Smoke counts among the very few oldest e-cig brands in the U.S. For so long, the company has been offering amazing products for people who want to switch from traditional smoking. Even though the vaping market now has clearomizers, vape pens, and other advanced products, Green Smoke still takes a larger portion of the electronic cigarettes market.
As other manufacturers spread out their line of products, Green Smoke has put all their focus on cig-a-like electronic cigarettes. So with all their experience, research, knowledge, and effort purely dedicated to producing electronic cigarettes, you can bet that their cigalike e-cigs aren't just superior but the best in the market right now.
Consumers have the chance to choose from the company's different kit options all of which make a great pick for anyone who looks to a great start into this new smoking sensation. If it turns out that you weren't happy with their products, you have a 30-day money back guarantee to your advantage.
We've uncovered a lot more about this brand and the different Green Smoke e-cig starter kits in our Green Smoke reviews so read on to discover more about them.
Green Smoke Ratings
Vaporizer quality: 5.0/5.0
Design and appearance: 5.0/5.0
​Vapor and Flavor quality: 4.5/5.0
​Performance: 4.5/5.0
​Battery life: 4.5/5.0
​Value: 5.0/5.0
Green Smoke Review
Each of their kits come in sleek, stylish and colorful boxes held by a magnetic clasp. Inside you have expertly designed e-cigarettes with cool looking screw-on cartridges. The Green Smoke electronic cigarettes were designed to look just like real cigarettes. Even their golden cartridges look similar to a cigarette butt.
Green Smoke's e cigs don't just give a remarkable hit of vapor but also dense clouds that can only compare to a combustible alternative filled with tar. When it comes to flavors, you have up to eight robust and accurate flavor options to choose from. Only problem is that some are disappearing from the list and for some people, the flavor isn't diverse enough as what they could get if they opt for other options like V2 cigs.
A Green Smoke cigarette may be a little expensive than other brands in its class but for that price, you get a quality product, great performance and a lot more that you will rarely get from other alternatives. Batteries come in two options: short and long, and very interesting to note is that even the shorter battery did have a longer life than that of other brands.
Pros
Great Value
You will realize later in our review that Green Smoke electronic cigarettes come in a wide range of prices. To many, the prices may appear strange because we live in an era in which cheap electronic cigarettes are scattered everywhere. But the brilliance of products offered by this company is unmatched. While they may not in that bracket of the least expensive e-cigs, they remain the best quality products in their class.
Top Flavors And Vapor
Two things that matter most to any vaper are the vapor and flavor. Green Smoke offers full and natural flavors than you could ever ask for. They include the tobacco gold flavor, the menthol ice, the mountain clove, the classic absolute tobacco, the red label tobacco plus an assortment of great dessert flavors such as the vanilla dreams, mocha mists, smooth chocolate, and many others.
Cartomizer e-cigs don't normally put much focus on vapor but Green Smoke seem to have chosen the opposite path. You are guaranteed of vapor big enough to be called 'clouds'. The throat hit is on par with the best and can actually compare to the effect one gets when they smoke original tobacco products.
Great Battery Life And Options
Depending on the kit you choose, you are going to have two battery options: the short battery and the longer battery. Well, just as the name suggests, the shorter battery lasts for a couple of hours but takes a short time to charge while the longer battery lasts longer (6-8 hours) but takes take more hours to be fully charged. Another option is the slightly expensive designer batteries which come in 8 different design colors.
Plenty Of Extras
Not every e-cig brand out here offers added accessories to refine your experience but Green Smoke does. They include leather cases, carry cases, rubber top, USB batteries and so much more. On top of all that, they also offer you a recycling program.
Cons
Portable Charging Case Would Have Been Better
It's almost a standard feature for any electronic cigarette to come included with a portable charging case. Every other brand is offering that and the good thing about this chargers is that they let you recharge your batteries anytime and anywhere. Even though Green Smoke has been working on one, it's yet to see the light of the day.
Price
Green Smoke products may not be the most expensive in their class because we definitely have other brands retailing at a higher price and at the same time, there are also brands retailing at a much cheaper price. Not all of can match up to Green Smoke's quality. But anyone on a tight budget might easily switch to this other cheaper options.
Green Smoke Electronic Cigarette Kit Options
Green Smoke has a range of starter kits each designed to suit your different needs. Paying more entitles you to more accessories. Nonetheless, each of them, even the least expensive kit, packs just enough items to get you started. The five starter kits (in order of price, from the least expensive to the most expensive) include:
The Essentials Kit
The Express kit
The Pro Kit
The Ultimate Kit
The Love Birds Kit
Let's take a brief look at each to see what's included inside. But before we do, if you are just new to vaping and you'd love to know a little more about electronic cigarettes and vaping in general, please watch the video below:
Great! Let's now go ahead to look at what's inside these kits.
The Essentials Kit
Just as the name suggests, this kit has been designed to offer the basics you need to begin your vaping experience. Inside the kit, we have a battery, 2 FlavorMax cartomizers, and a USB charger. For the cartomizers, you have a choice of two options: tobacco and menthol. Each of them contains 1.8% of nicotine. Anyone who wants to try out vaping without having to deal with a pile of accessories will find this kit ideal for them.
The Express Kit
To describe this kit, it's basically an essential kit but with a few accessories on top. Like the essential kit, it has one battery but you get 3 additional cartomizers to bring them to 5 plus a USB charger and battery, a carrying case, and an adapter you can use for wall charging. It's an ideal an option for those who've just had a short experience with Green Smoke but look to taking the next step.
The Pro Kit
Of all Green Smoke's starter kits, the Pro Kit is probably the most popular. One of the reasons for this is because it comes with a lot of accessories and more features than kits options. In brief, you get 2 batteries, a whopping 10 cartomizers, a USB cigarette and charger, adapters for your car as well as the wall plus a hand carrying case.
The Ultimate Kit
If you've used Green Smoke e-cigs for a while now and you intend to go in for a few more years, the Ultimate Kit is exactly what you need. It was designed to keep you vaping for the long haul. Inside this kit, you have three batteries, two USB chargers, a USB cigarette, 10 cartomizers, wall and car adapter and an appealing leather case.
The Love Birds Kit
One of the main reason for the development of this kit was to help those who want to quit smoking but need a partner to help them along this process. So if you happen to be love birds in this kind of situation or perhaps another situation that might do well with this kind of kit, then be sure to go for it. Take everything we've seen included in the pro kit, double them up and you will end up with the Love Birds kit. What's good about it is that you will pay $30 less for the price of two.
Green Smoke Disposable Cigarettes
If you dislike or perhaps you wish for another option other than the aforementioned kits, you can go for the disposable cigarettes. They come in two flavor options: the Menthol Ice and Absolute Tobacco. The nicotine level for both is 1.8%. You can get a pack of six for less than $60.
Conclusion
It's pretty clear that Green Smoke keeps on getting better year after year and if their recent wide range of quality products are anything to by, we can only anticipate more great products from them in coming years. What clearly sets them apart, as we've seen in all the green smoke reviews, is their full and natural flavor options, relatively quality batteries, and plenty of extras when you buy some of their kit options
The vapor production is perfect and despite a few issues they've had in the past, Green Smoke has kept on with what really took them to the top of the industry-quality products. If you are fascinated by the Green Smoke e cigarette and where to buy them still remains a challenge to you, just click here and you'll be to access all their products.