Geekvape Ammit Dual Coil RTA Review: First Impressions, Specifications & Performance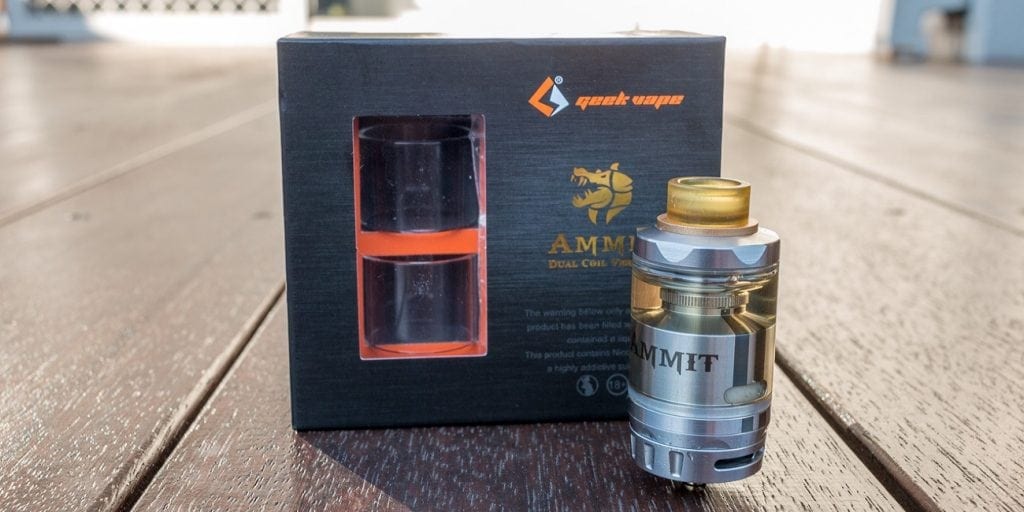 Geekvape is a company that needs no introduction as they have been synonymous with the vaping scene for quite some time now. Geekvape has well and truly solidified their place in the market based on their solid products and the reputation which has followed. After such great success with the Ammit single coil RTA, Geekvape has followed up with the Ammit RTA Dual Coil Version.
The Ammit is quickly becoming very popular with vaping enthusiasts around the world and it proves to be holding its own against its current rivals. The Ammit Dual Coil RTA has stuck with the 3D airflow system, which we know from the single coil version, but they are now calling it four-path airflow on the dual coil version. I would like to thank GearBest for sending us this product for the purposes of this article.
What's in the box?
Ammit Dual Coil RTA
Spare 3ml Tank
1 6ml Tank
Chimney Extension
Single Coil Plug
Spare O-Rings
Spare (slotted) grub screws
510 drip tip adapter
T-Style Screwdriver
Geekvape Ammit RTA Dual Coil Review
Out of the box
The packaging is fairly simple, being a black cardboard box with a gold Ammit logo and the red Geekvape logo on the front. The packaging leaves nothing to be desired as there is a clear window over where the tank sits, revealing the Ammit Dual Coil in all its glory. The packaging is very secure and keeps the tank, accessories and most importantly the glass (spares included) safe during transit.
In regards to the glass, there is one 3ml section already installed on the tank, one spare and another 6ml glass section included. That's a lot of glass! There is an extender that screws onto the top of the chimney to account for the deficit when running the 6ml glass, this is a wonderful and easy to install design.
On inspection of the tank itself, my first impressions where that it was a very solid piece of kit. It feels well made and the build quality speaks for itself. There is jewel like angled knurling on the top and bottom of the tank, which not only looks cool but aids in gripping and turning. The drip tip is a yellow/orange color and is made from ultem. Good news here is that it is compatible with Goon and Kennedy style drip tips, which mean you can swap and change to your hearts desire.
Another benefit is that because the aforementioned attys are so popular, there is a plethora of aftermarket tips to choose from. There is a brass colored accent on top of the tank where to drip tip slots into, which really adds a touch of character to the Ammit Dual Coil. You can also use the supplied 510 drip tip adapter to make use of your favorite, standard size, drip tips if you wish to do so.
The Ammit Dual Coil breaks down into either 3 or 4 pieces, depending on which mode you have it setup for. This makes cleaning and working on your build a very easy task. The build quality is great and there are no loose threads, poor fitting o-rings or janky parts to be found. There was no hint of machine oil residue, however it did get the obligatory bath before build. Taking apart the Ammit Dual Coil reveals the unique looking build deck and chimney sections.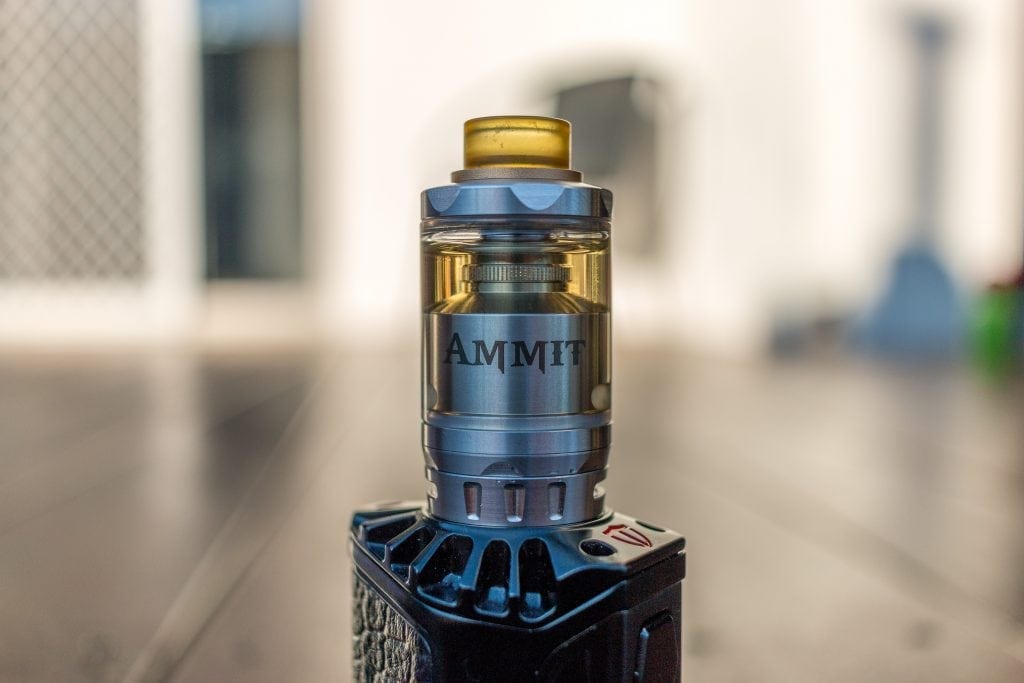 The deck is quite unique and can only be compared to the Kylin RTA. It reminds me of a V6 engine block, where the side airflow is angled up to form a V shape on the outside end of each coil. The coils are not inserted traditionally from the side, however they are secured in from the bottom so the legs sit into the base vertically. Beneath where the coils sit, there are also vents that provide bottom airflow. You can now see where the four-path airflow terminology is coming from.
The chamber section has the juice flow slots built into it, which can be turned on and off for filling purposes by rotating the middle or glass section of the tank. The chamber also has a nice domed shape to it on the chimney end, which should hopefully contribute to flavor and vapor production. The Ammit logo and some nice looking GT stripes are heat treated onto the chamber and chimney sections, which you can see through the glass – a nice touch on looks here. The chimney extender screws into the top of the smaller chimney quite easily and is very straight forward to put in place.
There was a separate top fill part included with the tank that didn't come pre-installed. It is designed to fit under the top cap, via the existing threads however you need to change over the o ring to the new part to ensure you create a proper seal. The top fill section has a large kidney shaped fill holes on either side and boosts the tank a few millimeters taller. I know that this top fill part was produced after the original V1 had issues where the glass was only held in via the o-ring and could be easily knocked off while filling with juice.
Geekvape have obviously listened to their customers and provided this top fill section with the Ammit Dual Coil V2. I'm unsure if the thread system needed to be changed to accommodate the new part as I have not seen the V1 myself. I'd be keen to know in case any owners of the V1 could buy this part separately to upgrade their original tank.
Overall first impressions of the Ammit Dual Coil RTA are fantastic. It looks good and feels good to hold, you can usually tell something of good build quality as soon as you feel it. I'm excited to try it out and share the experience with you!
Usage
Once taken apart and exposing the build deck, it's time to install some coils on this puppy. The post screws are slotted, so you can either use your own screwdriver or use the included T shaped tool. I've never built on a deck in this style before with having the coil legs vertical. It took some time to measure up the legs of the coils to get them to where I wanted the coils to sit. It wasn't too hard though, as I gradually trimmed off the coil legs until they sat in the right spot.
Once the first coil was trimmed properly I mirrored this leg length on the other one. After measuring the coils to sit in the right spot, ensuring they are not touching any other parts of the deck, you simply tighten up the post screws and make your final adjustments.
The post holes are quite large so they will accommodate some large gauge wire. And the build room is quite large as well, so you would be able to run some exotic builds in there if you so desire. It seems like the airflow would be able to keep up with a hot build as well. Just make sure that your coils do not touch any part of the deck or the chamber to avoid shorting out.
If you prefer to run a single coil you can do this in one of two ways. Firstly, by using the included single coil plug, which blocks off one side of the airflow and half of the build deck. The other is to just run a single coil in the very middle of the deck. Using one negative and one positive post hole from each side and kind of straddle the coil between the two. This would be beneficial if you wanted to run a super fancy single coil build that could benefit from receiving the full airflow from both sides.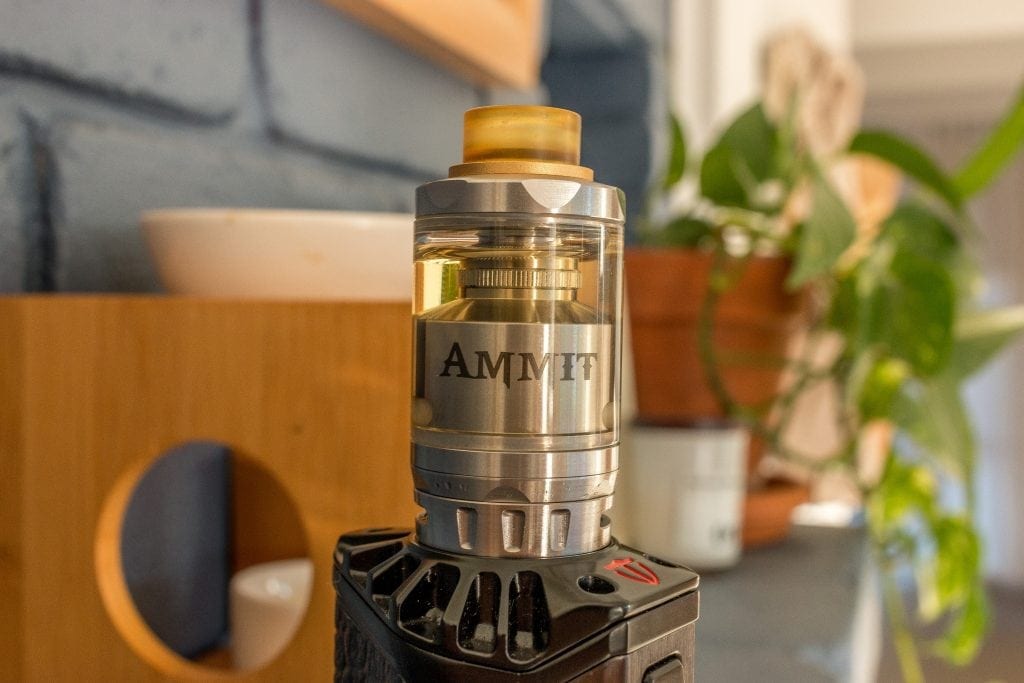 Wicking is fairly straight forward. The first time you wick it will take a little longer to figure it out. Once the wick was installed in my coils, I kept cutting the ends slowly until they seemed like they would meet the bottom of the wicking ports. I did this by folding them down and cutting them bit by bit. You need to make sure there is enough wick installed to stop the unit from leaking, however not stuffed in the ports so much that it restricts wicking.
Keep the ends fluffy and ensure there are no gaps in the juice flow to allow any leaks through. I found this out the hard way after my first installation. I had the ports full, however, they were not fluffed out enough ensuring there were no gaps. I came back to my mod after half an hour to find it sitting in a puddle of juice. I quickly re-fluffed the ports and visualized that there were no gaps. It's been leak free ever since.
To fill the Ammit Dual Coil RTA, make sure that that the juice control is closed before hand. Simply twist the glass and you will see the ports closing over on both sides. This ensures that there is no leakage out of the airflow when filling as when the top is removed there is obviously no pressure in the system. Once the juice flow is closed off entirely, simply screw off the top cap and fill the tank up. The short glass will take 3mls and the large glass will take double that at 6ml. Once full, screw the top cap back on and open up the juice flow again.
The airflow is adjustable by grabbing the bottom of the tank and turning it. Clockwise will have it open up and anti-clockwise will close it off. The airflow clicks into 4 different open positions and cannot be spun freely. If you really need to you can sit it between clicks and it will not move.
Performance
I have to say that the satisfaction the Ammit Dual Coil provides is wonderful. The various builds I tried in this tank ranged from dual claptons to dual standards to single fused claptons and they all worked very well. My favorite builds were SS316L 26/32 claptons at 2.5mm for dual coil mode and 3mm for single coil mode. This tank will excel with pretty much any build you throw at it and if you provide enough watts accordingly to fire it.
The flavor from this tank is exceptional due to its design and airflow. Very dense and concentrated, which is just the way I like it. The vapor production is just as good and has the ability to chuck clouds if you so desire. I really like how it can accept a wide variety of builds and cater for each in terms of airflow.
Wide open, this thing has airflow for days and can be backed off to a restricted lung hit very easily. When you start to back off the airflow it does have a quirk which results in some whistle. Definitely not as bad as some of the other tanks around, but can easily be forgiven due to the satisfaction and vaping experience it provides.
I enjoyed running it in single coil mode, however, I didn't use the single coil plug. I ran a spaced Clapton and had it straddling the center of deck as I mentioned previously. It really benefited from having airflow from both sides as I could run it a bit hotter than I normally would. The flavor and vapor production from that single build was impeccable. I had to keep the wick ends a little longer than in dual mode to ensure that the port holes were sufficiently full.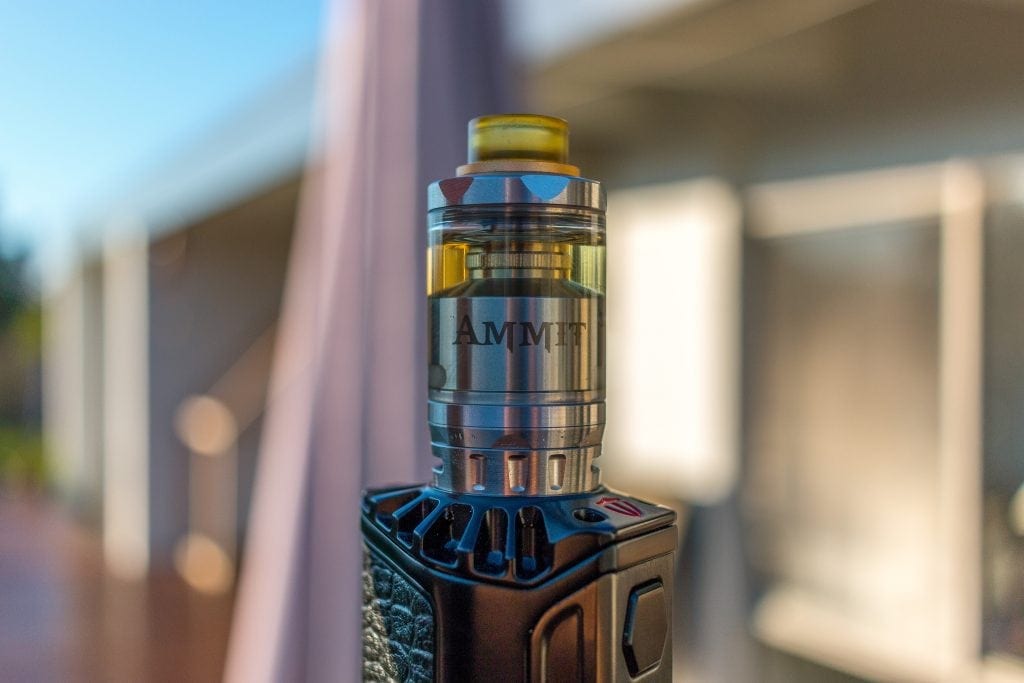 I had no trouble with wicking keeping up and have not had any dry hits, which is great. It only leaked on me the one time I mentioned earlier and that was down to operator error, rather than a flaw with the tank itself.
It fits great on all the mods I own and I had no trouble with poor connection, misreading or ohm jumping. It's certainly customizable in the way it can be changed from a 3ml tank to a 6ml tank. So the way it fits into your particular life and style of vaping is entirely up to you. An added bonus of the juice flow control is that you can close it off for transport if you are worried about leaking or changes in pressure.
Specifications
Capacity: 3ml/6ml
Dual or Single Coil Building
Postless Deck Design, Easy to Wick
Diameter: 25mm
Thread: 510
Material: Stainless Steel, Glass, PEI
Product Weight: 0.0900 kg
Product Size: (L x W x H): 5.80 x 2.50 x 2.50 cm / 2.28 x 0.98 x 0.98 inches
Pros
Easily customizable
Great flavor
Great vapor production
Cons
Can leak if not careful with wicking
Wrap Up
With the Ammit Dual Coil RTA available in both black and stainless finishes and the fact that it is so easily customizable, it really is a great option for those interested in both single and dual coil builds. In my view it ticks a lot of boxes when it comes down to performance, looks, customizability, build quality and use. It is nice and comfortable on the lips, as the drip tip is the perfect size.
The flavor and vapor production are definitely on point and will really accentuate your preferred builds. It has enough options involved for you to arrive at your perfect sweet spot. So I have absolutely no hesitations at all in recommending this tank to you if you feel it is something you are interested in. For the price you cannot go wrong, you really get a stellar amount of options that you can tailor into your perfect setup. Give it a go, I promise you won't be dissatisfied.
We hope this has helped you with selecting your next atomizer. As usual, if you have any questions or comments, please leave them below – we love hearing from you.