Exvape Expromizer V4 MTL RTA $22.07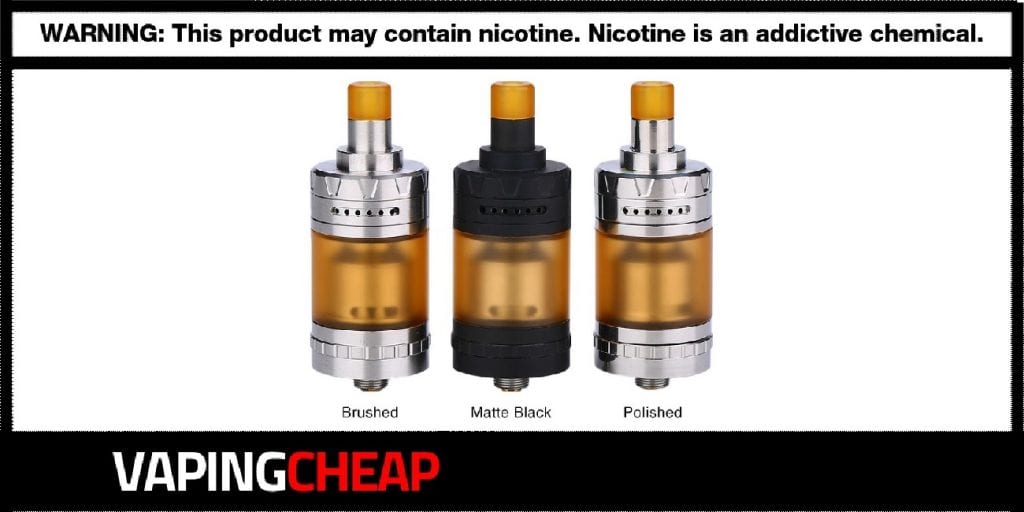 The Exvape Expromizer V4 MTL RTA is now in stock and on sale for only $22.07 when logging into your account and using code "LABOR15". There are three color options available which are Brushed, Polished and Matte Black.
Exvape's Expromizer V4 RTA sports an overall diameter of 24mm, so it'll pair well with all of the best vape mods. In addition, it has a 2ml maximum e-liquid capacity, and can be filled using its top fill design. What makes this MTL tank unique is the fact that it does feature a top airflow system, which isn't very common among these style tanks. This ensures essentially no leaking, and great flavor! The airflow is fully adjustable as well, allowing you to fine tune the draw.
Building on this tank is easy as well thanks to its simple two post deck design. The Exvape Expromizer V4 RTA does include two different drip tips as well, both have 3mm bores. A spare glass tank section is included in the packaging too. Lastly, the Expromizer V4 MTL RTA sports a gold plated 510 contact.
If you're a fan of mouth to lung vaping, then you're definitely going to want to check out this deal. It's much better than its predecessors, and looks like it can certainly be one of the Best RTAs for MTL vaping this year.
Exvape Expromizer V4 RTA Features:
Base Diameter: 23mm (24mm Overall)
Max E-Juice Capacity: 2ml
Top Fill Design
Two Post Build Deck

Compatible for Single Coil Builds
Designed for Mouth to Lung Vaping

Top Airflow System

Fully Adjustable (Can Fully Close)

Gold Plated 510 Connection
Includes Spare Glass Tank & Two Drip Tips (3mm Bore)
304 Stainless Steel Construction
Color Options Available: Matte Black, Polished, Brushed
What's Included
EXpromizer V4 MTL RTA by Exvape

Spare Glass Tank Section

Drip Tip (Black)

Screw Driver

Spare O-Rings

M2 Screws

User Manual
Check Out The Expromizer V4 RTA Review