Asmodus Anani MTL RTA $18.71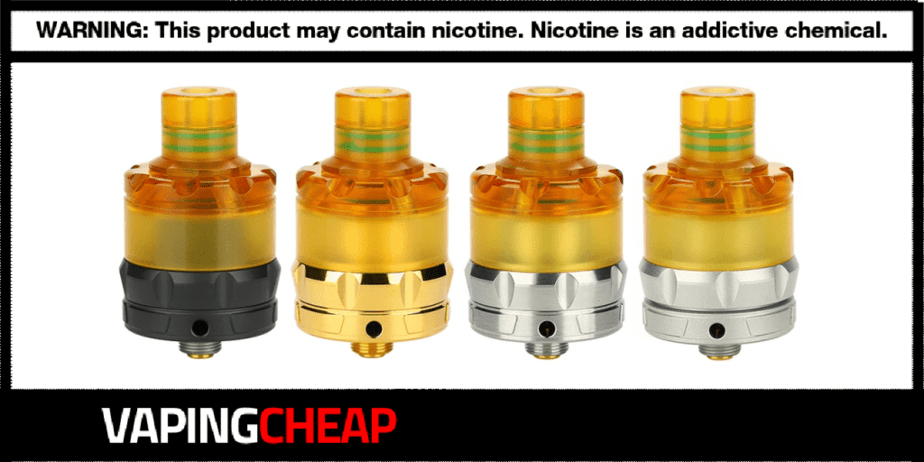 Here are some discounts for the Asmodus Anani MTL RTA. Get one for just $18.71 using code "vapingcheap". It's also in stock at a USA based shipper for only $22.91 using code "BOOM15" with free 2 day shipping over $59. There's multiple color options including Matte Silver, Black, Gold and more.
The Anani MTL RTA by Asmodus sports an overall diameter of 24.5mm. It's constructed of premium stainless steel materials, and features a heat resistant Ultem top section. This certainly gives it a unique look, and there's not too many RTAs that offer a similar construction. We'd say it definitely has that high end appearance.
It does have a maximum e-juice capacity of 2ml, and features a top fill system with three angled fill ports.
When it comes to airflow, it's designed to provide a true, tight mouth to lung vape experience. The airflow comes in from the bottom, and is non-adjustable. On the inside, you'll see multiple honeycomb airflow slots that sits right under your coil, providing a smooth draw and excellent flavor. The airflow diffuser is threaded as well.
Building on the Asmodus Anani MTL RTA is quite easy. It's a simple dual post build deck, so you'll wrap the coil with the leads facing opposite directions. Lastly, this tank is compatible with other 510 drip tips.
If you enjoy mouth to lung vaping, then we highly suggest checking out the Anani MTL RTA. It's designed specifically for that, and provides that tighter draw. So, if that's what you're after, don't look any further!
Asmodus Anani MTL Tank Features:
Overall Diameter: 24.5mm
Constructed of Premium Stainless Steel & Heat Resistant Ultem
Knurled Ultem Tank Section, Chimney & Base
Dual Post Build Deck
2ml E-Liquid Capacity
Top Fill System

Triple Angled Fill Ports
Threaded Ultem Drip Tip Base (Fill Port Seal)

Non-Adjustable Bottom Airflow
Threaded Airflow Diffuser
4 Color Options
What's Included
Asmodus Anani MTL RTA
Pre-Wrapped Ni80 28G Coils
Screwdriver & Bag of Spare Parts
User Manual
Check Out The Asmodus Anani MTL RTA Review