Vaporesso Revenger 220w Kit from Ave40 (30% Off Code Inside!)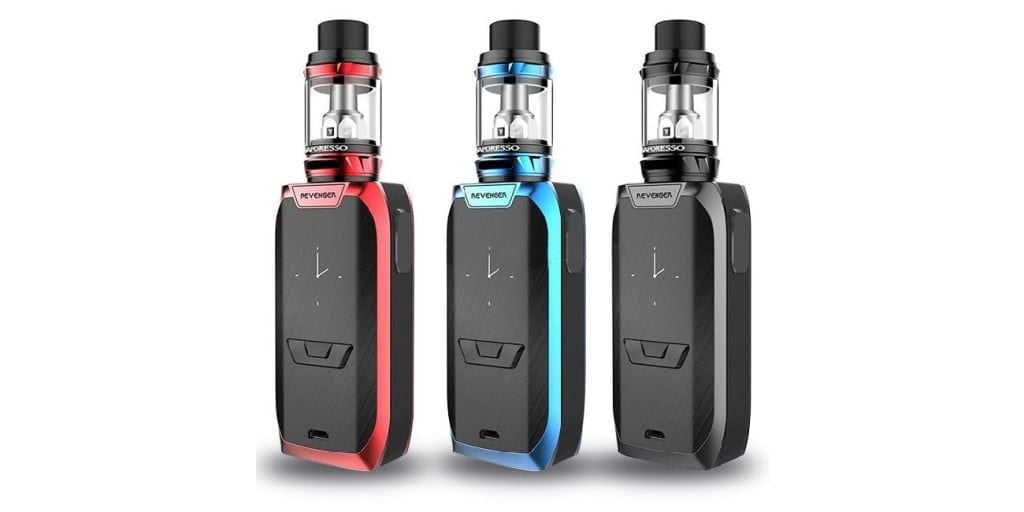 Vape Starter Kit
The Vaporesso Revenger 220w Kit from Ave40 is available in a wide range of colors including the newest addition Rainbow! Rainbow is an incredibly popular color option, and we're seeing more and more of it on both mods and atomizers. In addition, there are 2 versions of this vape kit which are the 5ml version and the 2ml version. The 2ml version allows this vape starter kit to be TPD complaint. What's great is that Ave40 is offering an exclusive coupon code to receive 30% off! The coupon code is "RVK30F".
The Vaporesso Revenger Kit includes the Revenger mod and the NRG sub ohm tank. The Revenger box mod does require 2 high drain 18650 batteries for operation, and has a maximum wattage output of 220w, which is more than enough power for most coil builds! What's a great feature of this device is that the 510 connection is centered; therefore your larger atomizers (up to 28mm) will sit flush with zero overhang! Another great feature is the In-Mould Labeling (IML) injection coating and aluminum alloy chassis, this ensures excellent durability!
This vape mod is powered by the Omni board 2.0, which is an upgrade of the previous version. This board is well known for its excellent performance. In addition, since powered by this chipset, this device has temperature control for various wire materials including Ni200, Ti and SS. What's better is that it does feature a TCR mode, so you can easily fine tune your vape experience! It does have other modes are well such as CCW, CCT, Smart VW and Bypass mode.
The Revenger has a four button control system, which includes the fire button, wattage up and down buttons and the mode button. Simply pressing and holding the mode button allows you to cycle between different vaping modes as mentioned previously. The minimum firing resistance is 0.05 ohm, and the maximum voltage output if 8.5v. This device also features an atomizer lock feature, which is essential for temperature control vaping.
With its unique design, the Vaporesso Revenger 220w Box Mod has a premium look, but without the premium price tag. With this design, it makes this box mod easy to carry and incredibly comfortable to hold and use for long vaping sessions. Not to mention, it's large 0.96 inch OLED display screen makes it very easy to see all of your vaping information. Lastly, this box mod is firmware upgradeable, so you'll always be up to date with this device!
The included NRG sub ohm tank boasts an overall base diameter of 26.5mm or 23mm, so it'll look great on the Revenger mod. Depending on which version you do choose, this tank has either a 2ml or 5ml e-liquid capacity. Filling can be done quickly and easily utilizing the sliding top fill system. This vape tank is compatible with the GT coil family, and this starter kit does include 2 replacement coil heads which are the GT8 (0.15 ohm) and GT4 (0.15 ohm).
This sub ohm tank does feature fully adjustable bottom airflow, which ensures excellent flavor. In addition, it does include a proprietary 14mm bore delrin drip tip that features a mesh to help prevent spit back, so you won't be experiencing any spit back whatsoever when vaping this tank. The delrin ensures that the drip tip won't get hot while vaping, which is another great feature.
All in all, the Vaporesso Revenger 220w Kit from Ave40 is an excellent high powered vape starter kit that provides the user with tons of features. If you're looking for a premium vape kit that's affordable, then this Vaporesso starter kit is definitely worth considering adding to your vape collection! Be sure to use the provided coupon code to get 30% off!
Coupon Code: RVK30F
Product Features:
Vaporesso Revenger:

Powered by Omni 2.0 Board
Requires 2 High Drain 18650 Batteries (Not Included)
Maximum Wattage Output: 220w
Maximum Voltage Output: 8.5v
Temperature Control (Ni200, Ti, SS)
TCR Mode
Minimum Firing Resistance: 0.05 ohm
Bypass & Smart VW Modes
Firmware Upgradeable
CCW & CCT (Curve Modes)
Many Safety Features
Premium & Ergonomic Design
Magnetized Battery Cover
Centered 510 Connection
Large 0.96 Inch OLED Display Screen
2.5A Quick Charge
Real Time Clock
Colors Available: Black, Red, Blue, Rainbow

NRG Sub Ohm Tank

26.5mm/23mm Base Diameter
5ml/3ml E-Liquid Capacity
Sliding Top Fill Design
Fully Adjustable Bottom Airflow
Proprietary 14mm Bore Delrin Drip Tip (with Spit Back Mesh)
Replacement Glass Tank Section Included
Compatible with GT Coil Family

Includes GT 4 (0.15 ohm) & GT 8 Coil (0.15 ohm)