VapeFalcon.com STOCK UP & SAVE Sale! Up to 70% OFF SITEWIDE!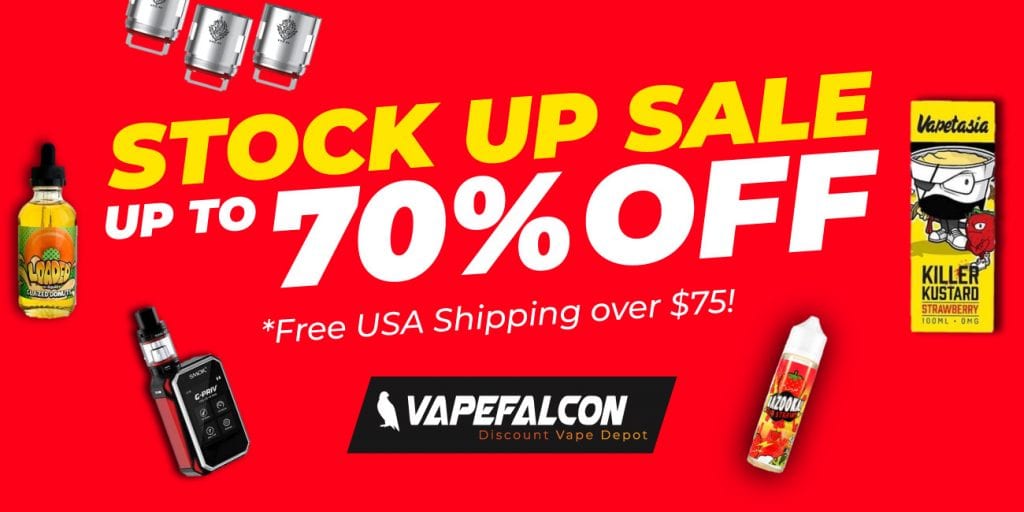 Vape Falcon is having an amazing Stock Up & Save Sale where you can save up to 70% off! No Coupon Code required! Plus FREE 2 day shipping over $75.
During the Vape Falcon Stock up & Save Sale, you can save up to 70% off! Plus Free 2-Day USPS Shipping over $75! you'll be able to get huge discounts and deals on a bunch of different vaping products!
This includes a bunch of popular brands too, such as Vaporesso, Vapetasia, Smok, Snowwolf, and more. Lastly, you'll be able to get 100ml bottle of e-juice as low as $9.95, replacement pods as low as $8.95 and much more
If you're looking for a great sale to stock up on premium e-juices, replacement pods and looking for new vape hardware, then you won't want to miss out on this Vape Falcon sale. Be sure to jump on this sale as this is a limited time sale!
Store Sale Details:
Save up to 70% off
FREE 2 day shipping over $75
wide range of brands
Premium Vape Juice 100ml/120ml bottles under $10
Limited Time Sale