Vape Breakfast Classics Deluxe French Dude Review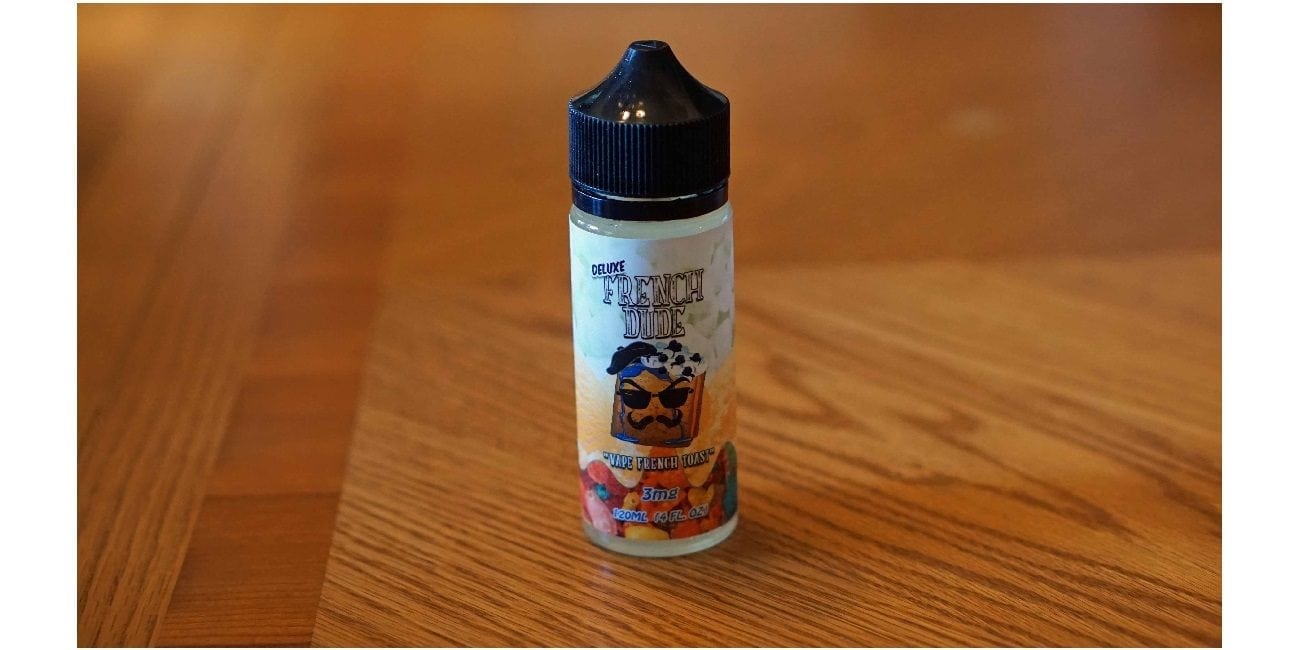 Vape Breakfast Classics Deluxe French Dude Review
In this vape juice review, we'll be covering one of the newest flavors from Vape Breakfast Classics, Deluxe French Dude! The original flavors from this company are incredibly popular, and this is a spin off of the original French Dude. This new flavor keeps some of the same primary flavors from the original, but adds a touch of cereal! This e-juice is available in large 120ml bottles, and do come in a Chubby Gorilla Bottle. In addition, the nicotine strengths available are 0mg, 3mg and 6mg.
Before getting any further, we'd like to thank Breazy for sending this e-liquid our way for the purposes of this review. We'll cover our overall thoughts on Deluxe French Dude and conclude with whether or not we recommend it! Remember, taste is subjective so what we may like you may not like and what you like we may not like. Next, we will go over the specific atomizers and mods used to test this flavor.
Mods & Atomizers
First Setup
Wismec Luxotic BF Box Mod with Vandy Vape Pulse 24 RDA
Build: Dual Fused Clapton
Resistance: 0.18 ohm
Second Setup
Smoant Battlestar 200w TC Box Mod with Wotofo Bravo RTA
Build: Dual Fused Clapton
Resistance: 0.22 ohm
Flavor Review
Flavor Description: French toast meets syrup meets cereal. This delicious combination of flavors stack the odds against your current all day vape. An all consuming combination of layered flavors that marries fruity cereal with fresh french toast smothered in syrups. Deluxe French Dude is a one of a kind experience that you'll not find anywhere else. Innovative and in a category all its own, Deluxe French Dude wants to change what you perceive as a breakfast themed vape.
Nicotine Strength: 3mg
VG/PG Ratio: Max VG
Inhale: Creamy cereal
Exhale: Creamy fruit cereal with background notes of blueberry and french toast
Throat Hit: Very smooth
Overall Thoughts
The original French Dude by Vape Breakfast Classics is currently one of my all day vapes, so I was excited to review this new e-liquid. The primary flavors in Deluxe French Dude is whipped cream, syrup, french toast, fruit and cereal. On the inhale, I mostly just get a creamy cereal flavor. However, on the exhale is where this flavor truly shines.
As you exhale, you get the creamy fruit cereal and in the background through the middle and end of the exhale is where you'll taste the french toast and slight hints of blueberry. The entire vape experience is very creamy, which is definitely a good thing. I would say this is the "whipped cream" as mentioned in the flavor description, but I don't get much syrup. At first, this flavor surprised me, because I wasn't expecting much aside from cereal to be honest. This is certainly one of the most unique flavors I've had in a long time.
You get the fruit cereal notes, and it blends really well with the original components of French Dude, which is what's present in the background of the exhale. I'm impressed with this e-liquid for sure, and I can easily see myself vaping it all day without getting tired of it. The throat hit is smooth as butter, and the vapor production is excellent.
Overall, if you're a fan of the original French Dude by Vape Breakfast Classics and a fan of cereal vapes, then I definitely recommend giving this flavor a shot! Vape Breakfast Classics Deluxe French Dude is certainly one of a kind, and is a new e-liquid to be added in my daily rotation of flavors.
We hope this review helps you find your next all day vape! Feel free to leave any questions or comments below! Thanks for reading!