E Juice Review : New Flavors by Ruthless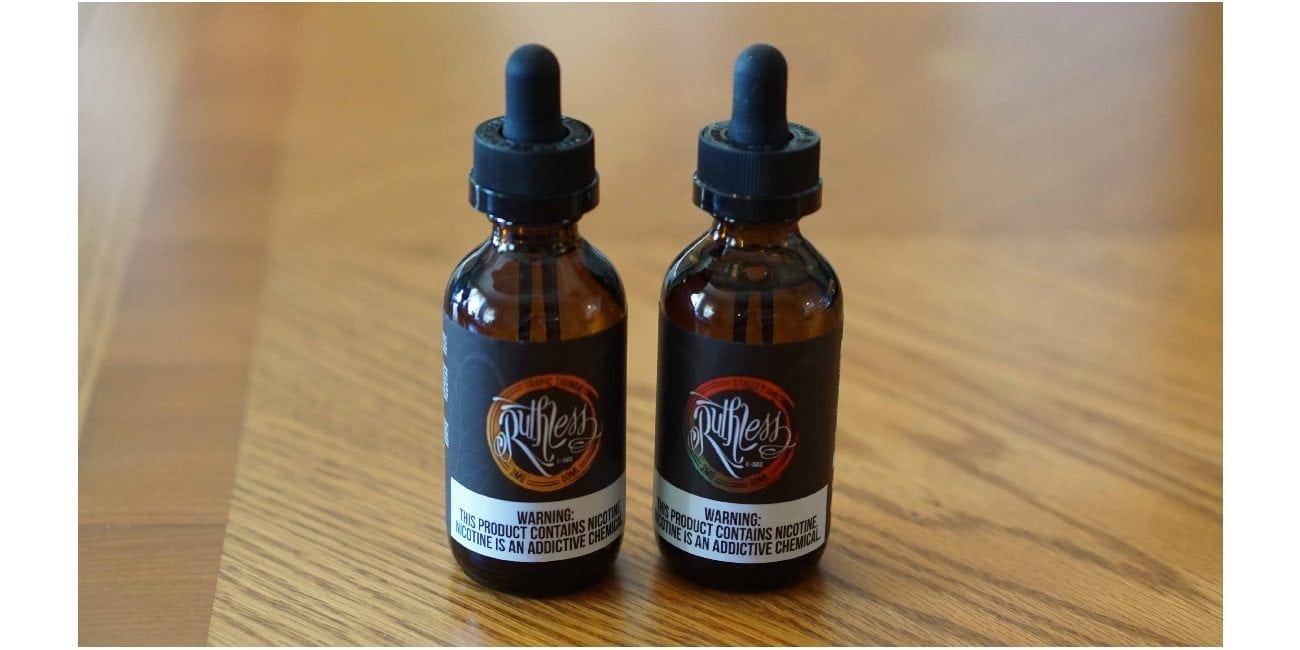 Ruthless E Juice Review
Ruthless is another brand that really doesn't need an introduction as they've been in the industry for quite some time now. They offer a wide range of flavors and are favored by many vapers. In this Ruthless e-juice review, we'll be covering their two newest flavors which are Tropic Thunda and Strizzy. Both flavors are available in a 60ml or 120ml bottle, and are currently offered in nicotine strengths 0mg, 3mg, and 6mg.
Before getting any further into this review, we'd like to thank EJuice Plug for sending these two flavors our way for the purposes of this review. We will provide you with our overall thoughts about these flavors and let you know whether or not we recommend them! Remember, taste is subjective, so what we may like you may dislike and what you like we may dislike. We will first go over the specific mods and atomizers used to test each of these flavors and then continue on to the review of Ruthless Tropic Thunda and Strizzy!
For those looking to pick up either or both of these flavors, there is a coupon code available to save you 20% off! The coupon code is "VapingCheap"! This code does work on both 60ml and 120ml sizes!
Mods & Atomizers
First Setup
Lost Vape Triade DNA250 with Augvape Templar RDA
Build: Dual Stainless Steel Fused Clapton
Resistance: 0.16 ohm
Second Setup
Lost Vape Mirage DNA75C with Geekvape Zeus RTA
Build: Single Fused Clapton
Resistance: 0.46 ohm
Flavor Review
Strizzy By Ruthless E-Juice
Flavor Description: Strizzy E-juice is a perfectly blended e-liquid that consists of raspberry, kiwi, and strawberry. Strizzy vape juice is unbelievably flavorful and any fruit lovers can enjoy this all year long!
Nicotine Strength: 3mg
VG/PG Ratio: 70VG/30PG Blend
Inhale: Strawberry and kiwi
Exhale: Strawberry and kiwi with background notes of raspberry
Throat Hit: Very smooth
Overall Thoughts
In the flavor description, it mentions being perfectly blended, and I must say, I agree! This is an excellent fruit flavored e-liquid, and while I'm not the biggest fan of fruit flavors, this one I can easily vape all day. With that being said, on the inhale, you mostly get strawberry and kiwi. On the exhale, you get the same strawberry kiwi flavor, but with background notes of raspberry.
When first vaping this flavor, I didn't really notice the raspberry much, but it does become more noticeable as you vape it. The raspberry does compliment the strawberry kiwi quite well and offers a very refreshing vape. The strawberry and kiwi mix well together too, and neither overpowers one another. All three fruits are natural tasting, which is definitely a good thing for this one. The throat hit at 3mg is perfect, and the vapor production is great.
Although this is a very straightforward flavor, it's also a very good one and it is blended just right to give you a fruit vape you can vape all day without getting tired of it. There is just the right amount of sweetness as well, sure to satisfy any sweet tooth. If you enjoy fruit flavored e-juices, then I highly recommend this one, you won't be disappointed!
Tropic Thunda
Flavor Description: Tropical Thunda! A tropical storm of exotic guava and striking strawberry will take you to a flavorful tropical paradise!
Nicotine Strength: 3mg
VG/PG Ratio: 60VG/40PG
Inhale: Strawberry
Exhale: Strawberry and guava
Throat Hit: Very smooth
Overall Thoughts
Their second newest flavor is another fruit-based e-liquid, and this time it implements guava with strawberry. Honestly, I haven't had many e-liquids with guava, so this one definitely peaked my interest. On the inhale, you mostly get strawberry and maybe a faint hint of guava. However, on the exhale, you get a mixture of guava and strawberry. The strawberry note in this flavor is a bit similar to Strizzy, which is a good thing for sure as I did enjoy the strawberry in that ejuice.
The mixture of strawberry and guava is absolutely amazing! Both the guava and strawberry are natural tasting, and as you taste the guava on the exhale, it's like if you took a bite out of the actual fruit! I will say that the guava note is a bit more dominant on the exhale than the strawberry, but the strawberry does round it out and compliments it very well. This is also another flavor that's pretty straightforward and not overly complex, so it's easy on your palette. Although this is a 60VG/40PG blend, the vapor production is satisfying, and the throat hit is silky smooth.
All in all, I must say that I'm very impressed with Tropic Thunda by Ruthless E-Juice. It has easily climbed its way to one of my favorite fruit flavored e-liquids. When first reading the flavor description, my first thought was that I wasn't going to enjoy it, especially since not having tried many guava flavors, but after vaping it, I might just be more adventurous with flavors. So with that all being said, if you're looking for a well crafted tropical flavor, then look no further!
Conclusion
In conclusion, both of the newest flavors from Ruthless E-Juice are easily considered all day vapes. They both vape great in tanks and RDAs, but I did prefer them in an RDA. Between the two, I'm not sure which one was the favorite as they were both equally good. If one were to be chosen though, Tropic Thunda definitely was the most impressive. The guava and strawberry blend is simply amazing, and taste great! The throat hit from each was very smooth, so the nicotine used is surely high quality.
If you're a fan of previous Ruthless flavors or simply looking for new premium fruit flavored e-liquids, then we can easily recommend Ruthless Strizzy and Tropic Thunda. We don't think you'll be disappointed with either, and for the price, they're well worth it! Don't forget to use the provided coupon code to save 20% off!
We hope this Ruthless e juice review helps you find your next all day vape! Feel free to leave any questions or comments below! Thanks for reading!