EJuice Plug Coupon Code! 20% OFF Ruthless & Loaded E-Liquid!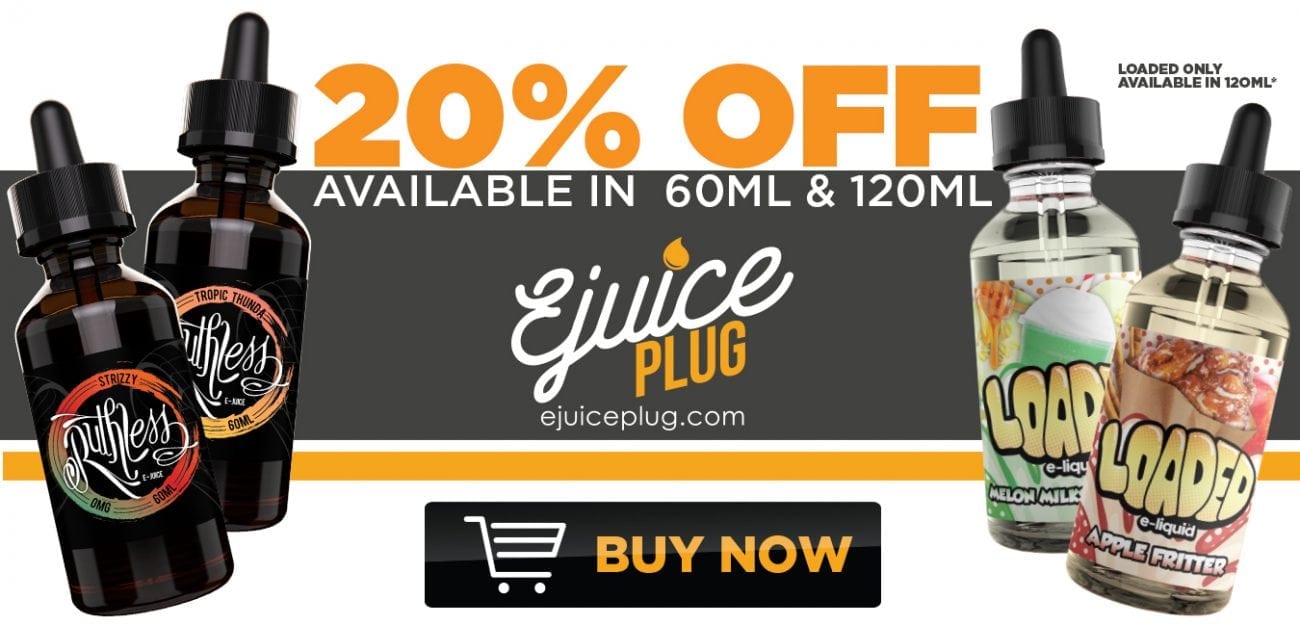 Coupon Code
With the EJuice Plug Coupon Code, Vaping Cheap readers can save 20% off the newest Ruthless and Loaded E-Liquid flavors! The coupon code to save 20% off is "VapingCheap" or simply click on the link provided to have the discount automatically applied!
Using the EJuice Plug coupon code will save you 20% off on the the newest flavors released by Ruthless and Loaded E-Liquid! The flavors that are included are Tropic Thunda and Strizzy by Ruthless E-Juice, and Melon Milkshake and Apple Fritter by Loaded E-Liquid. The Ruthless flavors are available in 60ml and 120ml glass bottles, and the Loaded e-liquid flavors are available in large 120ml glass bottles only. The nicotine strengths available for all of these flavors are 0mg, 3mg and 6mg. So, if you're a fan of either Ruthless or Loaded E-Liquid, this a great deal to save on their newest flavors!
Coupon Code: VapingCheap
Coupon Code Details:
Save 20% off new Ruthless & Loaded E-Liquid Flavors
Available in 60ml and 120ml Bottle Sizes
Nicotine Strengths Available: 0mg, 3mg, 6mg
Valid For a Limited Time Only