Recoil RDA by Grimm Green & Ohm Boy OC First Impressions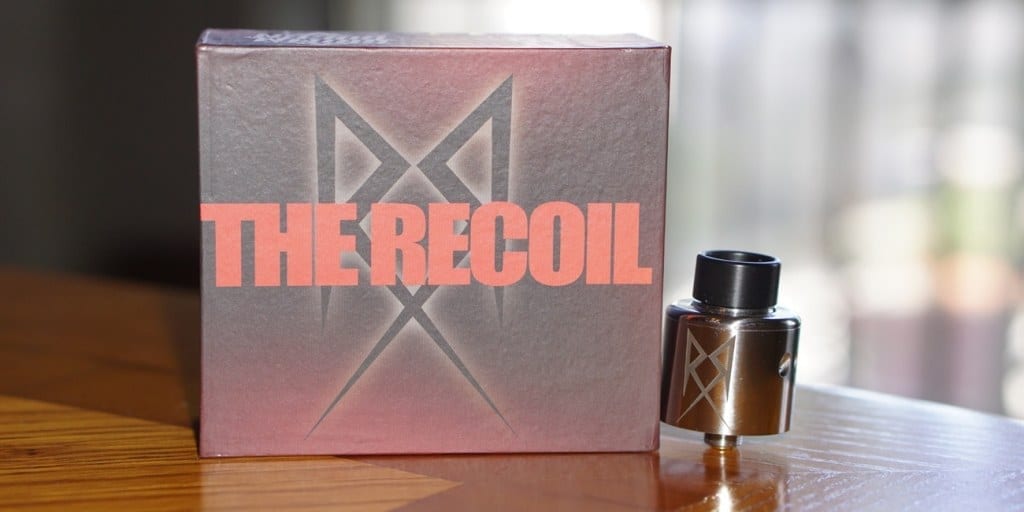 When I first heard that Grimm Green and Ohm Boy OC were releasing an RDA, I was extremely excited to see what this RDA would look like and definitely how it would perform and I know for a fact everyone is probably wondering the same thing. Well, now that I have had this RDA for about a week or so, here are my first impressions on the Recoil RDA by Grimm Green and Ohm Boy OC.
Coupon Code: VC10
Out of the Box
When first receiving this atomizer, I noticed the really nice packaging it came in. I know this is just a box really, but to me it shows the time and detail the makers really put into the product, and to me it shows me for sure with the Recoil RDA. The box is a simple box really but looks amazing. It slides upon the reveal the RDA, and the additional barrel that is included with your purchase. For one, I think this was great as it was not a separate purchase, which they could have done, but decided to include it already!
When first holding the Recoil, I noticed the great quality it had. Honestly, this is one well-made atomizer, as it just feels of outstanding quality. I really do have to give it to them, because the quality is definitely there for this one.
I do want to mention there was literally no sign or smell of machine oil anywhere on this RDA or any of its spare parts, which to me is a huge pro.
Also, another thing I did notice is the airflow, and honestly it really is unique. The airflow is from the side, but is sat a bit higher and aims down to your coils rather than directly to the side. I will get into flavor later, but I can see why they went with this design.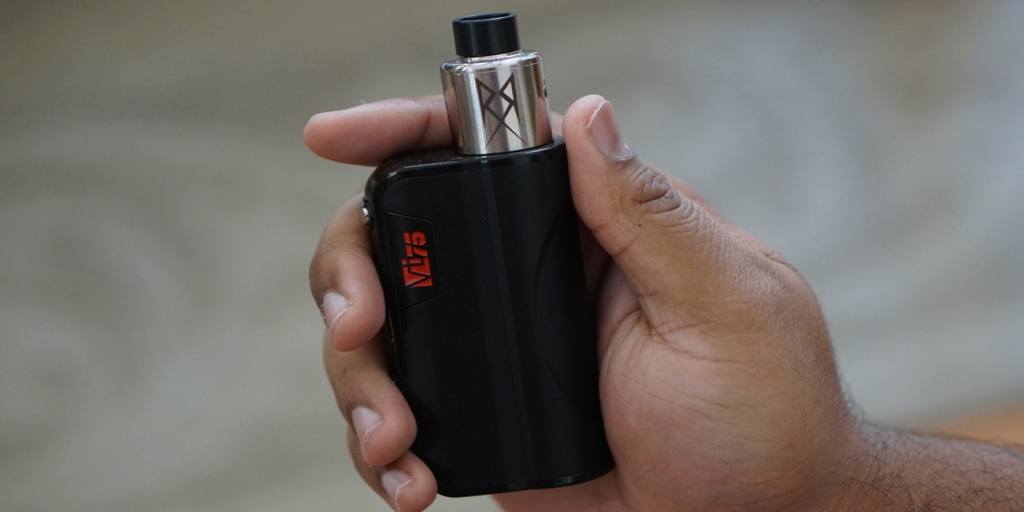 The o-rings of the Recoil are just amazing. These are one of the best, if not the best o-rings I have ever had on an RDA, and I have a ton of atomizers. They are not too tight, nor or they too loose. This just shows the detail that was put into this RDA.
In addition, the top cap o-rings were excellent as well, and had just the right amount of tension for you to pull off to drip. The drip tip is also held on by an o-ring, but this one was really tight, but honestly I have no desire to take off the drip tip, as for me it is perfect as is nor would I want to take off the drip tip.
The deck is not really anything new to be honest, and is probably something that really put some people off when first seeing this RDA, but honestly even though the design is like that, the way they are makes it very easy to install your coils. With the negative posts higher, it really makes it easy to just sit your coils, as they just naturally sit there without having to mess with them. However, I do still think a velocity styled deck is easier to build on overall.
Building on the Recoil
Like said before, building on this RDA was relatively easy, and the first build I put in here was a Fused Clapton, dual coil and the resistance was 0.15 ohm. The screws that this RDA uses are similar to hex screws, but they are flat head screws. They do not clip my lead, and can really be cranked down. I did put a ton of force when tightening my leads, and had no issues at all.
However, with that being said, what did get annoying was that my screwdriver would slip when trying to tighten down. I did use different size screwdrivers, and it just happens. This could definitely bug people when building on this RDA, but it did not bother me too much, but is surely worth mentioning.
Overall, building on this RDA was very easy, but not the easiest. I still stick by the velocity styled build deck being much easier, but this RDA is still user friendly, and do not see people having any issues.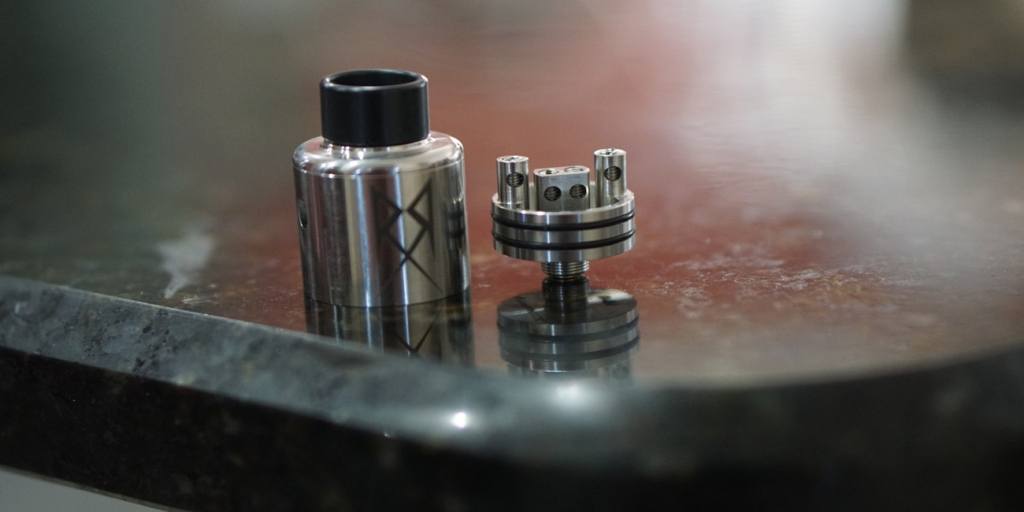 Performance
Now the biggest question from people is probably, well how does it vape? I can tell you that this RDA does vape amazingly! With the build I had on, Fused Clapton with a resistance of 0.15 ohm, I did get great cloud production. Of course, with the right build and wattage you can achieve any type of vapor production wanted, but did want to mention that vapor production with this RDA was excellent.
Now I did say I would get into flavor, and well the flavor on this RDA is very good, probably better than most RDAs. I do think the flavor is so good, because of the complete design of it. As said previously, you can really tell that this RDA was not something that was just thrown together, and really shows the detail that was put into it.
Coupon Code: VC10
The flavor with the cloud cap was very good, and did get a nice airy draw, but not too airy. For me, the airflow with the cloud cap is literally perfect, as it matches my vaping preference with RDAs. Now, the flavor with the flavor cap was even better. The flavor cap has a tighter draw in comparison to the cloud cap due to its smaller airflow holes, and which is probably why the flavor is better.
With the flavor cap, I did get a nice warm to hot vape with the build I had on it, but honestly was not my style as I do prefer more airflow. However, I do feel that some people will love the flavor cap, especially those wanting an even more restrictive draw.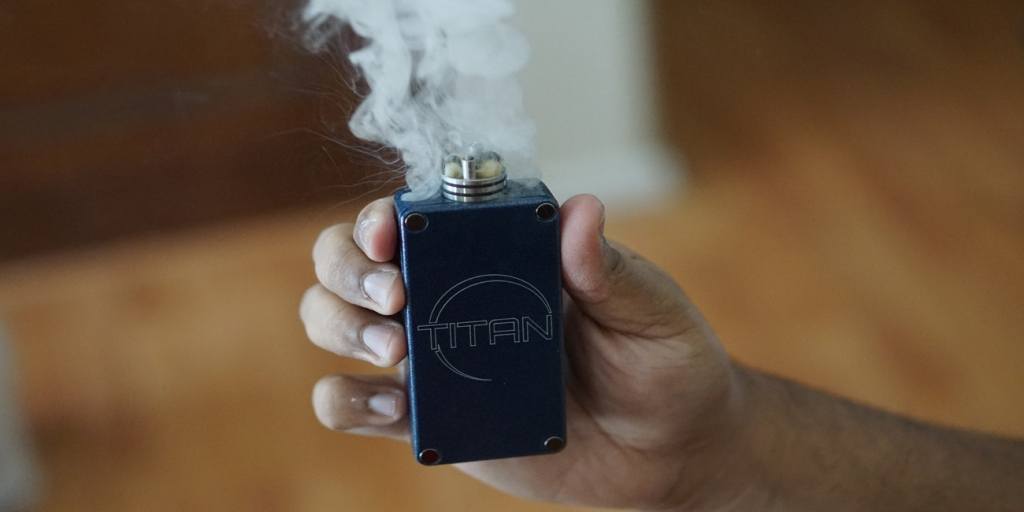 Honestly, I was kind of surprised by how good the flavor is on this RDA, I was expecting it to be okay, and nothing spectacular, but I was definitely proven wrong. I do think whoever purchases the Recoil will be surprised on how good the flavor really is.
Overall, the performance of this RDA is excellent and deserves a spot among the best of RDAs. The flavor and cloud production with either cap was just excellent, and even though not adjustable, provided ample enough of airflow or restrictiveness with the right cap.
Conclusion
In conclusion, the Recoil RDA by Grimm Green and Ohm Boy OC is definitely one of the best RDAs I have ever had the pleasure of using thus far. These are my first impression of the Recoil RDA, and have only had it for about a week or so. With all of the builds I have put in this RDA, whether Clapton or normal round wire builds, it has performed excellent in regards to flavor and vapor production.
Everything about the Recoil RDA screams detail, and I am sure will fit with a lot of people's vaping style. You can really tell the time and thought that was gone into this RDA, and even though people may not agree, when you actually do get one in your hands is when you can really see.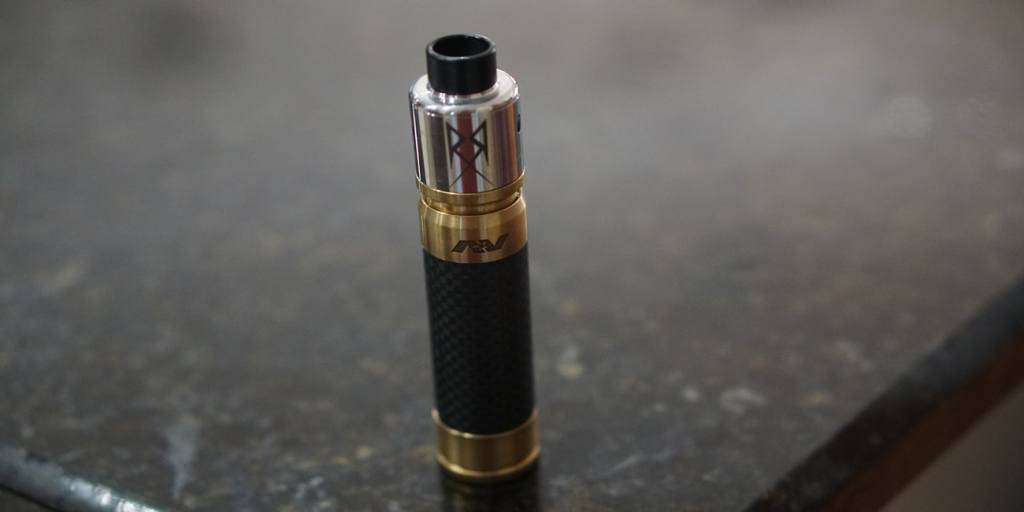 This RDA has not yet to run into any issues nor do I foresee any issues with the Recoil RDA. The build quality is just excellent, and looks great on almost any device you put it on whether it would be a mechanical mod or a regulated device. With it being 24mm you can fit most builds you would want, especially with its deck design.
Overall, the Recoil RDA has really surpassed my expectations, and does give off an impressive vaping experience. If you were thinking about purchasing this RDA, or worried that it would be just another RDA with a four post design, do not, because the Recoil RDA has truly been a pleasure to use in my personal opinion, and I highly recommend purchasing this RDA. I hope this first impression answers a lot of questions, and if you have any questions feel free to leave a comment!
Coupon Code: VC10
Product Features:
24mm Diameter
Four Post Build Deck
PEEK Insulator
Includes 2 Airflow Caps

Cloud Cap (3mm Airflow Holes Per Side)
Flavor Cap (2.5mm Airflow Holes Per Side)

9mm Bore Drip Tip
Gold Plated Brass 510 Connection
Angled Airflow
304 Stainless Steel Construction
Includes many spare parts