Lost Vape Mana Stick Disposable Vape $6.30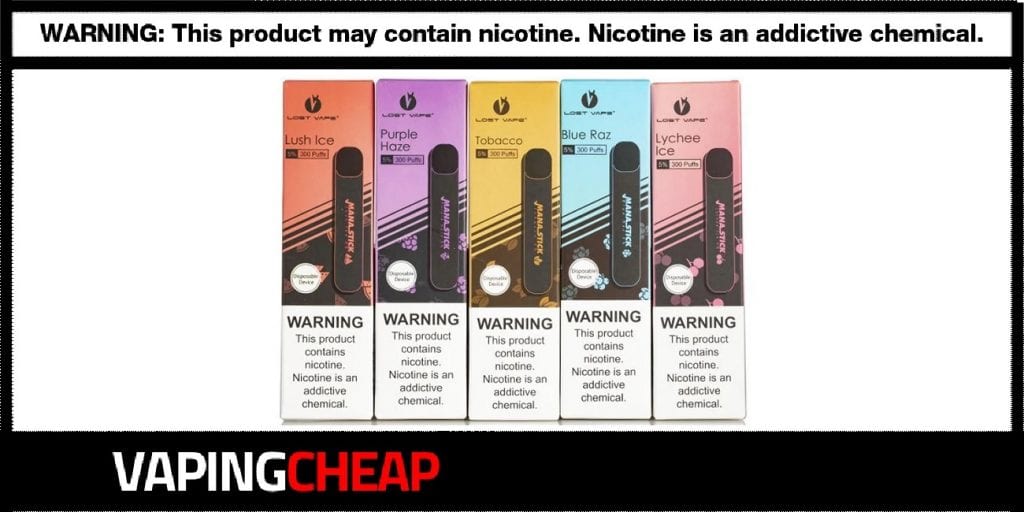 The Lost Vape Mana Stick Disposable Vape is now in stock and on sale from a USA based store for only $6.30 plus free shipping on orders over $50 with coupon "VC10". It's also available from another US shipper for only $6.49. Multiple flavor options are available.
The Lost Vape Mana Stick Disposable Vape comes in a pack of one. There's twelve different flavors to choose from, so you have plenty of options. Additionally, it's very pocket friendly thanks to the ergonomic and compact design. It utilizes a built-in 270mAh battery and lasts about 300 puffs.
What's great about this disposable pod, is that it's super easy to use. All you have to do is draw to activate it and when the life cycle is over, you can throw this one out and grab a new one! There's no need to refill or charge.
Lost Vape's Mana Stick Disposable Pod comes pre-filled with 1.2ml of 50mg nicotine salt vape juice, which is quite common among others such as the Puff Bar. Lastly, another great feature is the leak-proof design, so you'll have no worries taking this with you when you're out.
Whether you're looking for an easy-to-use device to grab and go for cheap, or a beginner looking to quit smoking, you'll definitely want to check out the Lost Vape Mana Stick. At the sale price, it won't be breaking the bank.
Lost Vape Mana Stick Disposable Pod Vape Features:
Compact Design
Built In 270mAh battery
Maximum e-juice capacity: 1.2ml
Preloaded with 50mg nic salt e-juice
Draw activated design
Comes in a single pack
Leak proof design
12 flavors available
More Great Vape Deals...
---
Ehpro Raptor Tank $16.69
The Ehpro Raptor Tank is now available! Get yours for a limited time only from only $16.69. It's also available[...]