Lollidrip EJuice Sale 60ml $9.99 (USA)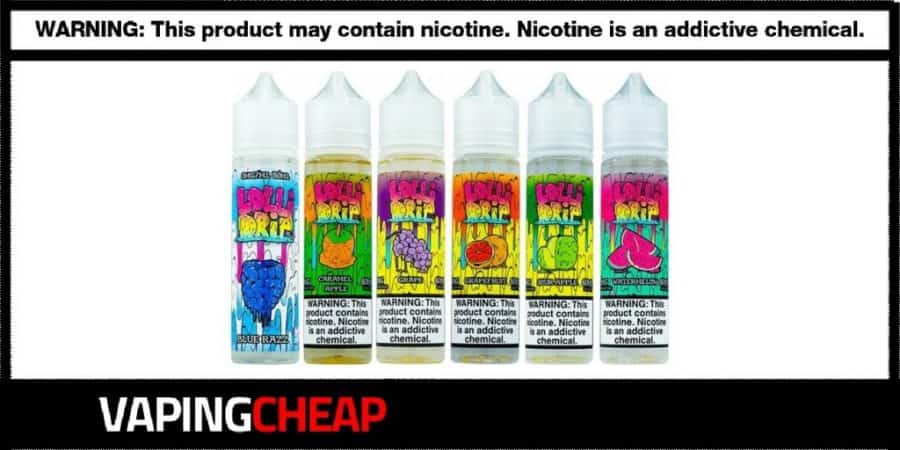 Here's a cheap deal and discount on the Lollidrip EJuice Line. With this sale, you'll be able to get 60ml bottles for just $9.99. Free shipping is included when spending $50 or more.
There's a bunch of different flavor options that's available with Lollidrip vape juice. This includes Blue Razz, Caramel Apple, Grape, Grapefruit, Sour Apple and Watermelon. Additionally, each Lollidrip flavor that's available comes in three different freebase nicotine strength options.
As expected, this does include 0mg, 3mg and 6mg. When it comes to the blends of each Lollidrip ejuice, they are high VG (70VG/30PG. They'll vape great in basically any setup including rebuildable atomizers, vape tanks, and even pod mods.
If you're looking to try out some new premium vape juice flavors at a discount, then you'll want to check out the new Lollidrip ejuice lineup. They're priced right, have a bunch of unique flavors, and are offered in the three most popular nic strengths. However, this ejuice deal is valid for a limited time only, so keep that in mind.
Lollidrip Vape Juice 60ml Sale Details:
60ml Bottle Sizes $8.99
High VG Blends (70VG/30PG)
Freebase Nic Strengths: 0mg, 3mg, 6mg
Flavor Options:

Grape
Caramel Apple
Grapefruit
Watermelon
Sour Apple
Blue Razz