Kizoku Techmod 80w Mod $40.99 | Kit $58.99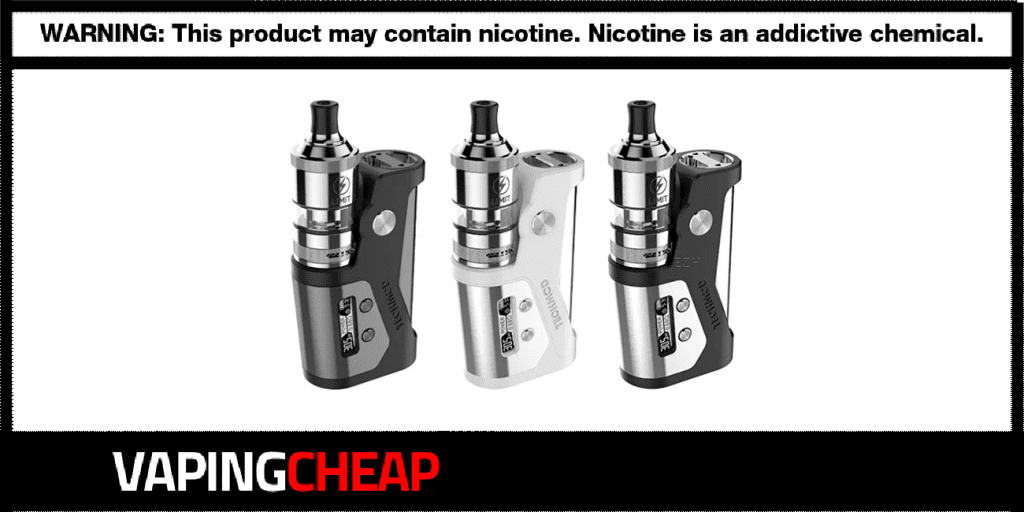 The brand new Kizoku Techmod 80w Kit and Mod is now available for pre-order. You can grab the mod for only $40.99 plus free shipping when logging into your account. You can also get the full vape kit for only $58.99 plus free worldwide shipping after logging into your account. There are three different color options you can purchase which include Black/Silver, Black/Gunmetal and White/Silver.
Kizoku's latest release, the techmod 80w brings back a design we haven't seen in quite some time - a side by side. To start, the Techmod device uses a single high drain 18650 battery and can deliver a max of 80w. You can charge the device using a USB Type-C cable, but we always recommend using an external battery charger.
The compact design of the Kizoku Techmod Mod makes it quite comfortable to hold and the tank, and will accommodate those taller atomizers with ease. Additionally, it has a few different user modes such as variable wattage, variable voltage, bypass and temperature control. Another great feature about this kit is where the fire button is located. It's on the side panel, making it incredibly comfortable to vape with.
Included with the full Techmod 80w vape kit is the Kizoku Limit MTL RTA. This rebuildable tank atomizer is primarily constructed out of stainless steel material and sports an overall diameter of 22mm.
Furthermore, it does hold a good amount of e-juice, coming in at a maximum 3ml capacity. Filling can be done from the top. Coil installs are a breeze thanks to its simplistic two post deck design. Lastly, it utilizes a fully adjustable bottom airflow design, so you can indeed close it completely if you desire.
Side by side mods are making a comeback this year, and the overall design of the Kizoku Techmod Kit is simply amazing. From the firing button location, color combinations, and ease of use, it's definitely an excellent addition to your vape collection.
Kizoku Techmod 80w Starter Kit Features:
Kizoku Techmod Mod

Requires a single high drain 18650 battery (Not Included)
Maximum wattage output: 80w
Temperature control, Bypass, Variable Voltage and Variable Wattage modes
Compact design
Small OLED display screen
Three button design

Kizoku Limit MTL RTA

Overall diameter: 22mm
Maximum e-juice capacity: 3ml
Top fill design
Two post single coil build deck
Fully adjustable bottom airflow
Stainless steel construction
What's Included:
Kizoku Techmod Device
Limit MTL RTA
USB Type-C Cable
Tool Bag
User Manual
Warranty Card