Kaees Solomon Mesh RTA $16.79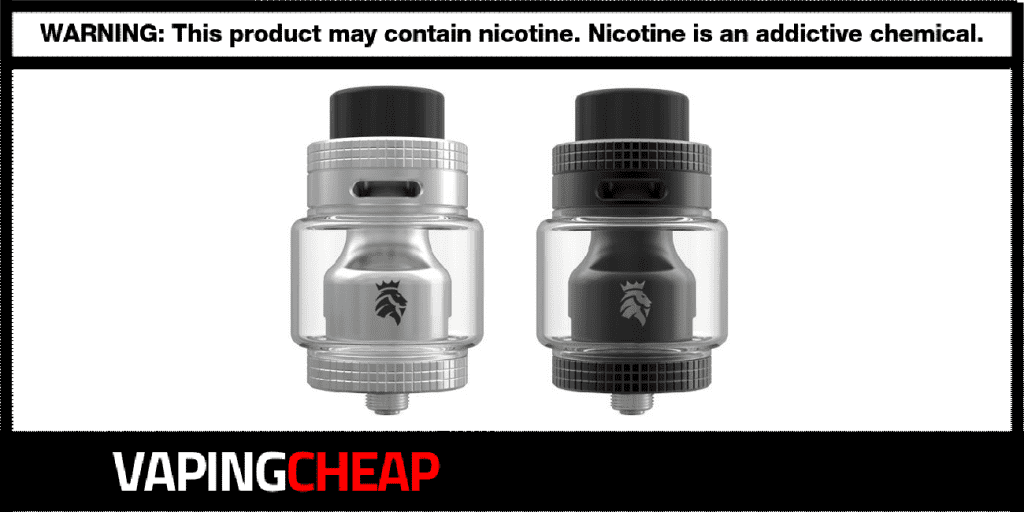 The new Kaees Solomon Mesh RTA is now in stock and on sale. Get yours for just $16.79 using code "KSMR". It's in stock from China based shipper for only $19.49. There's currently two different colors to choose from which include Black and Stainless Steel.
The Kaees Solomon Mesh RTA tank is the newest addition to this lineup of atomizers. It sports an overall diameter of 25mm with a height of 50mm. It has a maximum e-liquid capacity of 6.5ml or 3.5ml depending on which glass tank section is installed. With the bubble glass you'll get more capacity while the straight glass will provide less.
At the top, it does come with a pre-installed wide bore 810 drip tip. However, it is compatible with 510 drip tips as well when you use the included adapter.
Now, when comparing this atomizer to other RTAs designed for this style of vape (mesh), it does offer two major differences. Firstly, and probably the most innovative feature is the airflow system. It comes in from the top, which means this is basically leak-proof. As it travels down into the atty, it'll pass through large honeycomb style airflow ports. Its aimed directly over the coil, ensuring maximum flavor. Not to mention, you'll get a pretty smooth draw.
Secondly, is the building deck. The Kaees Solomon Mesh RTA features a unique mesh build platform which simplifies the coil install process. Just keep in mind when wicking mesh wire to always have cotton pushed against it. This will avoid dry hits.
All in all, this is another great option for you vapers who enjoy mesh style vapes. With its larger e-liquid capacity, and airflow system, the Kaees Solomon Mesh RTA is one you'll definitely want to add to your atomizer collection.
Kaees Solomon Mesh RTA Tank Features:
25mm Base Diameter
Maximum E-Liquid Capacity: 6.5ml
Top Fill
Unique Top Airflow System
810 & 510 Drip Tip Compatible
High Quality 304 SS Construction
Unique Mesh Build Platform
Reticulated Mesh Heating Wire
Knurled Bottom & Top
2 Color Options: SS, Black
What's Included
Solomon Mesh RTA By Kaees
4 Mesh Coils
Additional Glass Tank Section
Cotton Wick
510 Drip Tip Adapter
Bag of Spare Parts & Screwdriver
User Manual