IJoy AI Evo Resin Pod System $8.33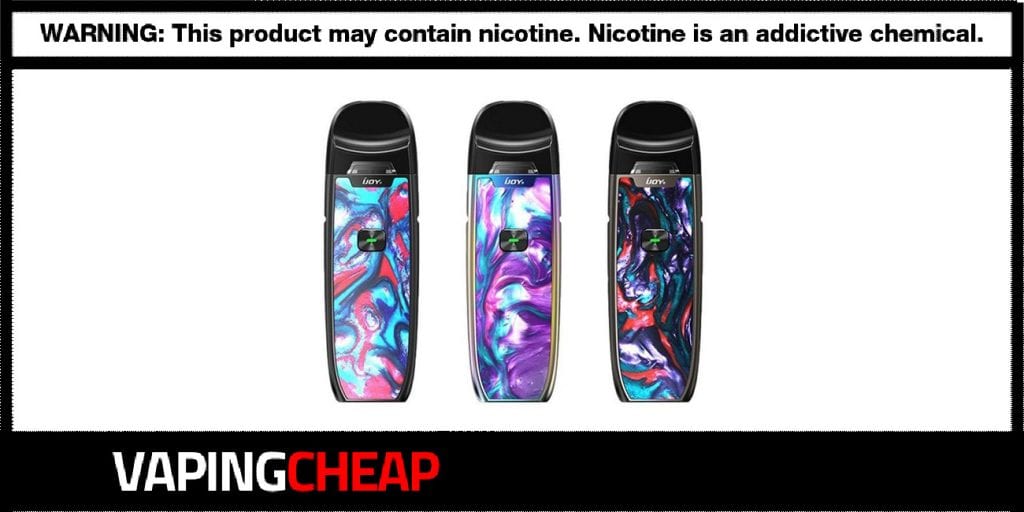 The IJoy AI Evo Resin Pod System is now on sale for only $8.33! No coupon code required. However, it is in stock at a US shipper for only $21.95. There's 3 awesome color options available for you to choose from including B-Ghostfire, G-Splendor, and R-Crystal Purple.
IJoy's AI Evo Resin Edition Pod System Kit packs a large 1,100mAh internal battery, and can be charged with a micro USB cable. Its constructed primary of zinc aluminum alloy, but features resin panels, certainly making this one of the more eye appealing pod mods on the market today.
The Evo Resin Pod Kit does have a maximum wattage output of 20w, and can deliver up to 4.2v.
There's a small battery LED light indicator as well built into the actual button, so it's easy to see your current battery life. Also, the Evo AI Resin does utilize a refillable pod cartridge which has an e-liquid capacity of 2.8ml, which is definitely a good thing as this is above the average we've seen lately.
You can utilize one of two coils when vaping with it which include a 0.7 ohm mesh and a 1.4 ohm regular coil. The higher resistance coil is better for MTL vaping and nicotine salt vape juices while the 0.7 ohm caters more towards DTL vaping. Lastly, the AI Evo Pod does have a magnetic connection, so it snaps into place securely, and it's super easy to install.
If you're looking for a new resin pod vape, then you'll definitely want to check out the IJoy AI Evo Resin Pod System. Aside from its resin panels, it does offer multiple vaping experienced with two different types of coils, which is a huge plus.
IJoy AI Evo Resin Pod Kit Features:
Zinc Alloy Aluminum Construction
Resin Panels
1,100mAh Internal Battery
Maximum Wattage Output: 20w
Voltage Output Range: 3.3v - 4.2v
Simple Single Button Operation
Short Circuit Protection
Low Power Alert
Battery Life Indicator Light
Refillable Pod Cartridge

2.8ml E-Juice Capacity
Bottom Fill
Magnetic Connection

AI Evo Coil Series

0.7 ohm Mesh (15w - 20w)
1.4 ohm Regular (8w - 12w)

3 Color Options
What's Included
IJoy AI Evo Resin Pod Mod
1.4 ohm Coil
0.7 ohm Coil (Pre-Installed)
USB Cable for Charging
Manual
Warranty Card